The Pir Effect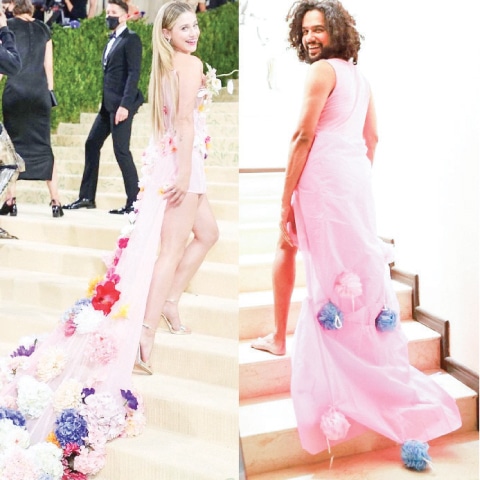 Meme-maker Ali Gul Pir posted a picture of himself in which he recreated Hollywood starlet Lili Reinhart's Met Gala appearance by wearing a dress similar to hers, and the internet went bananas. Not necessarily in a good way. There were those who said he's a man so he shouldn't be wearing women's clothes. But then there were those, too, who appreciated his derring-do approach to life. To the naysayer, this is how Ali GP responded on Twitter: "I will wear what I want to, make want I want to and say what I want to. Nobody will define my masculinity or dictate my creativity. Don't hate me because I make you feel insecure." Good reply, man!
Language Please
Well done, Zarnish Khan! Someone has finally spoken what needed to be said. The actress recently took to Instagram to take social media users to the cleaners who make fun of those who, apparently, can't speak English. The reference point in this case was Lollywood star Meera. Zarnish K, in order to hold a mirror to the boys and girls who were trying to justify to the internet wisecracks related to linguistic booboos, argued, "Stop it already people! I'm pretty sure all the people who make such memes or cut-out video clips are a bunch of idiots themselves who might not even know how to speak their own mother tongue properly, let alone speak fluent English. Just because you can hide behind the anonymity of the cyber network does not give you the right to make fun of other people." Spot on, Zarnish K! To be honest, their epicaricacy is pukesome, and sometimes discombobulates sane souls like us.
Easy on Her
Adele is back. After a pretty long time the Grammy-winner has released a new single called Easy on Me — in case you're waiting for the whole 'divorce' album, as she's put it, well, it will be out on November 19, and it's titled 30. As far as the single is concerned, it's a typical Adele song whose chorus line goes something like: "I was still a child, didn't get a chance to feel the world around me." Truth be told, the track is no great shakes. She still seems to be reeling from the effects of her divorce from Simon Konecki which is probably affecting her music-writing ability. If Easy on Me is anything to go by, we hope 30 is not the number of songs in the album.
Netflix's Biggest
It's official. Netflix has announced that its Korean title Squid Game is its biggest ever series at launch as 111 million viewers worldwide tuned into it during the first 17 days. Directed by Dong-Hyuk, it's also the first series produced by the streaming giant to have surpassed 100 million in its first 28 days (because Netflix uses the 28-day window to gauge the performance of its shows). The company's spokesman told a news organisation that the figures are based on the number of accounts that watched the show for at least two minutes, Netflix's standard metric for giving ranks to its programmes. Two minutes? Pakistanis and Indians must be the highest in that metric system...
Set Surprise
October 15 was Indian actor Ali Fazal's 35th birthday. The hard worker that the Mirzapur star is, he was busy on the day shooting in Delhi for ace filmmaker Vishal Bhardwaj's upcoming film Khufiya co-starring Tabu. While on location preparing for a scene, suddenly his girlfriend Richa Chadha showed up (from Mumbai) and gave him a pleasant birthday surprise. Ali F was super-happy to see the love of his life there. No doubt it was a khufiya visit on the sets of Khufiya.
Coldplay, Hot Affair
Coldplay vocalist and guitarist Chris Martin is either lucky or a great charmer. Remember, he was once married to Gwyneth Paltrow. These days he's going out with none other than the stunning Dakota Johnson. Last week, they were together at a London hotel where they were seen coochy-cooing; and a few days before that at a concert, while performing his song My Universe, Chris M spoke into the mic, "This is about my universe as she's here." Obviously, Dakota J was sitting in the auditorium right in front of him wearing a dress which had 50 shades of grey.
Published in Dawn, ICON, October 24th, 2021