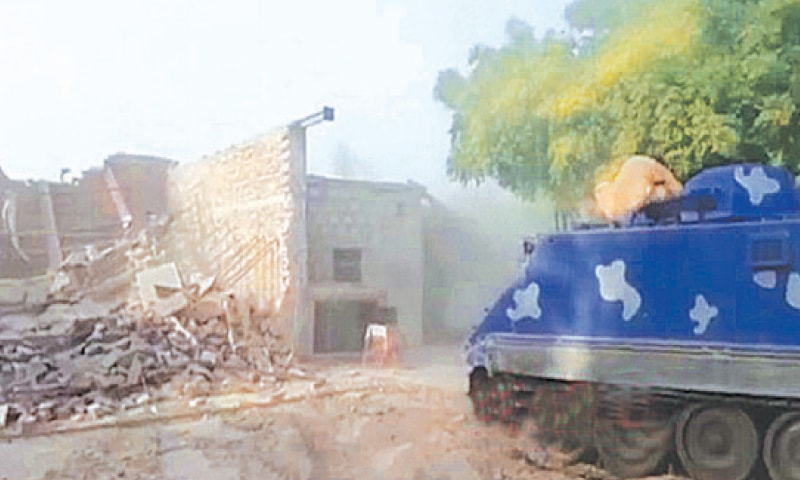 SUKKUR: Sukkur police launched what they called a "grand operation" near Sangi and Dubbar areas of Pannu Aqil town late on Monday night after two heavily armed groups — one belonging to the Jatoi tribe and the other to the Jagirani community — did not heed their call to stop fighting that had been continuing for more than 12 hours.
Both sides, according to residents of nearby villages, used rockets, heavy machine guns, anti-aircraft guns and Kalashnikov rifles, besides small weapons, to attack each other across the railway track dividing their respective areas comprising farmlands and villages.
The villagers said that the embattled rivals had been at loggerheads over ownership of some pieces of land for long and holding each other's members hostage after kidnapping them.
Some of them claimed that the fierce fighting that erupted on Monday was triggered by the videos, exchanged by them, showing the hostages being tortured in captivity.
Many houses, shops and other structures bulldozed in 'grand operation'
A strong contingent of police was deployed at some distance from the battlefield after unbridled attacks forced the Pakistan Railways to suspend several up and down train services to avoid casualties and damage in the crossfire.
Led by Sukkur SSP Irfan Ali Sammo, the police kept asking the embattled groups on loudspeakers to silence their guns or face action but without any positive response.
Finally, several units of police riding armoured personnel carrier along with bulldozers drove into Sangi and Dubbar and demonstrated their fire power. Before launching the operation, police had taken into custody more than 15 armed Jatois.
Reports from the area suggested that many houses, shops, hotels and cabins were bulldozed to facilitate advancing of the police units and to push back armed men, who were using these structures as their hideout or positions in the battle.
The police also carried out a door-to-door search for fighters in the operation area before bulldozing the structures one after the other.
These structures were also hampering movement of policem, SSP Sammo told local reporters after the night-long operation. Now pickets would be established there to prevent the armed rivals move and act freely, he added.
Meanwhile, several hundred members of the Jatio tribe held a protest demonstration against police claiming that their properties were demolished without any reason. They said they were poor villages and had nothing to do with these rival groups. They also complained that police arrested only innocent Jatois while no one from Jagiranis' side was touched.
Published in Dawn, July 28th , 2021