TOKYO: The chief of the Tokyo 2020 organising committee on Tuesday did not rule out a last-minute cancellation of the Olympics, as more athletes tested positive for Covid-19 and major sponsors ditched plans to attend Friday's opening ceremony.
Asked at a news conference if the global sporting showpiece might still be cancelled, Toshiro Muto said he would keep an eye on infection numbers and liase with other organisers if necessary.
"We can't predict what will happen with the number of coronavirus cases. So we will continue discussions if there is a spike in cases," said Muto.
"We have agreed that based on the coronavirus situation, we will convene five-party talks again. At this point, the coronavirus cases may rise or fall, so we will think about what we should do when the situation arises."
Covid-19 cases are rising in Tokyo and the Games, postponed last year because of the pandemic, will be held without spectators. Japan this month decided that participants would compete in empty venues to minimise health risks.
There have been 67 cases of Covid-19 infections in Japan among those accredited for the Games since July 1, when many athletes and officials started arriving, organisers said on Tuesday.
Japan, whose vaccination programme has lagged that of most other developed nations, has recorded more than 840,000 cases and 15,055 deaths and Games host city Tokyo is experiencing a fresh surge, with 1,387 cases recorded on Tuesday.
World's biggest sporting gala set to begin on Friday under Covid-19 spectre
Muto, a former top financial bureaucrat with close ties to Japan's ruling party, is known for his careful choice of words, while officials are facing a domestic public angry about coronavirus restrictions and concerned over a possible spike in cases triggered by Games attendees arriving from abroad.
Organisers, for whom International Olympic Committee (IOC) president Thomas Bach said cancelling the event had never been an option, have promised to keep the Games "safe and secure".
But experts see gaps in an Olympic "bubble" that mandates frequent testing and has been designed to limit participants' movements.
Seiko Hashimoto, who sits alongside Muto as organising committee president, said that safety measures introduced to reassure the Japanese public had not necessarily done so, and that she was aware that popular support for the Games had dropped.
"I really want to apologise from my heart for the accumulation of frustrations and concerns that the public has been feeling towards the Olympics," Hashimoto told the same news conference.
The first major test of how an Olympics can be held in the midst of a pandemic may well come in the men's football tournament, when Japan face a South Africa side that could struggle to field 11 players due to the coronavirus. The match is due to take place on Thursday.
Two members of Mexico's Olympic baseball team tested positive for Covid-19 at the team hotel before their departure for Tokyo, the country's baseball federation said on Tuesday.
The athletes, Hector Velazquez and Sammy Solis, who tested positive on July 18, have been isolated, as have all team members pending results of more tests, it said.
Kenji Shibuya, former director of the Institute for Population Health at King's College London, said that the organisers' bubble system was already "kind of broken." "My biggest concern is, of course, there will be a cluster of infections in the [athletes'] village or some of the accommodation and interaction with local people," he added.
Organising committee president Hashimoto said members of the public were concerned "because they feel that the current situation appears to show that the playbooks that were meant to guarantee security is not providing a sense of safety."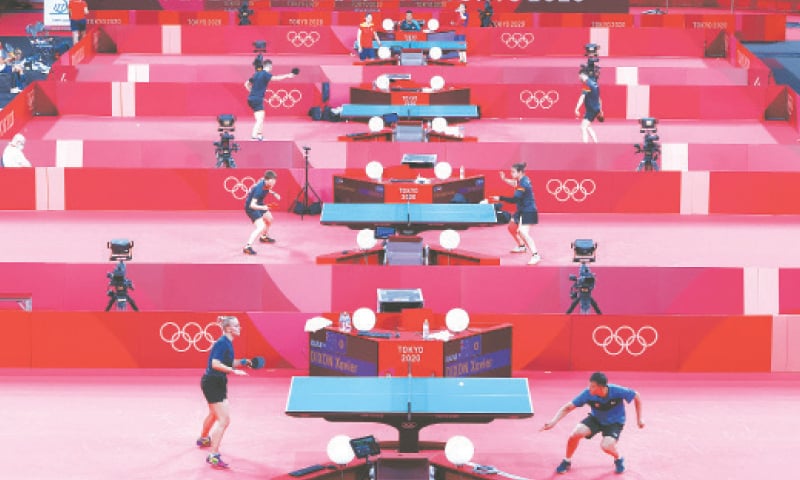 BACH REVEALS 'SLEEPLESS NIGHTS'
Meanwhile, Bach revealed "doubts" and "sleepless nights" over the postponed Tokyo Games as the opening ceremony nears after a year's delay and coronavirus chaos that has made them deeply unpopular with the Japanese public.
Bach, speaking at the IOC session in Tokyo, said the unprecedented step of postponing the Games "weighed on me" as it proved more complicated than he thought.
"Over the past 15 months we had to take many decisions on very uncertain grounds. We had doubts every day. We deliberated and discussed. There were sleepless nights," said Bach.
"This also weighed on us, it weighed on me. But in order to arrive at this day today we had to give confidence, had to show a way out of this crisis," he added.
Bach has drawn scattered protests during his visit to Japan, where the latest poll in the Asahi Shimbun newspaper showed 55 percent of respondents oppose holding the Games now.
Five people have tested positive in the Olympic Village, heightening fears that the influx of thousands of athletes, officials and media will add to a spike in cases in Japan.
The latest case in the complex, Czech beach volleyball coach Simon Nausch, came a day after one of his players also tested positive.
PLAYING AREAS 'SMALLER THAN USUAL'
China's table tennis chief on Tuesday claimed the "smaller than usual" size of the playing areas may affect players' performance and safety, in his latest complaints about the Tokyo Olympics.
"The whole playing space is smaller than usual... world competitions normally have areas measuring seven by 14 metres... I just measured it at six by 11 metres," Chinese Table Tennis Association president Liu Guoliang told state broadcaster CCTV.
"I'm a little worried about the athletes' running and safety. It's quite different from before."
'FASTER, HIGHER, STRONGER — TOGETHER'
The IOC has amended its 'Faster, Higher, Stronger' motto to include the word 'Together', its President Thomas Bach said on Tuesday, highlighting the need for solidarity during difficult times such as the Covid-19 pandemic.
"We have to adapt the motto to our times," he told a session meeting following the approval of an Olympic Charter amendment.
The motto now reads: 'Faster, Higher, Stronger — Together'.
Published in Dawn, July 21st, 2021