Khurshid Shahid, RIP
Seasoned actress Begum Khurshid Shahid passed away in Lahore on June 27. She was 89. She began her showbiz career as a singer from All India Radio and later, after Partition, became an actress. Her remarkable performances in PTV plays such as Fahmida Ki Kahani Ustani Rahat Ki Zabani and films such as Chingari enabled her to be recognised as one of the formidable character actors of Pakistan. She was the mother of film and TV actor Salman Shahid. May she rest in peace.
Courting Character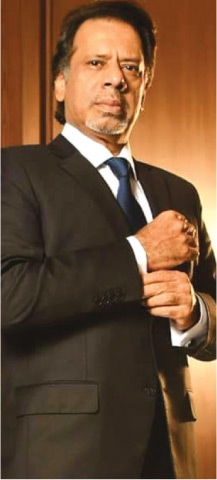 Jahangir Khan is one of the world's living legends of sports. His phenomenal records in the squash court are still unsurpassed. Not fond of giving too many interviews, the sportsman did, however, make an appearance in a TV talk show and, when asked which Pakistani actor would do justice to his character if a biopic were made on his life and achievements, his reply was: Humayun Saeed. Well, to be honest, while Humayun S is a good actor, Jahangir K, wouldn't you need someone more athletic to play the part? Or, maybe, the king of squash was talking about the latter part of his career!
Kat and Car
Although Vicky Kaushal and Katrina Kaif haven't confirmed that they're an item, those who keenly follow Bollywood news believe they for sure are. In fact, recently Harsh Varddhan Kapoor, son of Anil Kapoor, was asked about them and he said "it's true". Now Vicky K has apparently bought a slick new car. He took a monochrome photo of himself in the car and put it up on his Insta page. It took no time for his fans to ask whether Katrina K was in the vehicle as well. He kept mum about it. The shot showed only the front seat, though.
A Long-Awaited Reunion
It was such a delight to see the evergreen but camera-shy Shahnaz Sheikh and Marina Khan together at an event after a long, long time, even if we only saw their photograph together. Both got together for an upcoming episode of the ongoing show The Celebrity Lounge, hosted by Asim Yar Tiwana on PTV. It was the same channel that had aired in 1984 their iconic TV series Tanhaiyaan, penned by the late Haseena Moin, in which the two actresses had worked brilliantly in tandem as sisters. And now, they look gorgeous with gray hair and beaming smiles. The Celebrity Lounge episode featuring both Shahnaz Sheikh and Marina Khan will be aired shortly, around Eid-ul-Azha. We wish that they had been invited to the show because of a project featuring both of them. Not a bad wish, hai na!
Mother's Tip
Gigi Hadid and Zayn Malik are the proud parents of a beautiful baby girl Khai. Given their awareness of world politics, which was in evidence during the recent Israeli bombing of Gaza, you'd have thought that they'd teach their daughter something full of wisdom. Well, giving an interview to a magazine, here's what Gigi H has said she intends for her daughter to learn: "I think I'll teach Khai to keep it simple when it comes to make-up, like my mom taught me." These are the times when you wish you could add emojis in print.
Renee and Ant
Love is the buzzword for two very successful people. Oscar winner Renee Zellweger and Ant Anstead (Wheeler Dealers, a TV series about repairing old vehicles) are dating. The latter is in the final stage of divorcing Christina Haack while the former is single for the last couple of years. Ant A is 42 years of age and Renee Z is 10 years older than him. Both first met on the sets of a Discovery channel series Celebrity IOU: Joyride and it didn't take them a yawning period to fall for each other. Well guys, go for that joyride on a four-wheeler… without any deals!
Published in Dawn, ICON, July 4th, 2021