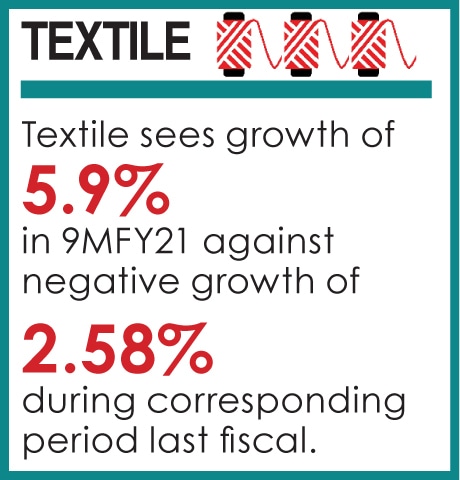 ISLAMABAD: The Large-Scale Manufacturing (LSM) sector bounced back with nine per cent growth during July-March 2020-21 compared to the negative 5.1pc growth in the same period last year, the Pakistan Economic Survey 2020-21 said.
The survey, released on Thursday, noted that LSM growth comes at a time when the Covid-19 pandemic continues to be the biggest challenge facing global and domestic economies. The year 2020 was turbulent for major economic activities as the pandemic made its way across the globe. In this backdrop, depressed demand and disturbed supply chains hit the manufacturing sector hard.
The Economic Survey highlighted that domestic lockdowns and other issues related to coronavirus pandemic plunged the LSM historic low — dropping to minus 41pc in April 2020. Pandemic-related hurdles further dragged down the LSM in FY20, with the sector witnessing a steep decline of 9.8pc causing macroeconomic instability.
It noted that the situation was more challenging for the LSM sector in the country as most manufacturing jobs were on-site and cannot be carried out remotely. The other reason was the slowdown of manufacturing activities due to strong linkages with the developed economies that too were hit by the pandemic, the survey added.
Government's decisions including earlier resumption of businesses, smart lockdowns, relief to export-oriented industries as well as construction industrial packages helped revive the manufacturing sector, it said.
The growth in LSM was witnessed due to strong performance by the textile sector, food, beverages & tobacco, non-metallic mineral products and automobile.
It lauded the prime minister's construction package which supported all other allied industries and helped increase cement dispatches and iron and steel production.
Textile, which carries 20.91pc weight in the LSM, witnessed a growth of 5.90pc against the negative growth of 2.58pc during July -March 2019-20.
The food, beverages & tobacco sector with weight of 12.37pc in the LSM has shown a growth of 11.73pc compared to minus 1.69pc last year, coke & petroleum products has 5.51pc weight in LSM and posed 12.71pc growth, pharmaceuticals industry witnessed 12.57pc, fertilisers 5.69pc, non-metallic mineral products 24.31pc.
Auto-manufacturing was among the top performing sectors in the LSM, showing a growth of 23.38pc during July-April 2020-21, despite negative fallout Covid-19 lockdowns.
The auto industry had nosedived in the last fiscal year 2019-20 to half of its size due to "contractionary policies" combined with escalating exchange rate.
It noted the role of government to promote industrialisation including subsidies for electricity and gas to export oriented industries such as textiles, leather, carpets, surgical and sports goods.
"Well-coordinated fiscal and monetary policies also bode well for future prospects of manufacturing," the survey has said.
The LSM sectors which showed negative growth include electronics, leather products, paper & board, engineering products rubber products and wood products.
Published in Dawn, June 11th, 2021