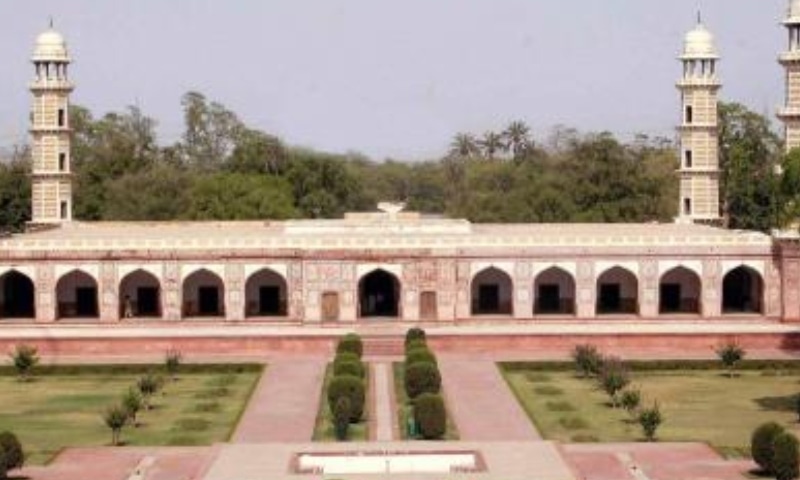 LAHORE: Mughal Emperor Jahangir's Tomb at Shahdara needs urgent and comprehensive conservation costing around Rs100m to save the monument from further decay.
The conservation would include decorative work at red sandstone facade, lawn development, beautification, fresco work and paintings, sources in the Directorate General of Archeology and Tourism Department told Dawn.
They said the Jahangir's Tomb could be declared a monument on World Heritage List but that requires the mandatory 200 foot buffer zone. The zone could not be ensured right now owing to massive encroachments around the monument.
The sources said earlier funds worth Rs10m were released for the fiscal year 2020-2021 and with these funds walkways, red sandstone minarets and eroded boundary wall on eastern side of the tomb got conserved.
"For comprehensive conservation of the monument Rs100m are required," said Muhammad Naeem Iqbal, the project director of Shahdara Complex of Monuments. He hoped that in the upcoming budget sufficient allocations would be made through which monuments of great significance could be conserved comprehensively.
The causes of the constant decay of the monument include water, humidity, temperature, growth of plants in the immediate vicinity of the monument, woodworms, fungi, white ants and termites, floods, water pours inundation and other disorderly water flow, fire and earthquakes.
The mausoleum over his grave was erected by Jahangir's son and successor Shah Jahan. It took 10 years (1627-37) to complete at the cost of Rs1m. The marble cenotaph with the delicate and colourful pietra dura work engraved with the 99 attributes of God, the late emperor's name and the date of his death all in calligraphy is also a fine example of workmanship in marble.
The Shahdara Complex of Monuments, situated on the right bank of the river Ravi, comprises of the most important Mughal edifices in Pakistan. The main monument within the complex is the tomb Jahangir.
Emperor Jahangir was born in 1569AD and ascended the throne in 1605AD at the ripe age of 36. After reign of 22 years, he died on Oct 28, 1627 at Rajouri in Kashmir on his way back to Lahore.
According to his last wish, he was buried at Lahore in a significant royal garden known as 'Dilkusha,' owned by his favourite wife Nur Jahan.
Published in Dawn, June 8th, 2021