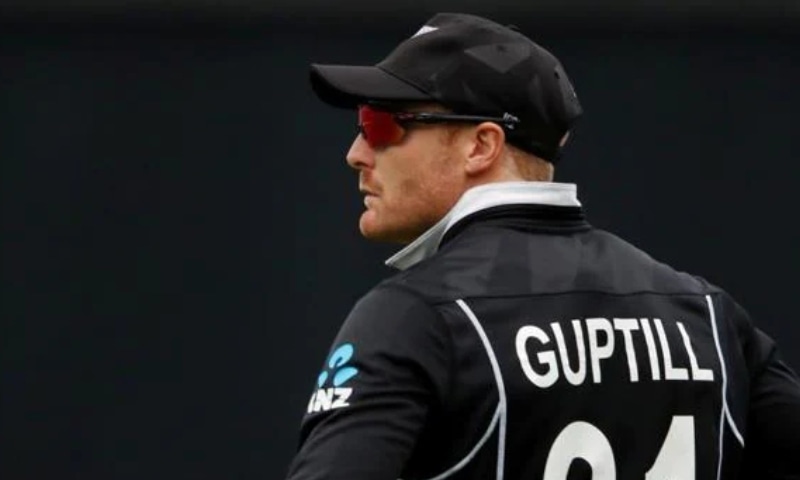 KARACHI: New Zealand opener Martin Guptill said on Monday he is doubly delighted at making his debut in the HBL Pakistan Super League 6for reigning champions Karachi Kings when the tournament restarts this week in Abu Dhabi.
Addressing a virtual media conference, Guptill — reputedly one of the most explosive sights in white-ball cricket — also expressed concerns over the oppressive heat in the desert for someone isn't accustomed to such conditions given he lives in the cooler climate of New Zealand.
"I'm excited to be playing my first PSL and to play for the champions upfront it is something I'll cherish. The feeling around the Karachi Kings camp is great and everyone is looking to the resumption. Everybody wants to get going when we start [our campaign] on Thursday [against Multan Sultans]," the 34-year-old said. "I've heard a lot about PSL and I know it is a high standard tournament and in the few days I'm here training with some of the young talent. I think it's just great for Pakistan cricket in general to see so many young blokes.
"Obviously, Karachi Kings have a good side and to be part of the team will be a thrilling experience. I'm looking forward to be playing alongside [Pakistan captain] Babar Azam. He's someone "I've played with before in the Caribbean Premier League in 2017. So reuniting with a world-class player is simply going to be fantastic because it's nice to see a familiar face again!"
Guptill also praised the Karachi Kings' huge following and termed the support as a great motivation. "I know how much Karachi fans are passionate about cricket and being supporters of Karachi Kings. Hopefully, I'll be trying to contribute whenever I bat in the order and put good performances on the board to help Karachi Kings lift trophy again."
Guptill, however, was worried at having to play cricket in tough conditions. "Unfortunately, I have always struggled with the heat and coming from winter back home it's going to be challenge in the 40-odd degrees and it's something I have never been comfortable with.
"But at the end of the day it's same for everybody here. From my side it's a matter of making sure I will be well hydrated to keep my body fluids up. I'll be trying not to get cramps and that's what I will be doing to combat the heat.
When asked whether rustiness after having played last competitive match — against Bangladesh in Auckland on April 1 — could hamper his game, Guptill responded: "Hopefully not. Before coming to Abu Dhabi I had few nets to get rid of the cobwebs as regards to my game. And since I got of isolation, I've been training every day. It's nice to be able get into the nets and face bowling to my eye in."
Peshawar Zalmi's overseas star David Miller — who will be shortly heading off to the Caribbean to join South Africa squad for the series against the West Indies — meanwhile told reporters he's itching to play cricket.
"It feels very nice to be here, although I won't be here for too long. The guys are gelling nicely and it's really very exciting. The Peshawar Zalmi guys are training hard and there a buzz around the whole camp is creating a wonderful environment," Miller remarked. "I've played in Abu Dhabi a couple of times and it's really a very nice stadium here. Therefore, we have to adapt quickly because we don't [yet] what's the pitch like whether it would be slow and low or has true bounce or whatever but we've got make adjustments and bat accordingly.
Miller said playing cricket in the bio-secure environment because of the Covid-19 pandemic is extremely demanding and it's a challenge to get used to it.
"Yeah life in the bubble is taxing mentally and it's very difficult to manage the bubbles. For a tournament likes the PSL it is okay because it isn't too long. But if you start going from one tour to another and having quarantined for seven days and then stay still in the bubble, it does gets mentally draining and challenging," 31-year-old said. "I think from my perspective one has to try find ways to release the pressure of life in the isolation. You hear a lot of players having mental issues because of the challenges around the bubble life. I don't it [bubble] is going away any time soon. One just has to accept the fact I want to play cricket."
Commenting on Faf du Plessis' views about international cricket under serious threat from T20 leagues across the world, Miller agreed with his South Africa team-mate by saying: "I also do think that T20 leagues are taking over and it's good actually because there is competition and the competitiveness is healthy. I think it would be in everyone's interest if a middle ground is found. At end of the day, I just want to play cricket because I love travelling, meeting different people and playing for different teams. Those are the joys of international cricket, to be honest."
Published in Dawn, June 8th, 2021