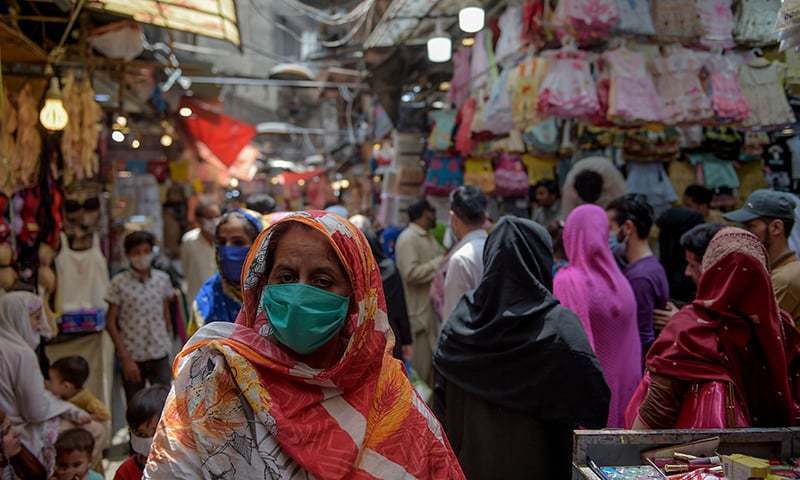 LAHORE: Despite the frequent inspections, monitoring and visits, the teams constituted by the city district and divisional administration could not fully implement the Covid-19 lockdown restrictions in the provincial metropolis.
The traders, shopkeepers, car dealers and retailers in various city markets kept on doing business behind half-downed shutters of their shops and showrooms.
"The number of Covid-19 positive cases and related deaths is gradually decreasing and it is the time to keep it down by all means. So the traders, shopkeepers and shoppers must cooperate with the government in this regard. And the divisional and district administration too should devise an effective strategy to enforce closure of the businesses, other than those providing essential services, in the light of the May 5 [lockdown imposition] notification," says an official source.
According to the notification, the businesses related to essential services, including pharmacies, medical stores, hospitals, vaccination centres, petrol pumps, tandoors, milk and dairy product shops, food (take away only), utility services (electrcity, natural gas, internet, cellular services providers etc) are exempted from the lockdown and may remain open round the clock.
Similarly, the bakeries, grocery stores, sweet shops, vegetable and fruit shops, carts and meat shops can be opened from 9am to 6pm daily.
However, the setting up of Chand Rat bazaars, stalls, restaurants (both indoor, outdoor dining), wedding events, tourism, parks, shrines, large gatherings, sports facilities, gyms etc should remain close completely, as per the notification.
But the shopkeepers, traders, car dealers etc continued flouting the lockdown restrictions by downing half shutters in various parts of the city, including, Johar Town (Mulana Shaukat Ali Road), Ferozepur Road, Ichhra Bazaar, Township (Madina Market), G-1 Market (Johar Town), Shahdara Bazaar, Islampura Bazaar, Sanda, Kot Kamboh, localities behind bus terminals near Babu Sabu, Allama Iqbal Road, Mughalpura, Macca Colony (Gulberg), New Anarkali, Urdu Bazaar, besides small markets in Cantonment area and Shalamar.
"We have no other option, since we have purchased the merchandise from wholesale markets and have no option but to try to sell it till Chand Raat at all cost," said a shopkeeper in Ichhra Bazaar.
Similarly, according to a car dealer, the used cars' sale and purchase business has nothing to do with the spread of coronavirus. "The Covid-19 has already affected our business a lot, as the people don't visit us fearing the virus, despite the fact that our business doesn't involve gathering of people," he added. "We also have families, who like others' had needs, especially on Eid," he argued.
Lahore DC Mudassir Riaz Malik said for the administration visiting the markets and revisiting them on pubic complaints regarding opening of shops with half shutters downed is a continuous process.
"Yesterday, I myself found shopkeepers doing this in Anarkali. So I got all such shops sealed and even detained some shopkeepers for sometimes," he explained. "I also visited Ichhra Bazaar and enforced the lockdown restrictions there," he added. However, he said, he would look into opening of used car showrooms at various spots.
When asked how a motorist could abide by the condition of ensuring 50 per cent occupancy in a car while moving with his/her family, the DC said he would discuss this issue with the health secretary so that private vehicles could be exempted from it.
PR: The Pakistan Railways on Monday offered five percent rebate on the freight charges of coal and other goods wagons during the Eid holidays.
The department also offered a 25pc discount on cargo express booking and Rs10,000 on premier container service, according to a spokesman.
Published in Dawn, May 11th, 2021