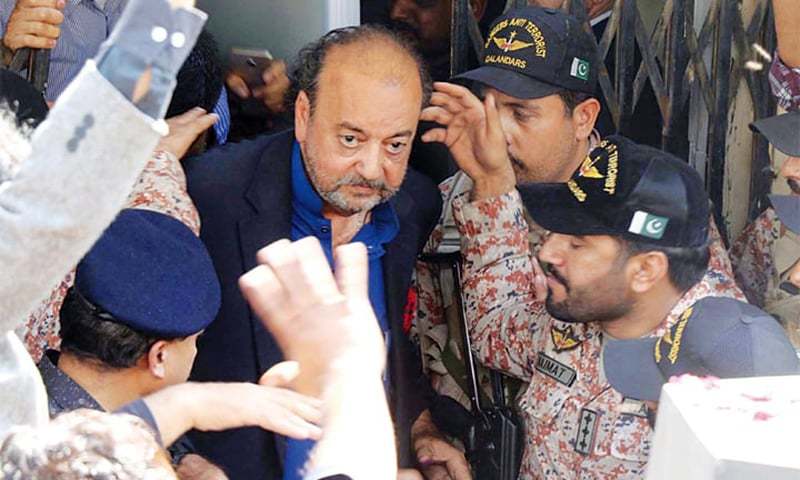 KARACHI: An accountability court on Thursday issued notices to Sindh Assembly Speaker Agha Siraj Durrani and his family members on an application filed by the National Accountability Bureau seeking freezing of their moveable and immovable properties.
Mr Durrani, a senior leader of the Pakistan Peoples Party, was arrested by NAB in an Islamabad hotel on Feb 20, 2020 in connection with an investigation into his movable and immovable assets allegedly amassed beyond his known sources of income, making 352 illegal appointments, embezzlement of public funds in the construction of MPAs Hostel and the New Sindh Assembly Building, as well as appointment of project directors for these schemes.
Mr Durrani, his spouse, children, brother and others have been charged with possessing assets worth around Rs1.61 billion allegedly acquired through illegal means.
On Thursday, special public prosecutor Zahid Hussain Baladi moved an application in the Accountability Court-III presided over by Dr Sher Bano Karim under Section 12 of the National Accountability Ordinance, 1999.
The judge issued notices to the accused persons for arguments by their counsel and adjourned the hearing to May 19.
Bureau seeks freezing of Durrani family's properties
In the NAB application, it was stated that a graft reference was pending trial against Agha Siraj Durrani and other accused persons, who had accumulated assets which included properties, vehicles, gold jewellery and Rolex watches worth Rs1,610,669,528 (after deduction of the income tax in the Federal Board of Revenue) through illegal means.
Prosecutor Baladi further submitted that the accused persons had acquired movable/immovable properties in their names so far determined and were most likely to be removed or alienated to frustrate/subvert any process of the law issued against them.
He alleged that there were serious allegations against the accused persons of corruption and corrupt practices and accumulation of assets beyond known sources of income, therefore, the NAB authorities had decided to file an application with the court to seek an order for freezing of such properties.
Therefore, the court was urged to order freezing of the properties along with land, building and fixtures, etc, by way of taking over possession and appointing Muhammad Kashif Shaikh, assistant director (Re­co­very and Disbur­sement Manag­ement Cell) of the NAB till final disposal of the reference. An officer may also be appointed to collect rental income or any other income arising out of the said properties and deposit the same with the court, the court further urged.
The prosecutor provided a list showing a bungalow in DHA-Karachi and a villa in Abbotabad in the name of Ms Naheed Durrani, an apartment in the Creek Vista in the name of Mr Durrani's daughter Sanam and two flats in DHA-Karachi in the name of his second daughter Sonia.
The list further mentioned a flat in the Emaar Giga in the name of Mr Durrani's daughter Shahana, another flat in the same project in the name of his daughter Sarah.
It mentioned a commercial plaza in DHA-Karachi in the name of his son, Agha Shahbaz and an amount of Rs28,596,043 lying in his bank account.
Further details showed the PPP leader's two residential properties and one commercial plaza in the name of his alleged frontmen Muhammad Arif, Shamshad Khatoon and Munawar Ali.
The anti-graft watchdog named 19 people, including Mr Durrani, his wife and children, brother Agha Masihuddin, Zulfiqar Dahar, Shamshad Khatoon, Munawar Ali, Ghulam Murtaza, Muhammad Ifran, Shakeel Soomro, Gulbahar Baloch, Aslam Langah, Tufail Shah, Mitha Khan, Muhammad Shah and Gulzar Ahmed, in the reference.
It alleged that Mr Durrani after becoming the Sindh LG minister and then the speaker of the provincial assembly accumulated assets and pecuniary resources through illegal means and in connivance with the others named in the reference.
TikTokers' murder case
The judicial magistrate (south) on Thursday fixed May 8 for the identification of the alleged main suspect in four TikTokers' murder case.
Muskan Sheikh, Amir Khan, Rehan Shah and Saddam Hussain were killed by unknown suspects who had attacked their car near Anklesaria Hospital on February 1.
The alleged suspect, Rehman Ali, was produced in the court upon expiry of his physical remand in police custody.
Published in Dawn, May 7th, 2021