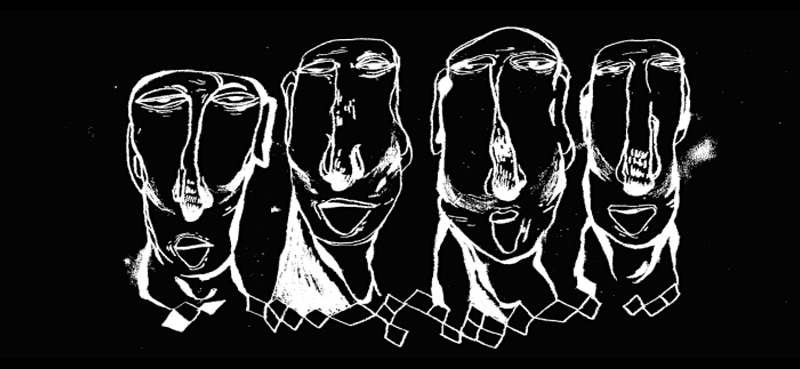 The recording is so clear you can just about hear the flautist gasp for a quick breath in between playing. With a vocalisation of the taal, the tabla and flute begin almost immediately and take the listener forward into a fast-paced journey through the musical landscape of Satanic Nafs. It is a landscape that combines both eastern and western genres of music in a way that's delightfully fresh and almost heartbreakingly beautiful.
This genre-bending song combines South Asian classical with jazz, lots of brilliant improvisations and some pixie dust. The flute is what guides the composition, until the sarangi comes in and takes over exclusively until those moments when they are played together.
Satanic Nafs from is from the band Jaubi's upcoming album, Nafs at Peace.
Jaubi, a very Punjabi pronunciation of the Urdu "Jo bhi" [Whatever, whoever] is an instrumental act from Lahore, Pakistan. This quartet "explore[s] the spiritual self through a fusion of North Indian classical and jazz vibrations" through their music, according to band's description.
Jaubi's instrumental track Satanic Nafs is a heartbreakingly beautiful amalgam of South Asian classical with Western jazz
Jaubi consists of Ali Riaz Baqar on the guitar, Zohaib Hassan Khan on the sarangi, Qammar 'Vicky' Abbas on percussion and Kashif Ali Dhani on the tabla. It's worth mentioning that Zohaib Hassan Khan is a seventh-generation sarangi player.
In addition to the above, Satanic Nafs, features Edward 'Tenderlonious' Cawthorne on the flute, soprano saxophone and clave. Ali Riaz Baqar is joined by Minimoog Voyager on the guitar and Marek Pedziwiatr is featured on the keyboard.
Tenderlonious and Marek Pedziwiatr flew down in 2019 and, in hindsight, just in the nick of time, before Covid-19 essentially shut down all non-essential international travel. They collaborated and recorded with Jaubi at Riot Studios, which is owned and managed by Farhad Humayun.
According to the band, "In Islamic philosophy, each person has an aspect of the Self called the nafs which is divided into multiple layers. Every day, a person enters into a spiritual battle with their dark side, their lowly desires, and Satan. Satanic nafs is thus the lowest level of the self, due the love of oneself and evil desires. Achieving spiritual transformation involves a constant struggle against the lower nature of the self. This struggle led Jaubi to discover the complex Quranic and philosophical concept of nafs, which became the major conceptual driving force behind the all-new and original music."
Satanic Nafs was only just released a short while ago and there is already a remix of it out. For now, howver, the original version is what works for me.
Not a single piece of this collaboration was formally written down; it was simply performed as it came to the artists. That lends an air of fleeting fragility to the music. The next collaboration of the same song will not be the same, it will be different. This version that is recorded cannot (or may never be) reproduced exactly as it is. It is truly one of a kind.
While the band already has some previously released music online, which is definitely worth checking out, Jaubi plans on releasing their album Nafs at Peace in the coming months.
Published in Dawn, ICON, April 4th, 2021