KARACHI: Bulls entered the stock market with a vengeance on Thursday, breaking the three-day losing streak. The market opened gap up and continued to recoup much of what it had lost in the last three days.
After hitting intraday high by 642 points, the index adjusted itself to settle with heavy gains of 603.05 points, or 1.33 per cent, at 45,965.63. The tone was set by the financial results of UBL announced in the pre-open session, where the bank declared hefty cash dividend at Rs9.50 per share.
The market managed to turn the corner, taking cue from the rally in international markets, healthy corporate results coming from major companies; the smooth settlement of the rollover of future contracts and above all the investors' faith in the upcoming decision of the FATF plenary meeting that many expect to release Pakistan from the grey list and most to the receipt of positive statements from the board on the progress made by the country.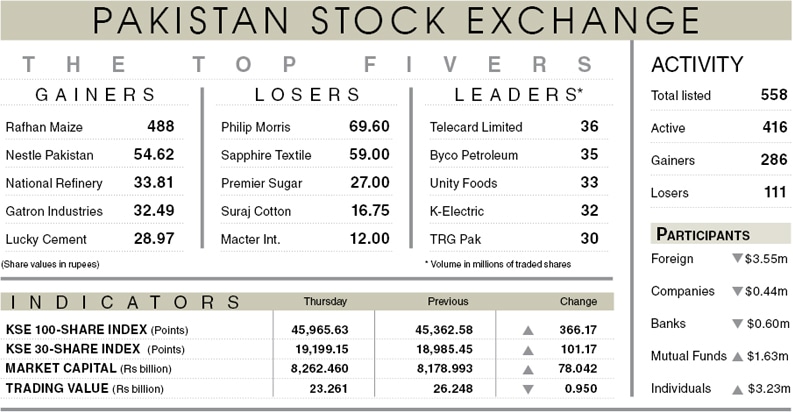 Investor sentiments received a boost mid-day after reports of Pakistan and India agreeing to enforce the 2003 ceasefire and stop cross-border firing in Kashmir. On the local political front, voices were heard over the results and re-polling in the recently held by-elections in Sialkot, Daska. But investors took it in stride, believing no major threat to the government till at least the Senate elections on March 3.
Stocks rose across the board mainly in the lead of banks, cement, technology, fertiliser and power sectors. Stocks that helped send the index soaring included TRG (96 points), Lucky Cement (87 points), UBL (57 points), HBL (50 points) and Engro (27 points).
The traded volume declined 16pc over the previous day to 469m shares and the value also dropped 12pc to Rs.23.2bn. Individuals and mutual funds were the lead buyers which went to absorb selling by foreigners of stocks worth $3.55m.
Published in Dawn, February 26th, 2021