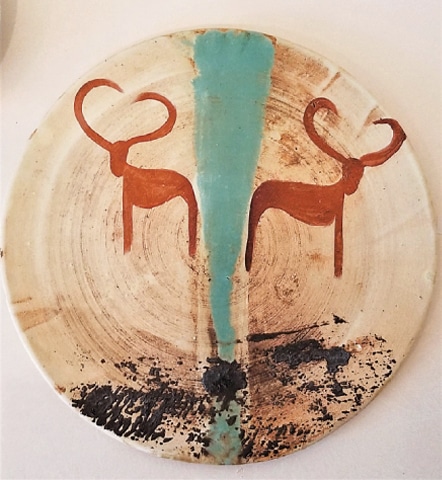 The many leaves of bushes and shrubs surround a deer that stands still, quietly, on the side of a partially wooded and a long-winded road. A heavy stream is flowing in a deep valley as a jeep prudently traverses the water without slipping on to the muddy path. My hands are kneading clay as I prepare the therapeutically tactile material to be transformed into something sculptural.
Many such memories that brim with an interaction between nature, earthen matter and myself, flood my mind every time I see a sculpture by contemporary ceramic artist Shazia Zuberi.
Zuberi's most recent exhibition, Markhor at Art Chowk Gallery in Karachi, brings spectators closer to nature with a range of wonderfully glazed clay bodies that embody the symbiosis between the land and her species.
The artist has collected clay from numerous parts of the country, including mitti from Thar region that provides a white glaze to many of these displayed ceramic pieces. Over the years, as Zuberi's works record nature's geographical processes that have transpired so far, she now considers our resolute connection with each other. Markhor is the artist's sculptural visualisation of land and society as the symbiotic relationship between the two continues to evolve and adapt to change during the tumultuous last year.
Shazia Zuberi's new clay bodies are evocative of the relationship between land, animal and human as well as muse over a turbulent 2020
In one of her earlier exhibitions, entitled Cartography (Art Chowk Gallery in 2015), the artist executed figurative and mask-like forms (amidst other ceramics) in many glazes. The earthy, burnt orange, white and turquoise glazes on these forms reminded viewers of massive geographies and aerial images of land, as the works were deeply inspired from the artist's travels in the Naltar Valley of Pakistan.
Two years later, in the show Deosai Series (Chawkandi Art Gallery in 2017) — which took inspiration from the Deosai National Park in the north of the country — the artist's ceramics strengthened her avid documentation of land. These fiery brown and orange clay vessels and metaphoric forms were executed in diptychs and triptychs and slashed with white and ink blue glazes.
The new 'Markhor' series continues to assert the artist's skillful manipulation of her material into clay-bodies such as pots, bowls, plates and abstracted figurative forms. These anonymous and stylised heads have now evolved into her signature clay-bodies.
These heads that individually represent no one, but all of us, can be observed as standalone pieces and diptychs within three main colour groups — gray, shades of white and terracotta. The final artworks may look simplistic but are, in fact, a result of wide travels for concept and material, textures obtained from plants, active experimentation with clay in the artist's studio, and self-made glazes.
The colour palettes are mellower this time and the pieces are more singular than ever. A few artworks have been partially finished in copper, which gives them an illustrious and edgy metallic finish. Certain rectilinear sculptures, that are displayed in a range of different sizes, visualise the silhouettes of the animal with thick curves and sinuous outlines.
Further into the gallery, viewers come across a series of conspicuous monochromatic charcoal grey plates, in which profile views of the markhor act as low relief within the sculpted plates. The artist has also fired a handful of stoneware at very high temperature that converts the artforms into functional pieces.
Zuberi's ceramics archive the land via the earthen material, at the midpoint, the right time, when future artworks may portray the earthly transformation post-2020. That is, if the artist's unique oeuvre continues to stir our memories and record geography via her earthen and stoneware, like they have these past few years.
"Markhor" was displayed at Art Chowk Gallery in Karachi from December 17 to December 31, 2020
Published in Dawn, EOS, January 10th, 2021