On the Sunday before Christmas, a historic church in Karachi looks ready to be featured on a 'happy holidays' postcard. The church's stained-glass windows provide the perfect backdrop for the day's congregational prayers. There's a little cardboard and cotton 'snowman' by the door, and the pillars are covered with Christmas decorations. During the prayers, the socially-distanced and mask-wearing churchgoers pray for those in need, for the wellbeing of their community and their daughters, and even for Pakistan's president and prime minister.
As a trying year comes to an end, the attendees are ready to welcome the new year. Perhaps no one at the church needs a fresh start as badly as Raja Lal Masih and his wife Rita. Earlier this year, Raja and Rita's teenage daughter, Arzoo, went missing. It was later found that she had been converted and 'married' to a middle-aged Muslim man.
Following a months-long legal battle, the young girl was separated from her abductor, Syed Azhar Ali, and his family. Arzoo's parents are hopeful that soon their young girl will also be reunited with them. The parents are clearly anxious and happy, all at the same time.
After the prayers end, when Raja exits the church, a man approaches him and asks for his contact information. He shares the details without thinking twice, only to be admonished by Pastor Ghazala Shafique, who has been helping the couple and just witnessed the exchange. "You need to know who you're talking to," she tells Raja. "You have to be careful."
One of 2020's biggest stories in Pakistan was of the teenage Christian girl Arzoo Raja who disappeared from her home in Karachi and was later claimed to have been converted and 'married'. As her case shows, there are multiple issues of equality and justice that Pakistani society must still contend with
'YOUR DAUGHTER IS MISSING'
On October 13, sometime around 10 in the morning, Raja was at work. It was a day like any other, until he received a call from a neighbour, telling him that his teenage daughter, Arzoo, was nowhere to be found. "Your other daughters have been looking for her," he was told.
Raja immediately called his wife, who was working at a school in Saddar, and rushed home. "I thought maybe she got into a fight with her siblings and stormed off," he tells Eos. But this was not the case.
The family searched everywhere. "I went to the shops, to the dhobi [laundryman], I asked the thailaywallas [pushcart vendors] and we even checked with the neighbours," he says.
When she wasn't found by the late afternoon, Raja went to the Frere Police Station. 'Maybe she's gone to the park with a friend,' he was told. 'She could be watching a movie somewhere.' But Raja insisted that the police officers file a pakki (proper) First Information Report (FIR). The police officers then proceeded to ask Raja a number of questions.
Finally, they came to a question that would be asked and answered in the court, on television channels and newspapers in the days to come: how old is she?
Raja sent for the Nadra papers and finally an FIR was lodged and sent to the Anti-Violent Crime Cell.
Later in the day, the police delivered a nikahnama to the parents. 'Your daughter has gotten married,' they told Raja. "When the nikahnama was recovered, the police did not act in accordance with the Child Protection Act," says lawyer Jibran Nasir, who is now representing Arzoo's parents. "Instead, they behaved like a courier service, and delivered the nikahnama to the parents."
"Only when this case got media attention 10 days later, on October 23, the police added the Child Marriage Restraint charge," Nasir adds.
At first, Raja and his family were under immense pressure to 'reconcile' with the perpetrators. Even some neighbours advocated the same.
They refused.
The pressure soon turned into threats. "[Azhar's] sister came with a group of women to our house to fight for her brother," relates Rita. "She was threatening us, saying, 'We'll deal with you.' First you kidnap our daughter and now you're threatening us?"
A HIGH-PRESSURE SITUATION
A prominent member of her community and a rare female pastor in Pakistan, Ghazala Shafique knew fully well the kind of pressure that would be mounting against Arzoo's parents. Having worked on multiple forced conversion and underage marriage cases in the past, Ghazala is painfully aware of how these things can play out.
"Knowing that there was another girl from Karachi who had been a victim of this was very upsetting for me," she says. She knew time was of the essence. "I went to their house immediately."
Upon her arrival, she found that Arzoo's parents' modest house was full of people. People having tea and smoking. People chatting away, while Arzoo's sisters prepared food for them. "They [told me] they were unable to get things done," Ghazala recalls her first conversation with Raja and Rita. "They had to go to the lawyer, collect documents and hand them over...yet people wouldn't leave them alone."
It was all getting too much for the Masihs to handle, and this was just the start.
When she wasn't found by the late afternoon, Raja went to the Frere Police Station. 'Maybe she's gone to the park with a friend,' he was told. 'She could be watching a movie somewhere.' But Raja insisted that the police officers file a pakki (proper) First Information Report (FIR).
"I was ready to [jump off a building]," Raja says, explaining his mental state at the time.
For the pastor, this brought back painful flashbacks of previous cases she had handled, where the parents had really struggled with the pressure. She pre-emptively moved Raja and Rita to her house and immediately got them legal representation. First lawyer Noor Naz Agha and then Jibran Nasir took their case.
"We were afraid of going home," says Raja, adding that he felt unsafe for his family after the case was registered. Even after their temporary move, Raja and Rita have to be careful.
Meanwhile, who's taking care of things back home? "Our dog," Rita responds with a smile. "He's like a family member," Raja chimes in.
A PAINFUL REUNION
The first time Raja and Rita saw Arzoo since she went missing was almost two weeks after her abduction, in the security room of the court.
There's a video on YouTube showing the distraught parents outside the room with grilled windows. A sobbing Rita pleads to be reunited with her daughter. She calls out to Arzoo, after recognising her through the window. Pastor Ghazala, who is recording the video, desperately asks the authorities to let the mother meet her daughter.
Suddenly, there is a low thud, and commotion follows — Rita has fainted. She's carried to a bench where Raja and others try to revive her.
"Instead of helping us," recalls Rita, "the policemen were saying that I'm putting up an act."
It was only after the arrival of Noor Naz Agha, the lawyer then representing Arzoo's parents, that the police let Rita in to see her daughter. "When I saw her, I couldn't help myself and I hugged her," says Rita.
"I asked her if [her abductor] had given her any money," she says. Azhar, the man who had 'married' Arzoo, used to buy treats for the kids in the neighbourhood. "I thought maybe he had given her some laalach [incentive]." Instead, Arzoo told her mother that she was married now and had accepted Islam.
"I felt my heart break," Rita says. "I felt like I had failed her as her mother." With her voice cracking, she adds that she was sure Arzoo had been intimidated or talked into saying these things. After all, she was just an impressionable child.
THE UNFINISHED JOURNEY BACK HOME
The details and developments in the case have been reported in the media at length. After the Sindh High Court's orders and Arzoo's ossification test, a medical board informed the court that she was a minor.
During the hearing, Arzoo stated that she had not been kidnapped and had willingly married Azhar. But the bench observed that the minor girl could not contract a marriage of her free will. The division bench, headed by Justice K K Agha, directed that she be taken back to a shelter home.
Azhar was also later detained for allegedly kidnapping and raping the underage girl.
"In my experience, they use marriage or conversion as a cover for rape," says Pastor Ghazala about suspects like Azhar. "They use religion to save their criminal act."
As per the court's directives, Arzoo has been living at a shelter home. Raja and Rita have been able to visit their daughter a few times here.
The first time they went to meet Arzoo, the security checked the family so thoroughly they felt, "as if we are carrying a bomb," Raja says. "We hugged [Arzoo] and she started crying," he adds.
Pastor Ghazala does not think that these horrific cases have become more common than before. "Maybe they're being reported more now," she says thoughtfully. "Especially after Arzoo's case, loagon mein jurrat barrh gayi hai [people have found the courage]," she says.
At the first meeting, a shelter supervisor was present and recording the meeting. "She would also insert herself in our conversations, saying things like, 'Your daughter has big dreams'," Raja says. "She was asking me the same kind of questions that the previous investigating officer [who was replaced upon the parent's complaint] did."
Arzoo, he says, appeared quite worried during that meeting and said, 'Papa, you got the whole media involved.' "I told her, 'Beta, they kidnapped you and we searched all over for you. They knew we were looking for you. They should've told us'," he says. "After doing all of that they want us to 'forgive' them. We can't do that. If this can happen to our daughter, it can happen to others' daughters as well."
But Arzoo was clearly distressed, Raja says. "She kept saying, 'If I say anything, they will hang him," he says. "'I can't take this gunaah [sin] upon my head.'"
Luckily, their most recent meeting with their daughter was not supervised. "We talked in peace," says Raja. "She said 'Papa, I want to go home. We were very happy'," he claims.
But Arzoo's parents and Pastor Ghazala fear that Azhar's family is still in touch with Arzoo, at least over the phone. Arzoo keeps changing her position, they say. Raja describes his last phone conversation with Arzoo as, "quite bizarre". "She said, 'If you don't listen to me, then why would I listen to you?"
PROTECTING OUR CHILDREN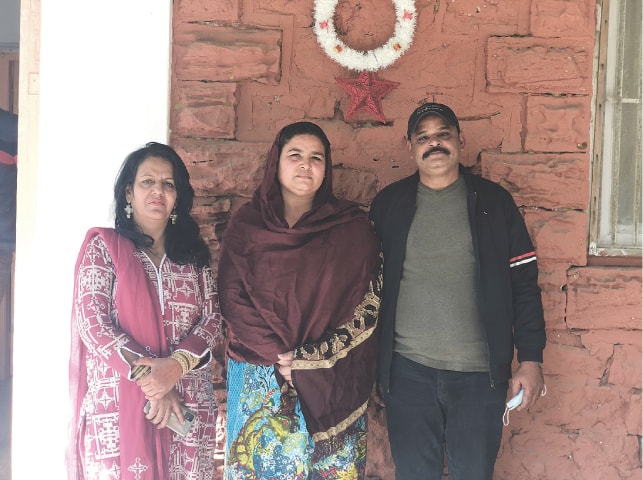 Arzoo is far from the first underage girl to find herself in this situation. And, unfortunately, she will not be the last.
According to lawyer and activist Nasir, the "forced conversions mafia" works in this way — the moulvi, who does the 'conversion', issues a certificate with no identifying details other than the girl's name and (alleged) age. Then, based on the conversion certificate alone, the Justice of Peace issues an affidavit confirming the girl's stated age. And this certificate is then used as 'proof of age' when solemnising the nikkah.
But, Nasir argues, in 1969 the Supreme Court has already ruled that a marriage cannot be solemnised based on that affidavit alone. "But yeh kaam routine mein chal raha hai [this is routinely happening]," he says. "The counsellor, nikkah khwan, no one is asking for evidence."
Nasir says the main issue is the lack of awareness and implementation of already existing laws. "There have been substantially big punishments introduced but there is no awareness, whether in the police or in the lower courts, and neither are there directions from the senior courts on their implementation," he says.
He talks about the Child Protection Authority law and asks where the child protection centres are. "Let's go out in the city, and point to any wall and tell me, 'that's the child protection centre, this is where children who are in the protection of the government go'," he says. He regrets that, like Arzoo, they end up in private shelter homes. "We just don't have the infrastructure."
Echoing Jibran's sentiments about the judicial process, Pastor Ghazala gives the example of another underage Christian minor girl who was abducted and 'married'. "One court said that this is an underage marriage and cannot be considered legal, but despite that...she still had to file a separate case for dissolution of marriage," Ghazala says. "[The girl] is still technically his wife on paper... She will have to risk her life again. Go to court, re-live her trauma and go through this all over again. The mental stress of this is enormous."
She points out that a cleric involved in this case was also involved in Arzoo's.
The encouraging thing for Pastor Ghazala is that more families are now reporting cases. "There's Shiza Maqsood's case, Farah Shaheen's case. Some three to four girls in one month in Punjab," she says. "The families have reported them. There's work being done on it."
In September, 16-year-old Shiza Maqsood was abducted from her home by a group of men in district Faisalabad. Family members at home tried to protect her but were beaten up. Shiza was dragged into the street, forced into a vehicle and kept in an unknown location, where she was allegedly repeatedly assaulted for three days. She was later forcefully converted and 'married' to one of her abusers.
Shiza managed to escape in November and returned to her family. They have filed an application against her abductors.
Twelve-year-old Farah Shaheen's is yet another harrowing case. A resident of Faisalabad, she was abducted in June by a group of men, forcibly converted and married. She was recovered by the police earlier this month, and had sustained injuries to her hands and feet from the alleged torture by her abductors. Her family is determined to pursue the case and get justice.
Pastor Ghazala does not think that these horrific cases have become more common than before. "Maybe they're being reported more now," she says thoughtfully. "Especially after Arzoo's case, loagon mein jurrat barrh gayi hai [people have found the courage]," she says. She adds that Arzoo's parents have set an example. "That you don't have to be afraid — stand and raise a voice, fight for your daughter."
Raja and Rita's fight continues. Recently, when Raja went shopping to buy gifts for his girls for the holiday season, he got presents for Arzoo too. He does not know when he'll be able to give them to her, but he is hopeful.
---
The writer is a member of staff
She tweets @Madeehasyed
Published in Dawn, EOS, December 27th, 2020