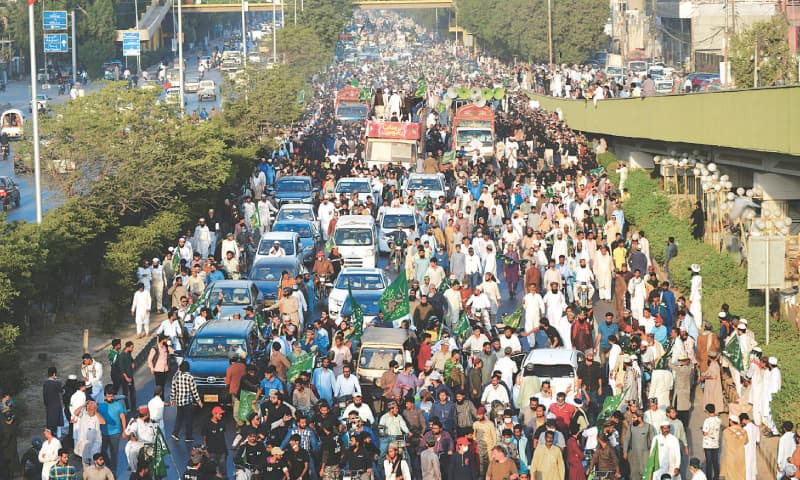 KARACHI: The Tehreek-i-Labbaik Pakistan on Saturday staged a big rally on Sharea Faisal against publication of blasphemous caricatures in France demanding cutting of diplomatic ties with Paris and boycott of French products.
The TLP asked the federal government to take "practical steps"; otherwise, they would be compelled to take "extreme action".
The rally, which began from Star Gate, was led by TLP chief Allama Khadim Hussain Rizvi.
Participants of the rally carried banners inscribed with slogans asking the government to expel the French ambassador.
The participants moved towards the Quaid's mausoleum, the culminating point of the rally, where Mr Rizvi addressed them.
The rally causes hours-long traffic jam on Sharea Faisal
It took them hours to reach the culminating point. The rally created a traffic mess on arterial Sharea Faisal, causing inconvenience and hardship to commuters who were stuck there for hours.
Sharea Faisal SHO Iftikhar Ahmed said that the march passed peacefully on the main road and no untoward incident was reported.
'Act of international terrorism'
Addressing the rally, Allama Rizvi said that France officially patronised publication of blasphemous caricatures and by doing so, it had committed an "act of international terrorism".
He urged the federal government to "declare jihad" against France.
"We have given enough time to the federal government and now it's time to take practical steps," he said, adding: "Paying mere lip service to Ishq-i-Rasool [love of the Prophet (PBUH)] will not work."
The TLP chief asked the centre to expel the French envoy from the country.
Otherwise, his party would be compelled to take extreme action and the government would be responsible for it, he warned.
He also asked the government to announce a boycott of French products at the official level.
He believed that an "unannounced war" between Islam and non-Muslims had started.
Mufti Munib Rehman, Hafiz Saad Husain, Allama Ghulam Ghaus, Allama Razi Husaini, MPA Mufti Qasim Fakhri and others also spoke.
Published in Dawn, November 8th, 2020