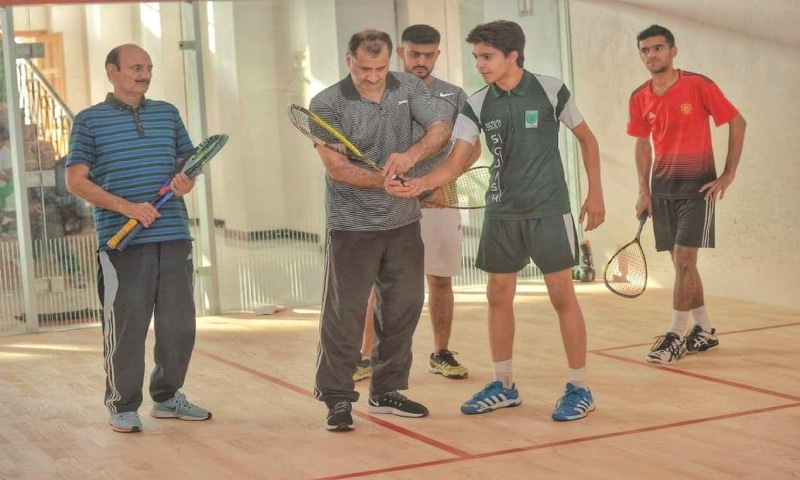 There was a time when Pakistan ruled the world of squash. Pakistan has won the two most prestigious titles in the game — the British Open (30 times) and the World Open (14 times) — more than any other nation. But Pakistan's last victory came in the 1998 World Open via Jansher Khan. Since then, there has been a seemingly never-ending decline in squash victories.
Today, not a single Pakistani ranks among the top 40 of the Professional Squash Association (PSA) rankings. Meanwhile, players from no less than 17 countries figure in the list.
All this time, there has been news of ambitious plans being drawn up not only by the Pakistan Squash Federation but also former stalwarts of the game "to revive the country's squash." It is claimed that the glory days of squash will be back soon. But nothing has ever materialised.
Now, one of the game's all-time greats has stepped up for the purpose. Jansher Khan, the record eight-time winner of the World Open, who also remained the World No 1 for 10 years (from January 1988 to January 1998), is for many, the greatest squash player in history, and without doubt among the finest four players ever in the world. It was announced recently that Jansher, who is also a six-time British Open champion, has joined the Khyber Pakhtunkhwa Sports Directorate for training players in Peshawar as per the wish of the Chief Minister Khyber Pakhtunkhwa Mehmood Khan.
The legend appears to be quite ambitious and confident. "I will nurture squash talent in KP on a daily basis," he says. "I'll do my best to help the country have a new world champion again."
But can he? And what are his plans? The following are excerpts from an interview of the great squash player:
Q. You were given an opportunity earlier as well. You have worked as Pakistan Squash Federation's chief coach and went to the British Junior Open Squash with youngsters. Your comments on that assignment?
Jansher Khan: My assignment as PSF's chief coach in 2009 was for only one year. And yes, during that period, I also accompanied our youngsters to the British Junior Open but it was too short a time to prepare the boys. Moreover, those boys lacked motivation and were not prepared to put in the requisite effort.
Former squash great Jansher Khan has joined the Khyber Pakhtunkhwa Sports Directorate to train young players in Peshawar. Can he turn Pakistan's squash fortunes around? An exclusive talk with Eos...
Q. Why do you think it will it be different this time?
JK: This time round I have signed a five-year contract. The KP government also has assured me of complete support. The young players will be provided with racquets, balls and shoes, and I will work with them every day at the Qamar Zaman Squash Complex in the Qayyum Stadium, Peshawar. The training will not be confined to the court, mind you. I will also supervise their physical training and dietary habits. Initially, the KP Sports Directorate has selected as many as 70 players to train with me. And we have already started the work.
­I am optimistic for a number of reasons:
The facilities available to players in KP are unmatched not only in Pakistan but in any other country but, due to a lack of proper coaching and training, the best talent of the province is being wasted. During the last century, often a single player dominated for long periods — Geoff Hunt for a major part of the 1970s, Jahangir Khan almost throughout the 1980s and myself for a long time in the 1990s.
But during the 21st Century, not a single player has won more than two successive titles at either the British or the World Open. This indicates that the competition is not that stiff, the field is wide open. In 2018, a player from Columbia, a country which had no squash pedigree, lifted the British Open title. The most successful nation at these two prestigious events during the new millennium is Egypt, also a developing country like Pakistan. Their success story should be an inspiration for us.
Q: Your declared aim is to 'help the country to have a new world champion.' The last two Pakistani world champions, Jahangir and yourself, owed most of your successes to your mentors, Rahmat Khan and Mo Yasin, respectively. But they worked one on one — Rahmat with Jahangir and Yasin with you. How are you going to handle so many players all at once?
­JK: There will be further trials in November when, of the 70 that we already have, we will select five each in the under-13, under-15 and under-17 categories. After working on them for around a year, I will pick the best two in each category for further polishing.
­Q: How will be those six players be assessed further?
JK: The KP government has promised funds for players' participation in tournaments abroad. Initially, they will participate in age group tournaments such as the British Junior Open and the US Junior. Then the boys from the two older categories will be entered in the Professional Squash Association World Tour, starting from the lowest tiers — PSA Challenger 5 and PSA Challenger 10. They will be assessed by their performance at these events.
Remember, I will be reporting, among others, to the KP Chief Minister, every three months regarding the youngsters' progress. If I fail to groom a player to break into world's top five in about two to three years, I will resign.
Q: A number of your nephews have played on the national and international circuit. They also include the sons of your brothers, Mohibullah Khan Junior [former World No 2] and Atlas Khan [a British Amateur finalist]. Of them, Farhan Mahboob even won a title at the British Junior Open while Aamer Atlas, Khalid Atlas and Danish Atlas reached the finals. But none of them could make a mark in the professional circuit. Why didn't you take any of them under your wing?
JK: Their fathers coached them. Aamer and Farhan were quite talented. I believe if I had been given the opportunity to work with them, they could have broken into the top five in world rankings. I did express my interest to coach them, but their fathers turned my offer down.
Q: Your coaching team has four other coaches, including Mohibullah Khan Junior and Amjad Khan [former World No 11]. What will be their respective roles?
­JK: They will work under me. They will assist in implementing my plan. I will assign them various roles. A full time physical fitness trainer will also be hired.
The academy is based in Peshawar. All the seven squash world champions from Pakistan — Hashim, Azam, Roshan, Mohibullah Senior, Qamar Zaman, Jahangir and Jansher — had their roots in the Nawan Kalli village in Peshawar's suburbs.
A few other stalwarts, too, have remained engaged in nurturing squash talent before Jansher. Gogi Alauddin, a former World No 2, remained head coach at the Pakistan Squash Rackets Association for quite some time, where he trained boys in the under-13, -15, -17 and under-19 categories. Qamar Zaman has been the president of the Khyber Pakhtunkhwa Squash Association for many years. Both Gogi and Qamar blamed the players for the sport not coming up in Pakistan: They claim the players simply don't have the hunger and dedication needed of a champion and are not prepared to put in the hard work.
Jansher's own hunger and work ethic were phenomenal. Former World No 1 Qamar Zaman recalls, "He was simply mad right from his teenage years. I've never seen anyone working harder than Jansher. He would train all day whether it was boiling hot or freezing cold. You could see from his determination that he was destined to be a world champion."
It remains to be seen if Jansher will be able to inculcate the same spirit in his wards. If he is successful, an entire nation would be grateful to him.
The writer is a freelance sports journalist Email: ijaz62@hotmail.com
Published in Dawn, EOS, Octoberr 11th, 2020