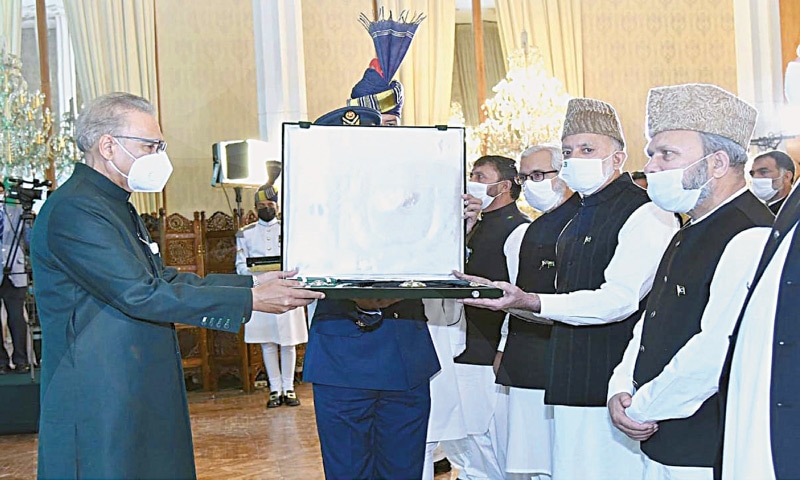 ISLAMABAD: President Dr Arif Alvi has said that Pakistan is heading towards an era of progress and prosperity due to people's struggle.
"As a result of the nation's steadfastness against challenges, Pakistan is heading to an era of progress and prosperity. The silver lining has started emerging. On this August 14, I dedicate that Pakistan has come across a turning point where we have realised our strength to achieve a lot," the president said while speaking at the flag-hoisting ceremony at the Presidency to mark the 74th Indepen­dence Day.
He recalled a number of achievements made by the nation during recent years and highlighted the things-to-do as prerequisite for a bright future of the country.
"From defeating terrorism and extremism, hosting millions of Afghan refugees, sticking to stance of peaceful neighborhood despite Indian provocation and fight against corruption to the downturn of Covid-19, the nation has surmounted numerous challenges in the recent past," Dr Alvi said.
Meanwhile, the nation celebrated Independence Day with great zeal, enthusiasm and national fervour and several programmes and events were held across the country to celebrate the Inde­pendence Day. Rallies were taken out on roads and streets of the country in all major cities, buildings were illuminated and national flag was hoisted on government and private buildings to mark the occasion.
Award for Ali Geelani
President Alvi conferred Nishan-i-Pakistan, the country's highest civil award, on Kashmiri leader Syed Ali Geelani in recognition of his decades-old struggle for Kashmiris' right to self-determination.
The award was received by convener of the All Parties Hurriyat Conference Muhammad Hussain Khateeb along with other Hurriyat leaders.
Reading out the citation, Cabinet Division Secretary Ahmed Nawaz Sukhera said that Syed Ali Geelani started his political career in 1953 and formed the APHC to provide a joint platform to Kashmiri leaders for their right to self-determination.
Published in Dawn, August 15th, 2020