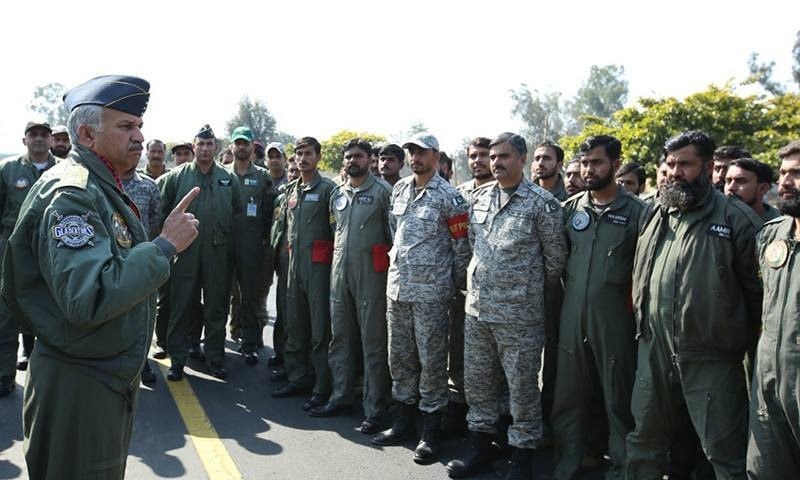 ISLAMABAD: Chief of the Air Staff Air Chief Marshal Mujahid Anwar Khan on Saturday vowed to ensure proper military balance in the region despite India's aggressive buying of weapons.
Addressing the Pakistan Air Force personnel at PAF Base Qadri in Skardu, Air Chief Khan said: "The aggressive military procurements by the enemy are not going unnoticed and necessary measures are in place to ensure the balance of military power in conventional domain as well."
It was the first statement by the PAF chief on India's weapons buying spree following its stand-off with China.
It should be recalled that Indian policymakers in the midst of the conflict gave approval for emergency procurement of defence equipment from Russia and France. Most notably, Indian Defence Minister Rajnath Singh during his visit to Russia in the last week of June requested expediting timelines of delivery of defence equipment that had already been ordered.
Says PAF fully cognisant of geo-strategic developments
Indian defence ministry later on July 3 authorised purchase of 33 Russian fighter jets (21 Mig-29s and 12 Su-30 MKI), and upgrades for 50 Indian Air Force MiG-29s to augment combat preparedness. This contract is worth $2.4 billion.
Meanwhile, India is expecting delivery of first batch of 36 Rafale aircraft from France based on a 2016 contract worth $8.7bn. New Delhi is hopeful that up to six Rafale jets will reach India by the end of July. These acquisitions will improve operational preparedness of Indian Air Force (IAF) both qualitatively and quantitatively.
The IAF has indicated that Rafale jets will be armed with French HAMMER air-to-ground missile, with 60-70kms range, which is designed for targeting hardened bunkers and shelters in any type of terrain, including mountainous areas, such as Ladakh. France has reportedly agreed to ensuring provision of HAMMER missiles from existing stocks on emergency footing to meet pressing requirements of the IAF.
Pakistan has always been worried that the acquisitions made by India on the pretext of matching up with China's weaponry could be used against it.
The air chief said PAF was fully cognisant of the geo-strategic developments in the region and was, alongside its sister services, ready to give a befitting response to any misadventure by India.
He expressed concern over Indian state terrorism and atrocities of its armed forces in Indian Occupied Jammu and Kashmir and said that Pakistan unequivocally supports the freedom struggle of Kashmiris. He reiterated the need for expeditious resolution of Kashmir issue in accordance with the United Nations' resolutions.
The air chief witnessed various operational activities at the base, including rapid deployment of fighter aircraft and combat support elements. He was also briefed on the ongoing infrastructure development works at the base.
He appreciated operational preparedness of the base personnel and expressed his satisfaction over the pace of developmental works, the PAF's media directorate said.
Published in Dawn, July 26th, 2020