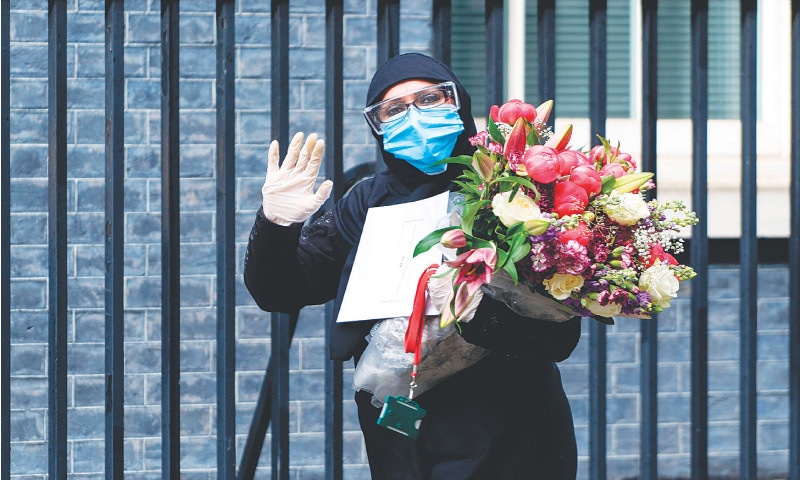 LONDON: When Naghma Butt got a phone call from a friend informing her that her photos outside 10 Downing Street had gone viral on social media, she panicked.
"I feared something negative had been written about me, especially since I was wearing a burqa. My first thought was 'I hope they haven't made this about my attire'," she said in an interview with Dawn.
Later, she said she was quite pleased that the comments surrounding her visit were largely positive, even though she had thought she would get away unnoticed.
A day earlier, Ms Butt, the social secretary to the Pakistan High Commissioner to the UK, made two trips to the official residence of British Prime Minister Boris Johnson to deliver large bouquets of flowers as a congratulatory gesture from High Commissioner Nafees Zakariya and Prime Minister Imran Khan.
Johnson and his fiancee, Carrie Symonds, on Wednesday announced the birth of their baby boy, who has become the third baby born to a serving British prime minister in living memory. The birth comes just 16 days after Johnson, 55, fought for his life in intensive care with coronavirus.
Naghma was born in Lahore but her family moved to Ireland when she was a year old
Ms Butt confirmed that the mission sent flowers in early April as well, when it wished the British PM a speedy recovery.
While the Pakistan mission's gesture this week was one of many congratulatory notes and gifts being sent to Number 10 by well-wishers of the prime minister and his partner, one British daily noted that the bouquets sent from the Pakistan government were "huge".
"I made those bouquets myself," Ms Butt told Dawn. "Even the officers there [outside Number 10] said they were beautiful."
Another British tabloid in its headline noted that she "did not take any chances".
Photographs captured Ms Butt on two occasions on the same day, as she hand delivered the bouquets to an officer outside Number Ten. In the first trip, she was pictured in protective goggles worn over her spectacles and in the second, with a face mask and plastic gloves.
She said she had started taking precautionary measures as far back as February 5, even as she was teased by some and called "Ms Corona". "Now everyone realises how important it is to protect yourself and others."
Ms Butt has been with the Pakistan mission in London's upscale Belgravia neighbourhood for the last 16 years, and has worked with five high commissioners. "I was born in Lahore but my family moved to Ireland when I was a year old. After five years in Dublin, we moved to Wandsworth in London where I have lived my entire life."
She remained adamant about continuing work during the coronavirus pandemic and said that though her family worries for her, she sees her work as "essential to the Pakistani community".
"If the high commissioner is working, how can I stay home? We can't stop working if people are stranded and need help," she said.
Published in Dawn, May 2nd, 2020