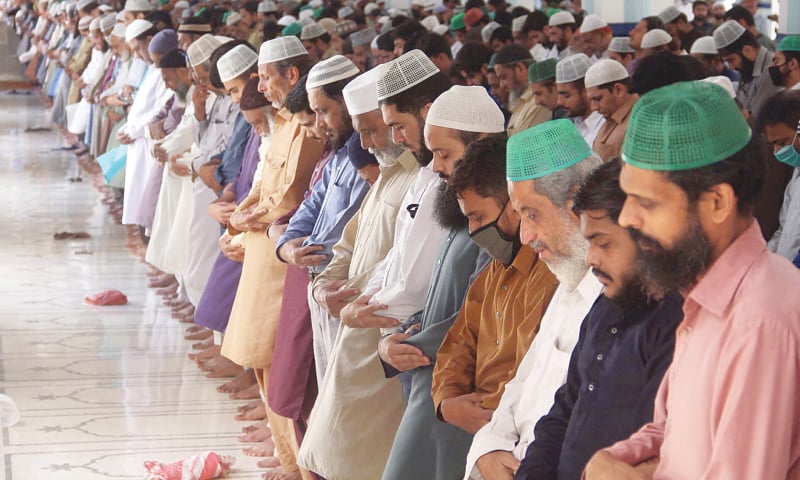 KARACHI: A mixed response was witnessed to the Sindh government's ban on holding Friday congregations in the metropolis as worshippers in large numbers gathered at several mosques to offer the Juma prayers, witnesses and officials said.
As some clerics supported the government move and prominent religious scholar Mufti Taqi Usmani had publicly expressed his reservations over certain things, ulema of Barelvi school of thought including Mufti Muneebur Rehman and Tehreek-i-Labbaik Pakistan chief Khadim Husain Rizvi issued their video and audio messages and announced holding the Friday prayers despite the ban.
Law enforcers avoided taking any action and did not resist even when more than five persons gathered at mosques ostensibly due to the sensitivity of the issue.
There were some incidents where the police tried to prevent the people from gathering but to no avail.
Police claim 90pc of mosques in city complied with the ban; another 169 held for violating lockdown in Sindh
One such incident occurred at the city's historic and one of its largest mosques — the New Memon Masjid — in Kharadar.
According to witnesses and officials, the management got both gates of the mosque opened at around noon when a few hundred people entered for offering the prayers.
One of the persons belonging to the mosque administration told media that the congregation was being held on the directives of Mufti Muneeb.
The Kharadar SHO rushed to the spot as soon as he received the information and told people by a loudspeaker to go home.
The police officer said that he could not use force against the people but they should realise that even Saudi Arabia was considering cancelling Haj this year. However, a huge number of people started chanting slogans and apprehending a law and order situation the police allowed them to go inside and offer the prayers.
Another similar incident was witnessed at a mosque in the Burnes Road area. Some police officers met the mosque administration earlier on Friday and informed them about the ban on holding a congregation.
A senior police officer, who wished not to be named, said that the area SHO belonged to a non-Muslim community and certain people might have exploited this fact.
The officer said that the police had decided to lodge FIRs against the administrations of the mosques where more than 50 persons gathered and offered the prayers in violation of the government ban.
He claimed that arrests would also be made.
IGP says 'scores' held for violating prayer ban 
Inspector General of Police Mushtaq Ahmed Mahar told Dawn that "scores of people" had been arrested in Karachi and other parts of Sindh over violation of the lockdown as well as the ban on Friday congregations.
He said that FIRs had also been registered against the violators.
He said that the police would strictly implement the additional lockdown measures announced by the provincial government with regard to closure of shops at 5pm from Saturday (today).
The IGP said that no one would be allowed to roam freely.
He said that pet owners would be allowed to make arrangements for the feed of their animals or birds between 12pm and 2pm from Saturday and after that they would also not be allowed to go outside.
Meanwhile, Karachi police chief Ghulam Nabi Memon on Friday said that barring some mosques, majority of mosque administrations had responded positively on the ban on congregations.
"People of Karachi are responding positively as they are being gradually sensitised," he said.
He believed that in case of the ban on congregations of Juma prayers, over 90 per cent of the mosques responded to the government call.
However, he conceded that in some mosques congregations were held but the attendance was very thin compared to what it used to be.
He said that three persons were arrested in the city for violating the ban on holding Friday congregations.
 169 held across Sindh for defying lockdown 
Police sources on Friday said that a total of 169 persons were arrested across Sindh for violation of Section 144 of the Criminal Procedure Code, hoarding of masks, sanitizers and gloves, etc.
Sharing details of these arrests, they said that 104 persons were detained in different parts of Karachi — 67 in the South zone, 24 in East and 13 in the West zone of the police's organisational structure.
Forty people were apprehended in Mirpurkhas range, seven in Shaheed Benazirabad range, four in Sukkur and 14 in Larkana. No one was detained in Hyderabad range.
Separately, a Karachi police spokesperson said that from March 23 to 26, as many as 1,084 persons had been arrested over violation of the lockdown in the city and 329 FIRs registered against them.
Published in Dawn, March 28th, 2020