Children and the Fainthearted
All you young fans of Fawad Khan and Mahira Khan will have little to cheer about this. Bilal Lashari, the director of their eagerly awaited The Legend of Maula Jatt, has warned parents not to bring their children along to see the movie on Eidul Fitr. He reasons that it's not for the fainthearted or children "because of the graphic nature of a few scenes." What he is trying to put across is that there is blood and gore in the story. Seriously? No kidding? Also: shouldn't this be dealt with by the censor boards that provide age-ratings for films too?
Kashmir's Khwaab
The young guys who won the Pepsi Battle of the Bands in 2017 (wow, it's already been three years!) are all set to launch their first album. Yes, it's called Khwaab [Dream], which is also one of pop band Kashmir's early songs, and will contain some new and some previously sunay huay tracks. The album, an official announcement suggests, will 'soon' come out and will be released on all major streaming platforms, including Spotify and YouTube. Cool. Can't wait. We hope that it hits the music stores and streaming stations soon(er) rather than later.
The Fairytale
Lady Gaga can surprise you… in weird ways. Her new single Stupid Love is out, and its video contains a pretty interesting dance act. In case you are wondering what her inspiration was for writing the song and coming up with those visuals, here it is. "I was feeling so down so many days when I was, you know, before I went into the studio to work, and then I would go in and I would just, I would sit there with the producer and go, 'Okay, I'm gonna open the portal, I'm gonna listen, I'm gonna talk to all my fairies. All the fairies that help me write music and I'm gonna ask them what the world needs to hear. And then we would make records and it — it turns out that they were happy…" Um... o-kayyy Lady G, whatever you say.
Taapsee's Thappad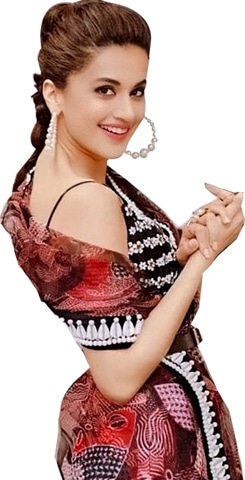 If film reviews are anything to go by, then Anubhav Sinha's film Thappad [Slap], starring Taapsee Pannu, is a groundbreaking effort. Sadly, the unpalatable political atmosphere in India has put a dampener on the movie's success too. Taapsee P, in January, stood shoulder to shoulder with a group of people who protested against the violent treatment meted out to the students at Jamia Millia and JNU. It didn't go down well with the rightwing forces of the country and, a few days before the film's release, they began to trend 'Boycott Thappad' on Twitter. But the actress handled it well. Check out her response. "An actor is never bigger than a film. A film has hundreds of people involved in it. It is stupid to decide whether or not you will watch a movie based on an actor's socio-political views." Spot on gal! That's a thappad right across their extremist faces.
DDLJ2
Hold on a sec. What did we just hear? Shah Rukh Khan's wife Gauri has given a statement saying that her hubby should make a sequel to his iconic 1995 film Dilwale Dulhanya Le Jayenge. She said this when someone asked her how she felt when Donald Trump, addressing a large gathering at Ahmedabad during his recent visit to India, had mentioned DDLJ, calling it a 'classic'. Gauri dear, be creative. Try and convince your actor husband to produce and act in a film tentatively titled Howdy Modi More. It will hold him in good stead.
James Lipton no more
Renowned TV presenter, James Lipton, known for his remarkable interviews-based show Inside the Actors Studio, died on March 2 in Manhattan. He was 93. He was also an actor and writer, but after establishing the Actors Studio Drama School in 1994, he dedicated his life to the institution. He had a gentle disposition, and the distinct way he conducted interviews of celebrities made him a household name among showbiz lovers. May he rest in peace.
Published in Dawn, ICON, March 8th, 2020