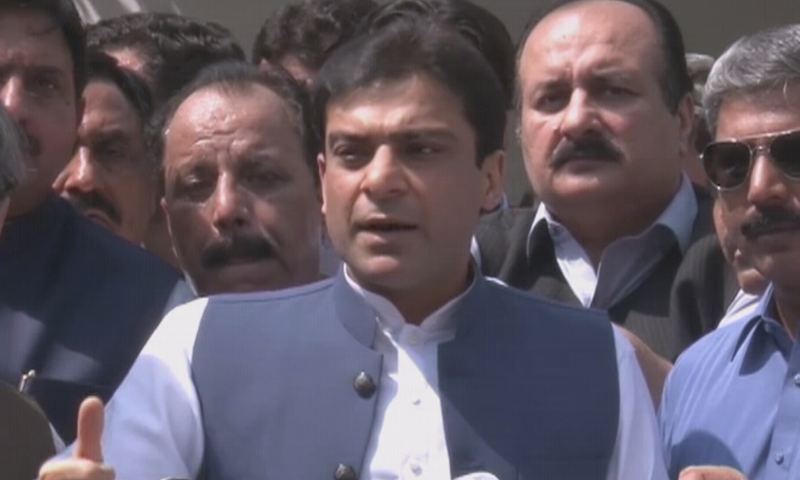 The Lahore High Court on Tuesday rejected Leader of Opposition in Punjab Assembly Hamza Shahbaz's bail plea in a case concerning illegal assets and money laundering.
The PML-N leader was arrested by the National Accountability Bureau (NAB) in June of last year.
The high court's decision comes days after it granted post-arrest bail to Hamza in the Ramzan Sugar Mills case on Thursday.
During today's proceedings, a two-member bench of the LHC headed by Justice Syed Mazhar Ali Akbar Naqvi heard the PML-N leader's bail plea during which they asked his lawyer what the allegations against Hamza were.
Hamza's counsel, Salman Aslam Butt, said NAB had claimed Hamza's assets increased illegally. But his counsel argued that under the Anti-Money Laundering (AML) Act 2010, NAB couldn't act against Hamza.
"One of your points before the court is that NAB can't take action on the basis of the anti-money laundering act?" inquired Justice Naqvi, to which Butt responded in the affirmative.
The court also inquired by how much Hamza's assets had increased. While NAB's lawyer said the PML-N leader's assets had increased by Rs410 billion till 2018, Hamza's counsel said NAB was sharing the increase over the past 15 years, adding that he wanted to assist the court on this matter.
The LHC then asked Hamza's lawyer to share the source of the increase in his client's assets.
Butt said that all of his client's assets were declared and his tax returns were available, adding that Hamza had also received money from abroad.
After the court inquired about who had sent the money from abroad, Butt said, "Everything is stated in his [Hamza's] tax returns." He added that Hamza had never received a bribe or a kickback.
Presenting his arguments, NAB's lawyer shared details of Shehbaz Sharif's family assets, alleging that money kept flowing into the accounts of Hamza and his family.