"The Academy Awards are all about excellence." One expects these words to reverberate in the mind of any member of the Academy of Motion Picture Arts and Sciences when they vote on their Oscar ballots.
Alas, we know that casting votes strictly in the pursuit of excellence is a rare habit in any media industry, so why should Academy voters be any different?
Choosing who to vote for is often dependent on personal preferences, which are oftentimes dependent on peer or guild partiality. When one is not a part of a particular guild, members stick to winning trends and agendas. Gone, then, is the pursuit of perfection.
With racial and gender biases keeping a low profile this year, and streaming platforms such as Netflix getting due respect (The Irishman, Marriage Story, Klaus being top contenders), one expects "excellence" to at least pop up every now and then in tomorrow's award ceremony.
However, with the award season being uncomfortably cramped this year — with two to three awards ceremonies taking place most days — Academy voters are susceptible to quite a bit of confusion.
It's that time of the year again when Hollywood awards the best of the best in motion pictures, or so it says. In line with another tradition, at Icon, we make our own predictions for tomorrow morning's Oscars...
Some key award ceremonies, such as the Baftas (The British Academy of Film and Television Arts), which in the past decade have become a bona fide predictor of the Oscar game, can be blamed for influencing voters (a healthy number of Academy members are also members of the British Academy, and both awards mostly have the same nominations and categories).
This year, in particular, the Bafta held its award ceremony two days before Oscar balloting closed, which will have likely persuaded last-minute voters to pick a winning trend.
As a consequence, some titles — such as Pedro Almodóvar's Pain and Glory (nominated for Best International Film and Best Actor for Antonio Banderas) — gained and lost momentum within a span of days, despite their intense and expensive Oscar campaigns.
Now don't get us wrong: 1917, Ford V Ferrari, Once Upon a Time… in Hollywood, Marriage Story, The Irishman, Klaus, Little Women, and even Joker, are excellent awards season fodder. But films such as Parasite, which won the Plame d'Or at Cannes, has gradually turned into a force of nature, acing six nominations including Best Picture, International Film and Director.
For some, Parasite could very well do what Roma could not last year: win Best Picture.
At a glance, this looks like a good year to ace a perfect score. In Icon's decade-and-a-half of predicting the Oscars (we stopped keeping exact count a few years back), we have always maintained that, with exception to safe bets (often mostly in acting categories), predictions can — and do — go any which way.
That is why every year our prerogative is to binge-watch nearly every nominated title before Oscar voting closes. We've also changed our routine 'Will Win', 'Should Win' picks in favour of estimated percentages for winning, that illustrate the divide in Oscar voters this year.
Hopefully, our idea of 'excellence' will resonate at the Oscar awards tomorrow morning.
PICTURE
With undisputed wins at the Producer's Guild and the Baftas, 1917 feels like the undisputed Best Picture winner. However, we have a strange inkling that Parasite, and its rapid momentum in the race, may be able to pull off a victory that Roma wasn't able to. It often takes the Academy a year to get its bearings together (the uproar over African American racial bias, for example, was rectified the following year with the wins for Black Panther and Green Book). Roma was a far better contender than Green Book but, if 1917 still wins, it would be an indication that the Academy voters are still stuck in the past, or prefer stories they can easily identify with.
ACTRESS IN A LEADING ROLE
I doubt if a healthy number of Academy voters have seen Zellweger's biopic on Judy Garland… not that it matters. The actress's career took a nosedive in the late 2000s and this nomination, and her eventual win, is the perfect opportunity for the industry to recognise and celebrate the actress again (she last won Best Supporting Actress accolade for Cold Mountain in 2004). Industry support aside, she is also the best candidate in the roster.
ANIMATED FEATURE FILM
This is a tough one to predict, and may very well dent our overall score. It's a risk we're happy to take anyway. Toy Story 4's exceptional winning streak is hard to beat. However, despite being visually spectacular, we feel that its excellence is a notch below the usual Pixar and Toy Story standard we've grown accustomed to. Klaus, on the other hand, is a rare exception. It is an emotionally stirring, traditionally animated feature that has won both the Annie and Baftas.
If Klaus wins (fingers crossed), then it would only be the second hand-drawn animated film to win the award since Hayao Miyazaki's Spirited Away in 2003 (which was, technically a foreign production like Klaus; the category started with Shrek in 2002. Disney had lost its golden touch by the time). Klaus' win would also pave way for future Netflix releases to win at the Oscars, and encourage production of hand-drawn animated films.
DIRECTOR
Bong Joon-ho has a lot of Oscar love this year. An indication of this was evident in the Critics' Choice Awards, where he tied with Sam Mendes in the Best Director category. Our prediction is that after Mendes' win at the Director's Guild, Bong's chances of winning have gone down considerably. 1917 is a difficult film to make — one that requires more technical astuteness than a character study such as Parasite.
ACTOR IN A SUPPORTING ROLE
Isn't it time for the industry to recognise Brad Pitt's contribution as an actor? Everyone thinks so. Who are we to disagree?
INTERNATIONAL FEATURE FILM
Only a fool would argue against Parasite winning this award. Enough said.
ACTOR IN A LEADING ROLE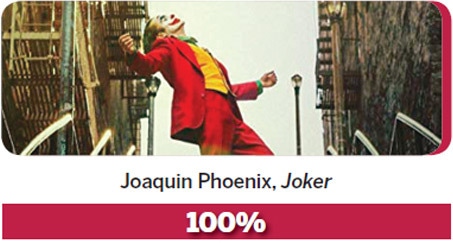 We would be hard-pressed between voting for Jonathan Pryce (The Two Popes) and Adam Driver (Marriage Story). Phoenix, though, has proven to be an unstoppable force, acing win after win in every award ceremony he qualifies in. No surprises here.
ACTRESS IN A SUPPORTING ROLE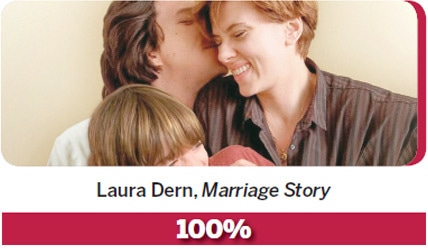 Playing an intelligent, professional and, at times, a caring, man-hating divorce lawyer from L.A. makes Dern's character relatable to the film industry. The high-spirited role is not even her best work till date. But Dern's winning streak throughout the award season reminds us of Roger Deakins' win for Blade Runner 2049, which was a fine entry in Deakins' career, but hardly award worthy. Sometimes the industry chooses to avail an opportunity to celebrate an artist before it's too late. Dern's imminent victory is one of these times.
DOCUMENTARY FEATURE
So far there is no indication of a clear-cut winner in this category. Out of the five nominees, our personal preference is Honeyland, a small, uncomplicated story of a beekeeper's life that's turned upside down after a selfish, nomadic family moves to an abandoned house next to hers. Honeyland's nomination in both International Film and Documentary categories (both well-deserved by the way), could confuse voters, however.
For Sama, a documentary filmmakers' account of Aleppo during the Syrian Civil War, especially in relation to her newborn child, is the weakest and the most heavy-handed film in the line-up. American Factory, which focuses on a Chinese conglomerate's efforts to run a shuttered down General Motors factory in Ohio, might feel more relatable to Oscar voters.
ADAPTED SCREENPLAY
After rejuvenating Thor in Ragnarok, Taika Waititi is getting a lot of love from the industry, and that makes Jojo Rabbit an excellent film on its own accord, with strong opposition from Greta Gerwig's adaptation of Little Women. The latter — an excellent and original take on Louisa May Alcott's classic novel — though, is one of the few chances Oscar voters have this year to celebrate female empowerment. Gerwig is also the only female screenwriter in this category.
ORIGINAL SCREENPLAY
Another tricky category to predict. Story-wise, Parasite is a complicated film to pull off. Quentin Tarantino, on the other hand, already has two Oscars — one for Pulp Fiction, the other for Django Unchained. With Mendes primed to win the Oscar for Director, this might be the only other opportunity for Bong Joon-ho to win an Oscar for his own achievement. That is, unless Parasite wins Best Picture.
CINEMATOGRAPHY
We think someone at the Academy is already engraving Roger Deakins' name on the Oscar statuette.
FILM EDITING
For us, Ford V Ferrari, a Bafta winner in the same category, is a slightly better candidate than Parasite, which won the American Cinema Editors Award. To the industry, however, this may be a hair-pulling moment. We think the former, with its precise, split-second edits — especially during the long but very effective climax at the Le Man's race track — may appeal to a laymen voter's understanding of "film editing".
PRODUCTION DESIGN
Once Upon a Time… in Hollywood nails the look of the era. 1917, shot in a pseudo single-take, however banks entirely on its production design to pull off the story and the cinematography.
Parasite, a winner at the Art Director's Guild for Best Contemporary Design, is picking up some momentum.
We think the real match, by a slight margin, however, is between 1917 and Once Upon a Time…
COSTUME DESIGN
The industry should be as divided as we are between Once Upon a Time… and Little Women. The latter, though, has already won a Bafta. Once Upon a Time … has none.
MAKE-UP & HAIRSTYLING
The Academy appreciates actors in identity-changing make-up. Keeping this trend in view — the Oscar for Make-up & Hairstyling went to Vice last year, Darkest Hour the year before, Dallas Buyer's Club in 2013 and The Iron Lady in 2011 — it is safe to pick Bombshell over Judy, the only other worthwhile candidate in the line-up. Even if history indicated otherwise, Bombshell would have gotten our votes if we were in the Academy.
VISUAL EFFECTS
This is one category we know we may not ace. Our preference is The Irishman — a technical feat that is seamless and photorealistic. Avengers: End Game, in comparison, is extravagant and the scope of its work is hardly different from any other big-budget blockbuster of the year.
Of late, 1917 is showing signs of upsetting the race. Still, we think Oscar voters will be equally divided between the first two titles. Or it could be a total upset if Lion King gets the award — The Jungle Book and Life of Pi have won for their VFX work in the past.
SOUND EDITING
Those unfamiliar with the technical side of filmmaking (ie. most actors, screenwriters and producers), will not be able to distinguish between the two sound categories.
Voters are likely to split the vote between the two categories, choosing one over the other in either cases. Keeping our senses on alert, we feel 1917 has a tiny bit of edge over Ford V Ferrari in Sound Editing. The placement of sound — whether dialogue or effect — is at times more effective in 1917.
SOUND MIXING
In a complete 180-degree turn, the mix of the sound is far cleaner in Ford V Ferrari (evident in the climatic race). More often than not, 1917's booming background score compromises the effectiveness of its sound mix.
ORIGINAL SCORE
Continuing its winning streak throughout the award season — Baftas, The Golden Globes, The Critics' Choice Awards — one can safely predict that Joker has the lead over Thomas Newman's score in 1917.
PRODUCTION DESIGN
Rocketman has won every Original Song category this season. Although we prefer the other three nominees — Into the Unknown, Stand Up and I'm Standing With You — the Academy will likely choose Rocketman for its winning streak.
Published in Dawn, ICON, February 9th, 2020