January 24, 2020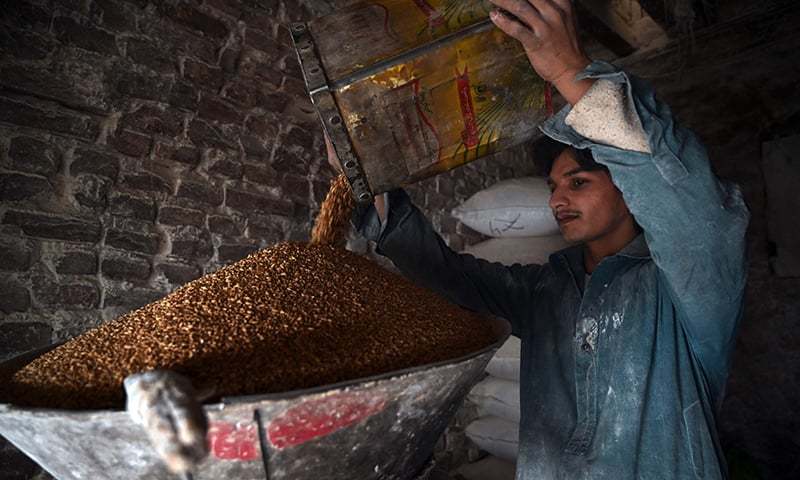 HYDERABAD: Hyderabad Commissioner Mohammad Abbas Baloch directed officials concerned to take action against the flour mills and atta chakkis, which had been shut on the pretext of shortage of wheat, and hold audit of the wheat stocks being supplied to them by the food department on a daily basis.
He issued the directive at a meeting with owners of flour mills and atta chakkis and wholesalers here on Thursday and reaffirmed that the administration would ensure supply of flour to people at official price.
The meeting decided to set up fixed points for supply of flour to meet increasing demand for the staple food item and noted that Saylani Welfare Trust would establish 100 points, defunct Hyderabad Chamber of Commerce would set up 50 points whereas flour would be sold at 200 chakkis at official price.
In all, flour would be made available at over 300 points at official rate and the administration would ensure that nobody took undue advantage of the supply of low-priced flour, said the commissioner.
He appointed additional deputy commissioner-I Liaquat Kalhoro as focal person for the entire exercise and said the officer would devise a mechanism and identify points for low-priced flour supply.
The commissioner believed it was an artificial crisis because sufficient wheat supplies would be available in the market after one and a half month. Therefore, the present situation should be handled carefully, he said.
The representatives of chakki owners expressed some reservations over supply of wheat quota and the commissioner assured them that he would take up their genuine issues at all forums. The commissioner promised to talk to secretary of food about chakki owners' demand for increase in wheat quotas.
Deputy director of food Zahid Hussain Baloch informed the meeting that wheat was being supplied to flour mills and chakkis, still chakki owners had shut their plants which was regrettable.
The commissioner said at another meeting on the issue of shifting of vegetable market on Hali Road to its new location that Section 144 would be imposed on the present vegetable market and all trade activities would be banned there to encourage traders to accelerate the shifting process.
He directed ADC-I to take up the issue seriously and meet director general of agriculture extension, DIG of Hyderabad range and SSP of Hyderabad in this connection.
The ADC-I informed the meeting that he had made it clear to all fruit and vegetable sellers that their trade activities could be banned under Section 144. The meeting also discussed holding of low-price markets in Expo Centre which would be regularised subsequently.
The Expo Centre, therefore, should be made functional and pro formas should be distributed among all stakeholders so that they could get the stalls registered, said the meeting.
Over 100 chakkis in Mirpurkhas remain shut
MIRPURKHAS: More than 100 out of 300 chakkis in the city and its suburbs remained closed on Thursday for want of wheat, causing flour crisis to further deepen and triggering sporadic protests over unavailability of low-priced flour.
Chakki owners who gave their names as Ayub, Sattar, Abdul Rasheed and Liaquat Qureshi told this correspondent that they were compelled to buy wheat at a high rate from open market after food department failed to supply them wheat bags at subsidised rate.
Eventually, they said, they had to sell flour at high price when assistant commissioners started conducting raids on chakkis and imposing heavy fines. They, therefore, decided not to buy wheat from local market and had to keep chakkis closed for lack of wheat, they said.
They accused the district administration of failing to comply with directives of Sindh chief minister on conducting raids on godowns of wheat hoarders for recovery of wheat bags.
They urged the government to ensure immediate supply of subsidised wheat in sufficient quantity to chakkis to end shortage of flour in the city.
Meanwhile, scores of people, including women and children, staged protest demonstrations in Pak Colony, Gharibabad, Naipara, Khar Para, Walkart, Jamnadas Colony, Hirabad and Hameed Pura Colony against unavailability of flour at shops and chakkis.
They raised slogans against Sindh government and demanded drastic measures to ensure sale of flour at official rate of Rs45 per kilo instead of Rs70 a kilo. Officials of food department claimed that there were no subsidised wheat bags in their godowns.
Published in Dawn, January 24th, 2020