KARACHI: Stakehol­ders of various CNG associations as well as workers on Monday held a protest demonstration outside the Karachi Press Club against the prolonged gas loadshedding by the Sui Southern Gas Company Limited (SSGCL).
They said: "CNG stations have operated only 27 hours in the last week while remaining shut for 192 hours, causing serious hardships to the consumers, transporters as well as station owners."
All the CNG stations will remain closed from 8am to 8pm even on Tuesday "due to low pressure of gas in the SSGCL system".
Chairman of the CNG Dealers Association Abdul Sami Khan said that when the gas supply was restored for "limited hours", more than 50 per cent of the stations could not operate owing to a very low gas pressure.
He said on Dec 19 SSGCL high-ups had assured station owners that gas would be supplied on Friday, Saturday and Sunday, but this was not done.
He said captive power units are utilising 20pc of gas. As per the contract, the SSGCL is bound to keep gas supply suspended from Dec 1 to Feb 28, but captive power units are operating.
When asked about the future strategy, Mr Sami said: "We have three options: blocking the main roads, holding protest at the SSGCL's head office and placing protest banners in the city."
He urged the federal government to look into the grievances of the consumers and CNG industry and ensure supply of gas to the stations.
Mr Sami said the closure of CNG stations had rendered many workers jobless at the outlets while transport operators are also facing serious problems in running buses.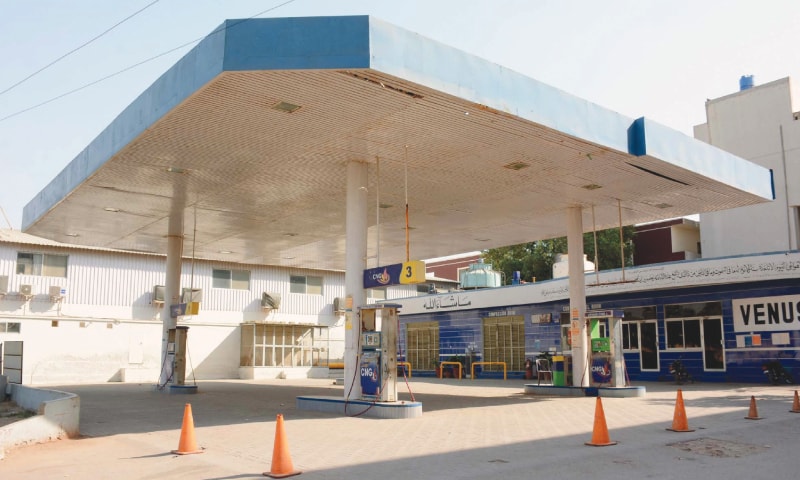 As per the Constitution, Sindh has the first right to use gas. "The tariff of our CNG sector has been the highest. The government does not apply industrial tariff to the CNG sector.
We are the only industry which is paying advance tax," he said.
Sources at the SSGCL said that out of 2,500mmcfd gas production in Sindh, 1,000mmcfd to 1,200mmcfd of gas is being diverted to Khyber Pakhtunkhwa and Punjab to meet the soaring demand of domestic consumers in winter there.
The current demand for gas in Sindh and Balochistan is 1,500mmcfd but the SSGCL's system is facing a shortfall of 360mmcfd, thus causing low gas pressure for domestic consumers as well as longer duration of gas loadshedding at CNG stations.
Sources said the CNG sector fell in the last category of a priority list of the government, while the top five priority sectors of providing gas are domestic, commercial, independent power producers, industries and captive power units.
Published in Dawn, December 24th, 2019