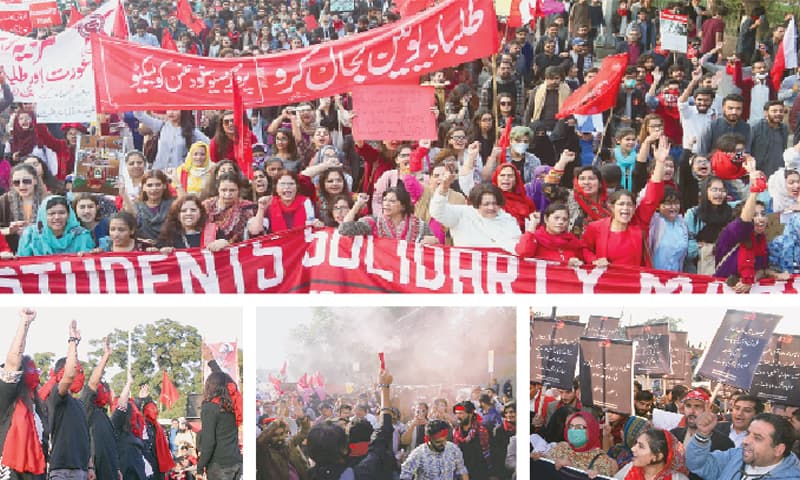 KARACHI: Students across Pakistan took to the streets on Friday afternoon to demand their right to unionise.
The countrywide Student Solidarity March, led by the Student Action Committee (SAC), had been in the works for the past couple of weeks as students, graduates, their parents and activists deci­ded to band together against fee hike, harassment and surveillance on campus.
For many students such as Azala, the lack of basic facilities for students at public-sector varsities like Karachi University was also a factor.
As she got ready to march from Regal Chowk to Kara­chi Press Club, she told Dawn that she was marching because the students of Gilgit-Baltistan had next to no access to further education.
"There is only one university in GB and it is not worth going to. In order to become someone, many young people from GB move to Kara­chi like me but even that is not a simple task," she said.
Azala explained that living on campus had its own issues.
"We have no space. There are almost 14 girls to a room. We have to live with constant harassment and threats if we complain or raise our voice. How is this good learning/educational atmosphere for anyone?" she remarked before joining her batch mates in shouting slogans.
The march, which was staged at more than 50 places across the country, was organised by the SAC and Progressive Students Federation with support from the Women's Democratic Front and other organisations.
Their demands were simple. They included that 5pc of GDP should be allocated to education, all national languages should be compulsory at primary level, build more universities, expand libraries, repeal the ban on student unions, implementation of harassment laws and students' representation on harassment committees, abolish class-based education system, withdraw the recent increase in fees, remove security forces from education institutions, stop privatisation of universities and provide students with proper facilities.
In Karachi, hordes of students, graduates, parents, teachers and union leaders got together to recite poetry and shout revolutionary slogans during the march. Once at KPC, the organisers took to the stage to talk about how education had been turned into a profit-seeking business and was destroying the critical aspect of knowledge.
Talking to Dawn, students from the Institute of Business Administration, Habib University, Karachi University and Federal Urdu University of Arts, Science and Technology said enough was enough. A girl from the Urdu varsity said she was marching for the rights of her fellow students at Balochistan University who were allegedly facing harassment at the hands of the administration.
A transgender medical student, Sara, said she was marching for a safe campus. "We need an environment where people can study without worrying about being harassed or being asked for sexual favours in order to pass. We, the trans students, need to be treated with respect as well," she said.
Jamila, a former student union leader from Peshawar, took part in the march in Karachi. While protests and demonstrations were important, it was imperative to keep political struggle alive, she believed.
"Our society has been depoliticised for decades…when I was a student leader. I remember I was the president of my college's union in Mardan when they took away the badges from us in Zia's regime. I have witnessed society going backwards rather than forward. Look at how they killed Mashal Khan," she said.
"We saw militants attack universities. All this happened because students were depoliticised and the whole society was depoliticised. As a result, our society has witnessed a decline. So, political struggle is very necessary," she added.
Also spotted among the marchers was activist Jibran Nasir who told Dawn that he had come out to support the country's future. "Students are our future. We must realise that our future will never be bright if we keep on lighting monuments of the past."
Bhagat, Mashal remembered
In Lahore, protesters in large numbers gathered early afternoon at Nasser Bagh and began their march towards Punjab Assembly.
Professor and activist Ammar Ali Jan tweeted a photo from the protest and said: "Bhagat Singh's city is red again."
Mashal Khan's father Iqbal Lala also spoke at the march. His presence gave the protest more energy as one of the demands made by the students was declaring April 13, a day to remember slain Mashal.
Guns, cameras in Islamabad
Sana R. was marching in Islamabad because her alma mater, a liberal university in Karachi, taught her how to deconstruct and recognize authoritarian forms of control and ended up imitating exactly what it criticised.
Talking to Dawn, she said that within four years, she witnessed an increase in number of cameras and weapons on campus. "They'd always say it is for our safety but when things would get stolen the cameras were never of any use. The cameras were focused on monitoring students, as were the guards. Instead of hiring counselors to help students, they hired campus security officers that would treat us like we were criminals," she complained.
"It became suffocated to be there with guns and barbed wire around us…started to feel like a prison where you were always guilty of some crime, because someone was always watching you. I am marching because there has to be a powerful voice for students, one that the administration has to listen and respect," she added.
Tweeting from Islamabad, activist and Bolo Bhi director Usama Khilji shared a photo of the protest and said: "#StudentSolidarityMarch in #Islamabad proceeding from press club towards D Chowk right now – energized environment with around 1,000 students united to demand #RestoreStudentUnion.
Harassment in Quetta campuses
In Quetta, Aurangzaib Baloch of Balochistan University said they had a good turnout on Friday. "I think we were joined by 200-300 students. People came out to protest particularly because of the harassment and surveillance taking place on campus," he said while talking to Dawn.
He said they were joined by union leaders, members of the Women's Democratic Front and the civil society. "We gathered at Metropolitan Park for the march. It was interesting. A lot of students and organisations had come together.
"Also in the park were student wings of political parties. We invited them to join us but they refused. As we left the park, these students picked up sticks and started hitting us. Videos of this have also gone viral. I don't know why they behaved in this way – the march is a good thing. Students came out on the streets with genuine problems," he added.
Another student, Sadia Baloch, said she was glad students took to the streets to make their demands heard.
In Peshawar, Imad Khalil tweeted a photograph and said: "#StudentSolidarityMarch kicks off from Peshawar Press Club towards Provincial Assembly of KP. Stop the subjugation, revive student unions."
ANP, PPP support march
Awami National Party's Aimal Wali Khan also tweeted about the march. "ANP supports #StudentSolidarityMarch. Students must have the right to assemble and speak for their rights. I urge all members of Pakhtun Students Federation to actively take part in the march."
Supporting the march, Pakistan Peoples Party chairman Bilawal Bhutto-Zardari said former prime minister Benazir Bhutto had restored student unions but it was undone to depoliticize society.
He tweeted: "The PPP has always supported student unions. The restoration of student unions by SMBB was purposely undone to depoliticize society. Today students are marching in the #StudentSolidarityMarch for the restoration of unions, implementation of right to education, end to privatisation of public universities, implementation of sexual harassment legislation, right to student housing and demilitarization of campuses. The spirit of activism and yearning for peaceful democratic society from a new generation of students is truly inspiring."
Published in Dawn, November 30th, 2019