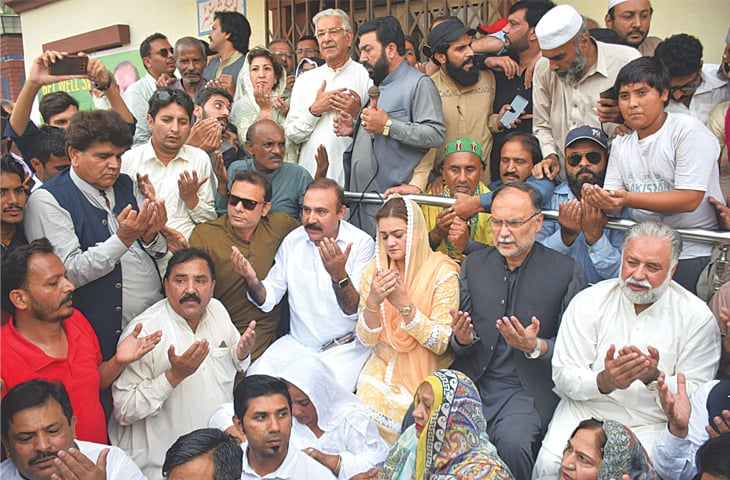 LAHORE: As doctors are optimistic that former prime minister Nawaz Sharif's condition will improve in a few days, the Pakistan Muslim League (PML-N) says going abroad (London) for treatment will only be his own (Nawaz) decision and the party will not force him in this regard.
After a struggle of three days, a six-member medical board, headed by Services Hospital Principal Ayaz Mahmood, on Thursday diagnosed the reason for Mr Sharif's declining health. "It is acute immune thrombocytopenic purpura (ITP), a bleeding disorder, in which the immune system destroys platelets," a board member told Dawn. He said the treatment was given to Mr Sharif in the light of his diagnosis. "We are hopeful that his condition will improve in a few days," he added.
However, Mr Sharif's platelet count again dropped on Thursday evening from 20,000 to 6,000. "The medical reports of the PML-N supremo have been sent to doctors abroad for their opinion," a party leader said.
Read: Sincere prayers with Nawaz Sharif despite political differences: PM Imran
Prime Minister Imran Khan has expressed concerns over the health of Mr Sharif, saying in a tweet "political differences notwithstanding, my sincere prayers are with Nawaz Sharif for his health. I have directed all concerned to ensure provision of the best possible health care and medical treatment to him".
Plea filed in LHC for ex-PM's bail on medical grounds; IHC summons Services Hospital MS; Sarwar says govt will not create any problem in Nawaz's treatment 'here or abroad'; Maryam sent back to jail
In a late-night development, Punjab Governor Chaudhry Mohammad Sarwar issued a video message in which he said the prime minister had directed him and the provincial government to allow Maryam Nawaz's meeting with her father and ensure best treatment for him.
He said the government would not create any problem in Mr Sharif's treatment "here or abroad".
A private TV channel quoted the governor as having said that the government would create no problems for Mr Sharif's sons and other daughter's return to the country to see their father.
Reports suggested that Maryam was being allowed to visit her father to persuade him to leave for London for his better treatment. The PML-N said Nawaz Sharif would decide on his own about leaving the country for treatment.
Reacting to the premier's statement, PML-N information secretary Marriyum Aurangzeb said: "PM Khan's tweet is a tactic to grab public sympathy. He should stop his fake empathy after sending opposition leaders to death-row cells. The so-called premier is trying to compensate his conscience over his callous actions of vengeance. He had talked about withdrawing Nawaz Sharif's air conditioning and television in jail."
The PML-N also lambasted the PTI government for doing politics over Mr Sharif's health. It indirectly also blamed the apex court for not allowing him earlier to go abroad for treatment.
"It is regrettable that the superior court had rejected the doctors' report on Nawaz Sharif's health. Had his application (to go abroad for treatment) been accepted, his condition would not have worsened," PML-N secretary general Ahsan Iqbal told reporters here.
He also condemned the statements of the ministers and Pakistan Tehreek-i-Insaf leaders, especially Firdous Ashiq Awan, for mocking Mr Sharif's health.
PM Khan has reportedly stopped his party leaders from issuing 'hostile' statements regarding the health of Nawaz Sharif and Maryam Nawaz.
Khawaja Asif, a close aide to the former premier, said the party had decided not to "force" him (Nawaz) to go abroad for treatment. "Nawaz Sharif's condition is serious. It will only be the decision of Mian sahib about going abroad for treatment. We will not push him," he said, adding that one wished one did not have a "mean enemy".
Pleas seeking bail for Nawaz, Maryam
In a related development, PML-N president Shahbaz Sharif on Thursday sought bail for his elder brother Nawaz Sharif on medical grounds in the Chaudhry Sugar Mills case from the Lahore High Court. The court summoned a report from the medical board treating incarcerated Nawaz Sharif and also sought a reply from the National Accountability Bureau (NAB) on the petition.
On another petition of Maryam Nawaz seeking her bail in the same case on merits and humanitarian grounds, a division bench comprising Justice Ali Baqar Najafi and Justice Sardar Ahmad Naeem directed NAB to submit its reply.
The legal team of the Sharif family filed the petitions on Thursday with a request to be heard same day, citing urgency in the matter.
At the outset of the hearing, the bench questioned the maintainability of the petition filed by Shahbaz Sharif and asked the counsel as to why the aggrieved person (Nawaz Sharif) did not approach the court himself.
The counsel argued that Mr Sharif had been under treatment at the hospital and his health condition did not permit him to sign a power of attorney. Moreover, the counsel also cited several judgements of high courts wherein petitions by immediate family members had been entertained against detention of aggrieved persons.
The bench, however, observed that the cases referred to by the counsel were related to illegal detention and in the instant case the aggrieved person was in lawful custody of NAB.
The counsel argued that the matter pertained to life and death. He said Mr Sharif was not in reach due to regular treatment by the doctors. To a court's query, the counsel said Prof Dr Mahmood Ayaz was leading the medical board while a senior specialist of bone marrow transplant from Karachi also joined it.
Advocate General for Punjab Ahmad Jamal Sukhera and a NAB prosecutor made their appearance on a short notice of the bench. The bench directed the advocate general to submit a report on behalf of the medical board assigned to treat Mr Sharif and also ensure presence of Dr Ayaz on Friday (today).
Shahbaz Sharif in the petition asked the court to release his brother on bail for the purpose of his treatment by a medical expert in Pakistan or abroad as per his choice.
Pleading the petition of Maryam Nawaz, Advocate Azam Nazir Tarar argued that the petitioner had a basic right to look after her hospitalised father.
Meanwhile, the Islamabad High Court summoned the medical superintendent along with a member of the board of doctors treating Nawaz Sharif in the Services Hospital, on a petition seeking release of the former prime minister on medical grounds.
A two-judge IHC bench comprising Justice Aamer Farooq and Justice Mohsin Akhtar Kayani directed the two doctors to appear in person on Friday (today) along with "latest medical record and documents" related to the ailment of Mr Sharif.
The court also issued notices to the Punjab chief secretary and home secretary and federal interior secretary and adjourned the hearing on the petition filed by Shahbaz Sharif seeking suspension of the sentence awarded to Nawaz Sharif in the Al-Azizia reference and his subsequent release on bail.
Maryam sent back to jail
Maryam Nawaz, who was admitted to the Services Hospital on Wednesday night after meeting her father Nawaz Sharif, was shifted back to Kot Lakhpat jail on Thursday early morning, in the Chaudhry Sugar Mills case.
The PML-N strongly chided the PTI government's decision to abruptly shift Ms Nawaz at 5am to the jail against doctors' advice. She was admitted to the hospital because she was not well.
"This act shows the true colour of PM Khan and his vengeance against the Sharif family," Marriyum Auranzeb said, adding that in order to give torture to Nawaz Sharif, his daughter was transferred to the jail against the advice of doctors.
She also slammed the PTI regime for not sharing Maryam's medical reports with her personal physician or her family.
On Thursday night, some TV channels said Prime Minister Khan had directed the Punjab government to take steps to keep Maryam in hospital so that she could look after her father.
Meanwhile, JUI-F chief Maulana Fazlur Rehman spoke to Nawaz Sharif on phone in the presence of Shahbaz Sharif and they also discussed 'Azadi March' preparations.
Malik Asad from Islamabad also contributed to this story
Published in Dawn, October 25th, 2019