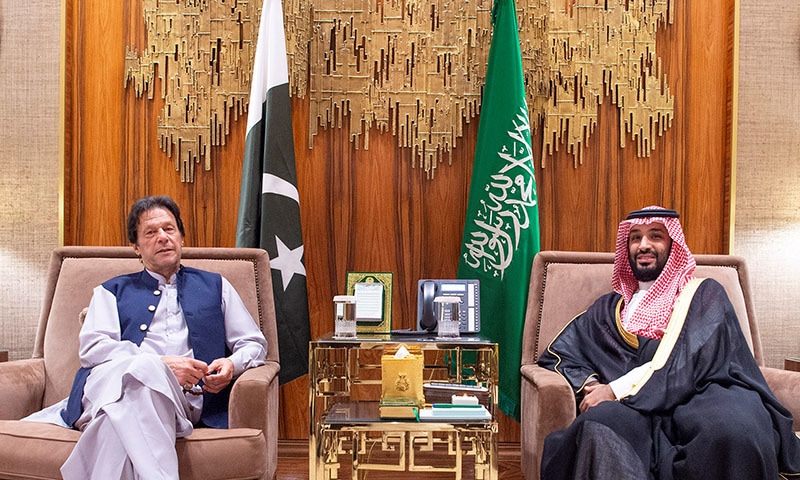 ISLAMABAD: Continuing with his endeavour to facilitate rapprochement between Saudi Arabia and Iran, Prime Minister Imran Khan on Tuesday met Saudi King Salman bin Abdulaziz Al Saud and Crown Prince Mohammad bin Salman to encourage a negotiated settlement of disputes with Iran.
A statement issued by the Foreign Office said that Prime Minister Khan advised the monarch to peacefully resolve regional disputes through diplomacy.
The statement did not say how King Salman responded to Mr Khan's suggestion. Saudi Arabia has in the past shunned such initiatives by Pakistan.
Pakistan has tried to mediate on four occasions in the past — most lately in 2016 when the then PM Nawaz Sharif and Army Chief Gen Raheel Sharif visited Tehran and Riyadh to defuse the situation in the aftermath of execution of Saudi Shia cleric Baqir Al-Nimr. A curtain-raiser issued by the FO earlier in the day had also said the trip was part of Mr Khan's "initiative for peace and security in the region".
While Saudi Arabia and Iran have a history of hostile ties, the relations soured further after the start of Yemen war in 2015. Lately there has been a dangerous escalation in the situation following an attack claimed by the Houthis on Aramco-run oil fields and processing plant that crippled Saudi oil production.
Imran meets Saudi King Salman, Crown Prince Mohammad bin Salman
It is feared that military confrontation between the two arch-rivals in the Gulf could have grave consequences for the neighbourhood and the region at large. It is in this context that efforts are being made by several countries, including Pakistan, to contain the crisis.
Prime Minister Khan first spoke about his initiative on the sidelines of the UN General Assembly session last month. He had then said that President Trump had asked him to help in defusing tensions in the region. Mr Khan had also discussed the issue with Iranian President Hassan Rouhani in their meeting in New York.
It was earlier claimed that the initiative had been taken on Saudi Crown Prince Mohammad bin Salman's request. The FO, however, later denied that the initiative was being undertaken on someone else's behest and claimed that the initiative was PM Khan's own for the sake of regional peace.
Besides King Salman, Mr Khan along with his delegation also met Crown Prince Mohammad bin Salman during his stay in Riyadh.
PM Khan exchanged views with the crown prince on the security situation in the region and efforts for peace. He reiterated Pakistan's 'unwavering' support and commitment to the security of the two Holy Mosques.
Earlier on Sunday, PM Khan with a similar message had travelled to Tehran, where the leadership welcomed Pakistan's efforts aimed at defusing tensions in the region. Iranian President Hassan Rouhani in his media talk after meeting Mr Khan said: "Regional issues have to be resolved through regional means and dialogue. We also emphasised that any goodwill gesture will be responded with a goodwill gesture and good words."
It is believed that the way out of the Iran-Saudi Arabia stand-off lies in the resolution of Yemen issue.
Iranian Supreme Leader Ayatollah Ali Khamenei, too, had told Mr Khan that Iran "has proposed a four-article plan for finishing the war on Yemen since a long time ago; the end of this war can have positive effects on the region."
US-Iran ties
Prime Minister Khan expressed optimism about possible improvements in US-Iran ties which are currently at the lowest ebb after President Donald Trump announced withdrawal from the Joint Comprehensive Plan of Action (JCPOA), also known as the Iran nuclear deal, followed by imposition of pressing sanctions on Tehran, APP reported.
The prime minister, in a brief interview with a CNN programme hosted by Becky Anderson on Tuesday night, said that during his visit to New York, President Trump had asked him that he (Mr Khan) should try and go between Iran and the United States. And during his recent visit to Iran, PM Khan added, he had also spoken to Iranian President Hassan Rouhani about the US offer.
In reply to a question, the prime minister said the situation was evolving and he would not go into details. "Let's see; it gets anywhere. I will not go into too much detail, until there is response from both sides."
He admitted that relations between the two countries were more complicated; however, he expressed optimism that there was realisation on both sides.
About the US president, Mr Khan said the people criticised him often, but "I think, what I like in him that he does not believe in wars".
Foreign investment
Prime Minister Khan welcomed a $240 million investment in Pakistan by a Hong Kong-based port operator and its commitment to the country's economic prosperity.
Talking to a delegation of Hutchison Port Holdings, led by its Group Managing Director Eric Ip, which called on him on Tuesday, the prime minister reiterated the commitment and focus of the government to facilitate investment and ease-of-doing-business that would ultimately result in economic growth and employment generation.
According to a press release issued by the PM Office, Eric Ip apprised the prime minister of his company's fresh investment of $240m in Pakistan that would make available a significant amount of new container terminal capacity at Karachi Port and increase Hutchison Port Holdings' total investment in the country to $1 billion.
The prime minister was also briefed on the development of Hutchison Port Holdings, its parent company CK Hutchison Holdings, and the group's commitment to playing a pivotal role in facilitating the economic growth of Pakistan, as well as supporting the development of Karachi Port into a major hub for trade in Asia.
Hutchison Port Holdings is one of the world's largest port companies, with over 30,000 employees, operating 52 ports and terminals in 27 countries spanning Asia, the Middle East, Africa, Europe, the Americas and Australia.
Minister for Maritime Affairs Ali Haider Zaidi, Adviser to the PM on Commerce Abdul Razzak Dawood, Special Assistant to the PM on Overseas Pakistanis Zulfiqar Abbas Bukhari, Ambassador at Large for Foreign Investment Ali Jehangir Siddiqui, Board of Investment Chairman Zubair Haider Gilani and other senior officials were present during the meeting.
The Hutchison Ports delegation also included Managing Director for the Middle East & Africa Andy Tsoi, Business Director for the Middle East & Africa Eric Ng and members of the company's Pakistan management team.
Published in Dawn, October 16th, 2019