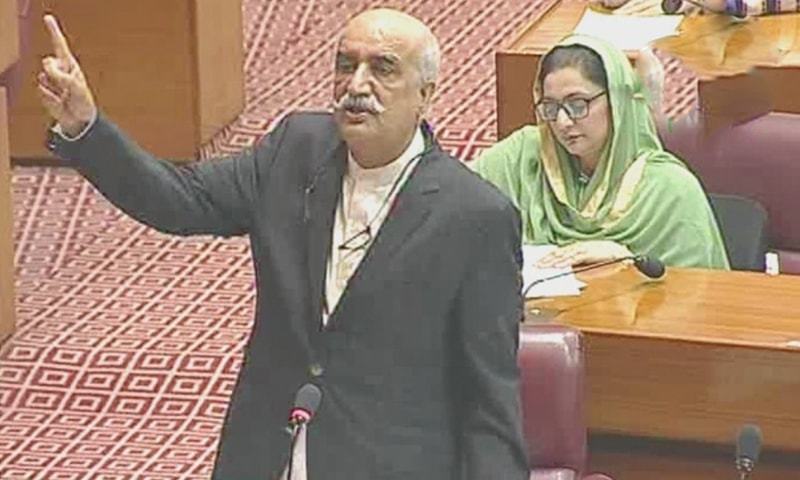 ISLAMABAD / SUKKUR: Senior Pakistan Peoples Party (PPP) leader Syed Khursheed Shah on Thursday dismissed corruption allegations against him, saying that he fought against corruption throughout his life.
He was speaking to reporters on the premises of the accountability court of Islamabad where he was brought by officials of the National Accountability Bureau (NAB) to seek his transitory remand.
Mr Shah was arrested by a joint team of NAB's Rawalpindi and Sukkur offices on Wednesday allegedly for owning assets beyond means.
Senior PPP leader undergoes different tests at Polyclinic
The court approved the transitory remand of Mr Shah and directed NAB to produce him before the relevant court by Sept 21.
Mr Shah told reporters that he had declared his assets before the Election Commission of Pakistan and there was nothing in his name or in the name of his dependents.
He distanced himself from the properties which NAB allegedly attributed to him and said that these properties belonged to someone else and he had nothing to do with them.
The senior PPP leader, who seemed to be upset because NAB has arrested him at the inquiry stage, said several sitting ministers and even Prime Minister Imran Khan were also facing NAB inquiries but they had not been arrested.
He said that being a politician he would remain in politics in future and that he was waiting for time when the truth would surface.
He called upon the chief justice of Pakistan to take a suo motu notice over his case as well as the cases of other arrested politicians of the opposition.
On the court premises, Mr Shah met former president Asif Ali Zardari who was brought there by a NAB team in the Park Lane reference.
Mr Zardari embraced Mr Shah and inquired after his health. Mr Shah replied, "I am fine with the grace of God." The former told the latter that he should not be afraid because he didn't do anything wrong.
The former president, who was visibly angry over the arrest of his party's senior leader, said that the government had failed to deliver.
Meanwhile, Khursheed Shah was admitted to the Federal Government Services Hospital, popularly known as Polyclinic. He was brought to the hospital by NAB officials.
"During tests, it was observed that sugar level and blood pressure of the patient [Mr Shah] was high. He was also facing respiratory issues. Later, his blood pressure became normal and there was no issue in his ECG. However, his heartbeat was more than normal so it was decided to keep him under observation," said a doctor requesting anonymity.
In Sukkur, members and supporters of the PPP held protests on Thursday against the arrest of Mr Shah. The protesters marched on roads and later blocked the National Highway. They raised slogans against NAB and in support of Mr Shah.
Traffic on the highway remained suspended for about three hours before police dispersed the protesters.
Published in Dawn, September 20th, 2019