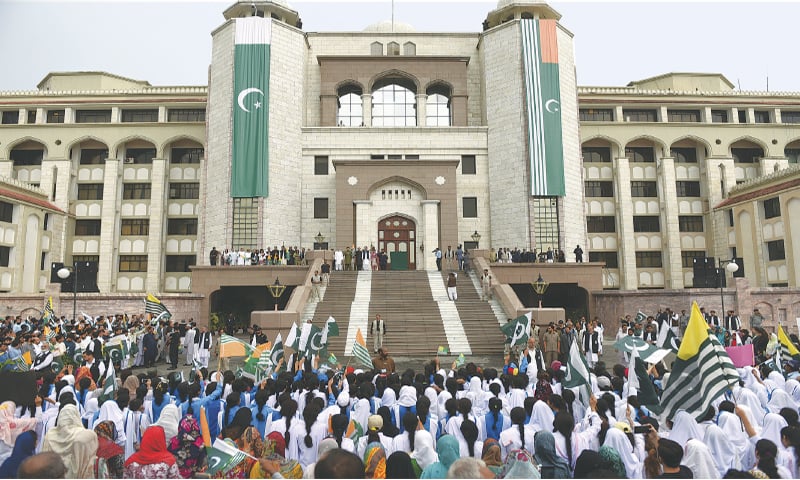 ISLAMABAD: As the nation observed Kashmir Solidarity Hour, Prime Minister Imran Khan on Friday again warned the world that war between two nuclear-armed states — Pakistan and India — on the issue of Kashmir would have global consequences.
"Not only the subcontinent but the entire world will suffer in case of war between the two countries that have nuclear weapons," said the prime minister while addre­ssing a large gathering outside Prime Minister Office (PMO) during Kashmir Hour observed across the country from 12noon to 12:30pm to express solidarity with Kashmiris.
"I am telling you [the international community] that if you keep silent on aggression and tyranny [of Indian government] it will affect the whole world," Mr Khan said, adding that if the international community did not stand up to Indian Prime Minister Narendra Modi's fascist government, the effect would be felt in the whole world.
Mr Khan also warned the world that if India went for any misadventure in Azad Jammu and Kashmir (AJK) in order to divert world's attention from the occupied valley, Pakistan would respond in a befitting manner. "Every brick will be countered with a stone," he remarked.
He said the Pakistani nation would continue to stand with their Kashmiri brethren till their freedom from the fascist government of the Bharatiya Janata Party.
Kashmir Solidarity Hour observed across Pakistan
Earlier, small and major rallies were staged in Islamabad and other cities as people from all walks of life came out on streets to express solidarity with the people of India-held Kashmir. Traffic signals turned red at 12 noon and the national anthems of Pakistan and Azad Jammu and Kashmir were played.
"By coming out on the roads, the Pakistani nation has proved that they stand by Kashmiris and will continue to do so till the end," the PM said in his address on the occasion.
"Today Pakistanis — whether they are in schools, colleges, traders, labourers and government servants — have proved that they were all with the Kashmiris who are in pain and trouble," he said, adding that over eight million Kashmiris were stranded in their own houses due to the four-week-long curfew in India-held Kashmir.
Mr Khan said that to understand what type of government existed in India, which had crossed all limits of tyranny, "first the ideology of Rashtriya Swayamsevak Sangh that Hindus were a superior nation has to be understood. It was formed in 1925 against Muslims on the lines of Hitler's Nazi Party."
The prime minister said the RSS had taken over India, the way Hitler's Nazi party had taken over Germany. "The RSS thinks that Muslims should be taught a lesson that they are not equal citizens. Today, the whole world is seeing what is happening in Kashmir," he added.
In India, he said, not only the media but the opposition leaders too were not allowed to go to Srinagar.
Mr Khan drew attention of the world to the fact that Kashmiris in the held valley were under curfew for nearly four weeks.
In Islamabad, the main event was held outside the PMO where a large gathering was addressed by PM Khan. Special Assistant to the Prime Minister on Information Dr Firdous Ashiq Awan and Prime Minister's Special Assistant Naeemul Haque accompanied the prime minister.
The national anthems of Pakistan and AJK were played before the event.
Another ceremony was held at the presidency where President Arif Alvi addressed the crowd and said Kashmir would be free if the whole nation and Kashmiris were united.
He reiterated the nation's resolve of supporting the people of occupied Kashmir in their struggle for the right to self-determination.
He said observing Kashmir Hour showed Pakistan's commitment for Kashmir cause and said occupied Kashmir was witnessing communication clampdown and Indian forces were committing the worst kind of human rights violations there. "Over 100,000 Kashmiris have been martyred since 1948 even children have sacrificed for the freedom of Occupied Kashmir," he added.
While Kashmir is an internationally recognized dispute, India abrogation Article 370 and deputed extra troops in the occupied valley to suppress the voice of the people, said President Alvi.
He warned the world that nuclear assets of India were not in safe hands as India was ruled by a fascist regime. He said only plebiscite could lead to a peaceful solution to the long-standing dispute. "India has nefarious designs against Pakistan and arrest of a serving Indian Navy commander Kulbhushan Jadhav is a clear evidence," he added.
Referring to Pakistan and India stand-off in February, the president said India should not forget that its two fighter aircraft were downed by Pakistan and one of its pilots was captured.
"Keeping in view of Islamic norms, we returned the pilot as a peace gesture," he added.
Earlier in his address to the nation on Monday, the prime minister had announced that a weekly event would be organised to show solidarity with the Kashmiri people, starting from Aug 30.
In a separate show, parliamentarians led by Senate Chairman Mohammad Sadiq Sanjrani and National Assembly Speaker Asad Qaiser gathered outside the parliament to express solidarity with the Kashmiris. Deputy Speaker Qasim Khan Suri, National Assembly Committee on Kashmir Affairs chairman Fakhar Imam, Leader of the House in Senate Shibli Faraz, ministers Zartaj Gul, Khusro Bakhtiar, Shafqat Mehmood, Senator Mushahid Hussain Sayed, Riaz Fatyana and Senator Rehman Malik were among the participants.
Speaking on the occasion, Fakhar Imam said Modi was acting like Hitler and in the past killed Muslims in Gujarat. "Quaid-i-Azam Mohammad Ali Jinnah had rightly said that Kashmir was an unfinished agenda of partition," he added.
Mr Imam said Kashmiris were not getting food, medicines and water in the held valley due to the curfew. He said Kashmir was a disputed territory and the issue should be resolved through plebiscite and by granting Kashmiris their right to self-determination.
"The world came to know about the human rights violations in IOK through the two reports of the United Nations," he said.
He said India could also manipulate the Indus Water Treaty in an attempt to hurt Pakistan.
Published in Dawn, August 31st, 2019