August 27, 2019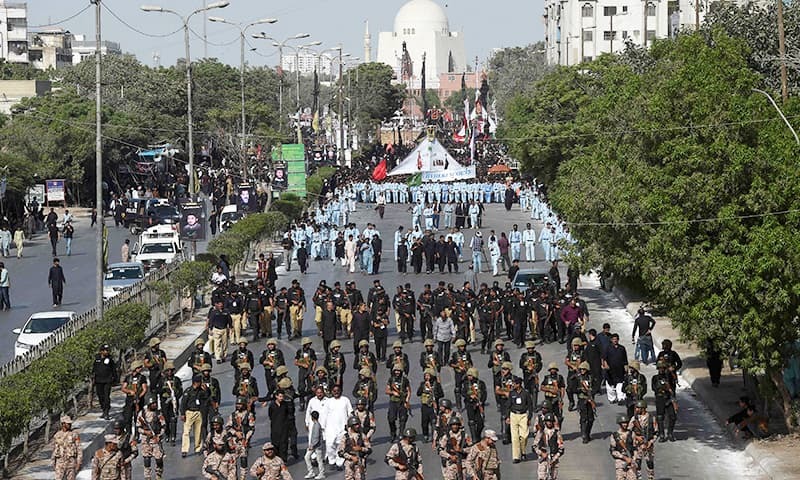 KARACHI: Sindh Chief Secretary Syed Mumtaz Ali Shah has directed home department, religious affairs department, commissioners and deputy commissioners to ensure implementation of code of conduct for maintenance of religious harmony and fraternal atmosphere during Muharramul Haram.
He also asked them to promote contacts with all stakeholders, including ulema and zakireen, and take due measures for holding peaceful majalis, fateha khwani, taziadari and azadari gatherings.
The chief secretary issued this directive on Monday while presiding over a meeting in his office to review measures being taken for ensuring strict enforcement of Section 144 and maintenance of peace during Muharram.
The IG police told the meeting that the Sindh police had completed contingency plan for maintenance of peace and decided to set up various control rooms. The protective measures for majalis, tazia processions, and central procession had also been finalised and as per requirement cooperation of the Rangers and other law-enforcement agencies would be required.
The chief secretary also directed that commissioners and deputy commissioners should keep strict watch at the level of mohallas and talukas and check that no sectarian and provocative speeches are delivered, no objectionable slogans raised, no unlawful procession taken out or meetings held.
Syed Mumtaz Ali Shah said that due measures should also be taken for water supply and sewerage, power supply, cleanliness and traffic arrangements.
The chief secretary also directed that officials of K-Electric, Hesco, KWSB, Wasa, telephone, SSGC and other departments should be asked to remain present at the control rooms so that any related complaints could be mitigated immediately.
Earlier Karachi Commissioner Iftikhar Shallwani informed the meeting that measures were being taken for cleanliness and disposal of sewage and water supply along the roads and streets from where Muharram processions would be taken out.
Published in Dawn, August 27th, 2019