Ali Kazmi's acting prowess is undeniable. Give him a role — even a small one — and he'll add the skin and bones to it, creating new shades, drawing eyes towards himself every time he comes on screen. Sift through any of Ali's acting projects, old or new, and you'll see the actor giving it his all, a pro at what he does.
It's unfortunate, then, that most of the roles that Ali has enacted so far in his career have been somewhat small. He'll be the enthusiastic director (Superstar), the no-good ex-boyfriend (Baaji) or the villainous husband (drama serial Baaghi) — but not usually the main lead. It's a pity and I say as much to him. He agrees with me — but not in a bitter way. This, I learn, is one of Ali Kazmi's strengths. He knows that he's meant for bigger, better things. But while he waits for them to come, he's willing to cheer for others and dabble with different alternatives.
Sometimes, these alternative routes have led to regrettable projects, such as last year's cinematic bummer Na Band Na Baraati. At other times, they have veered into interesting niche roles — a thought-provoking performance in the drama serial Baaghi, playing the insecure husband in Jaal, a TV drama that's currently either rating high or spiraling further backwards, or making an impact as a wheeling-dealing ex-convict in Mehreen Jabbar's hit drama from 2014, Jackson Heights.
There are also many instances where Ali has stumbled into blink-and-you-miss-them characters in major movies. From Baaji to Laal Kabootar, Motorcyle Girl and Superstar, Ali's recent repertoire has consisted of roles that are fleeting rather than monumental. Why does he even agree to play such characters?
Despite growing up in a celebrity household, Ali Kazmi chose to pay his dues in his quest to become an actor that people took seriously. What did this experience involve? Why is he not bitter about being offered only small roles? And where do boats fit into all of this?
"Sometimes you just want to be part of a certain project because you know that it's really good," he shrugs. "It always helps to keep putting content out there, and to maintain visibility. But films in Pakistan are still in their infancy and a lot of times, people get tied up with whoever they worked with the first time round. It's difficult tapping into these groups, and to convince them to let go of their safety blankets and try something new, work with new people."
He is quite obviously referring to the 'camps' that exist in Pakistan's film industry. Does the dearth of interesting opportunities offered to him as an actor make him bitter? "No, I'm not bitter," Ali asserts. "I do believe that I'm destined for more, and that the industry is yet to tap into my full potential. I have a lot to offer as a character actor and a leading man — I'm also a very good dancer. The work that I want to do will come to me and even now, I have so many plans. While building my career in Pakistan, I have simultaneously been working in the West. I live in Canada and that has helped me push my career forwards there."
His international work boasts some very prestigious stints, including doing a voiceover in Angelina Jolie's animated drama film, The Breadwinner; a movie that proceeded to win an Oscar nomination in 2018 for Best Animated Feature Film, as well as a nomination for Best Vocal Ensemble in a Feature Film at Behind The Voice Actors Awards 2018. In 2016, he won the trophy for Best Actor International Short for his work in the short film Coffee at Laundromat in the World Music and International Film Festival. He also continues to dabble with international theatre and make occasional appearances in TV series, such as the series Designated Survivor. In 2015, he acted in Deepa Mehta's Beeba Boys, a movie that premiered at the Toronto International Film Festival.
"I'm just about to begin shooting with Deepa Mehta again, in her next movie titled Funny Boy," he tells me. It all sounds great and it makes me wonder why he even bothers with the partisanship that he feels exists in Pakistani entertainment? Why doesn't he just focus on strengthening his international clout?
"I'm very passionate about working in Pakistan. I left Pakistan at a time when I had made my debut, and was working on some major projects. I wanted to go to acting school, hone my craft and do justice to my parents' legacy. The one thing that they told me, when I said that I wanted to be a professional actor, was that I could never take my field lightly. I had to study it and make sure that whatever I do, I do it well. This is what I did. And when I came back, films were on the rise and there were all these stars who had taken over entertainment. It's a wonderful time to be working in Pakistan, with TV and cinema exploring new territory. I would always want to be part of it."
It runs in the family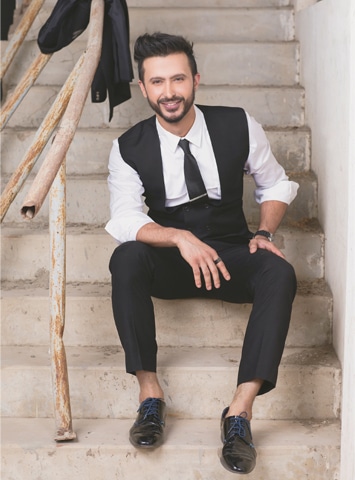 Acting, however, is an unpredictable profession where you never know where your next pay cheque is going to come from. His parents are two of Pakistani entertainment's most celebrated personalities — Rahat and Sahira Kazmi — and they must be well aware of the fickle nature of the field. Were they enthusiastic about him opting to become an actor?
"My parents have always given me the space to do whatever I want to do," says Ali. "They gave me advice about how I needed to build my career but they never told me that I couldn't pursue it. As far back as I can remember, I have always wanted to be an actor. Also, I was never a stranger to the camera. Whenever my mum couldn't find a child to fit into a role, she would just bring me in. I was only two years old when my mum was filming Nayyara Noor's patriotic anthem, Watan ki mitti gawah rehna and she woke me and my father early in the morning and told us that she needed us to be in the video. I'm the child in the video, waving the Pakistan flag about!"
He continues, "I also played my father's childhood in the PTV drama Dhoop Kinaray. By the time I was a young adult, when people asked me what I did, I would tell them that I was an actor. They would get confused sometimes, and say, 'But no, what do you do for a living?' But this is all that I have ever done and all that I ever wanted to do. I've been living my dream."
Considering that his father was one of TV's most enigmatic heroes, did he ever feel the pressure of being compared to him? "Actually, no. I can proudly say that I have paved my own way, and people recognise me for who I am and the work that I do, not for what my parents did."
Ali's words ring true particularly because one would have expected him to score big projects by cashing in on his surname. Instead, he has proven his mettle with role after role, slowly but surely.
I do believe that I'm destined for more, and that the industry is yet to tap into my full potential. I have a lot to offer as a character actor and a leading man — I'm also a very good dancer."
Struggles of a young actor
"In 2008, I got married to my high school sweetheart, moved to Toronto and enrolled in a film school there," he recalls. "The curriculum was for three years but I completed it in a year-and-a-half by taking on extra courses. At the same time, I was constantly going in for auditions. I was also working odd jobs in order to earn some extra money. At one point, I was a salesman at the American clothing brand Hollister Co. — they are known for hiring only good-looking people, so that made me feel good about myself!" he laughs.
"About a year later, I joined a company that used to advertise for young actors and then trick them into taking products to different malls, setting up a kiosk there and selling the product in a theatrical way. I remember going with some other actors to a mall in Mississauga, where I set up the product display and began my sales pitch. Immediately, I was surrounded by hundreds of people. Mississauga has a huge desi community and they recognised me from the work that I had done in Pakistan. There were aunties that peered at me with concern, offering me visiting cards of their relatives who owned petrol stations or drove taxis, and could help me in getting a 'proper' job. That day, I rode the subway back home, clutching all those visiting cards, and decided that I was not going to do this. I quit the company and told them that they shouldn't trick young actors like this.
"Soon afterwards, I came across an audition for a play called The Indian Wants The Bronx. It was one of the plays that Al Pacino had acted in early on in his career. The requirement was for an old man but I walked in and auditioned anyway. They loved my audition but told me that I was too young for the role. A week later, they called me in and told me that I was hired."
The Indian Wants The Bronx turned out to be a turning point in Ali's career. The reviews were great and an agent approached him and took him on as a client. "My agent began to get me more roles. He still does. For seven years, I was just performing in different projects until, in 2015, Mehreen came to me with the story for Jackson Heights. The drama had a script that had been lying around for some time — most producers and directors felt that it was too risky. But Mehreen loved it and so did I. It marked my comeback into Pakistani entertainment."
Jackson Heights, of course, became a big hit and Ali's performance was critically acclaimed. Then again, critical acclaim has always come easy to Ali. In retrospect, does he regret having left Pakistan at a time when he was getting his pick of offers, only to return when the competition had gotten much tougher? "Do I say, 'I coulda been a contender, I coulda been somebody'?" he quotes Marlon Brando from On The Waterfront. "Not at all. 'Maula nu maula na maaray te maula naeen marda!' [If God doesn't Himself kill Maula, Maula will never die! — a quote from the iconic Maula Jatt.] I don't have any regrets. If I hadn't experienced all that I have, I couldn't have brought the intensity and gravitas that I'm able to bring my roles now. You have to burn all your boats to build a city. That's what I did."
Keeping things real
In doing so, Ali may have chosen the tougher path to stardom, but it has turned out to be a rewarding one. "I'm blessed that I get great reviews even for the smallest role that I take on," he muses. "People come up to me and talk about having enjoyed a certain role of mine. I enjoy that.
"In fact, one of the main reasons why I became an actor is that I really love people. I love entertaining them. Fame is fickle and, having grown up in a house where both my parents were working in the industry, I have seen its ebb and flow. So I enjoy the love that I get from people. I have never refused anyone who has ever approached me for a selfie — even when I have been freezing in the snow or taking my kid to the washroom! And there are hundreds of videos of me floating about where I'm obliging people by wishing someone happy birthday or even telling someone, 'Yeh aap se bohot pyaar kartay hain, please inn se baat kar lein' [He really admires you, please talk to him]!"
Most actors refuse to film short videos for fans because it's something that they are not being paid for. "So what if I am not being paid for it? It's a few minutes of my life that can make someone very happy. What's the harm?"
It is probably his lack of arrogance that makes him so approachable for fans. Ali recalls an episode where he was traveling to Pakistan with his two sons while his wife was in Canada. "This lady peered at me and whispered sympathetically, "Beta, is there a problem in your married life?" he laughs. "But this is how I was raised. Even when he was the biggest superstar in the country, my father would wake up early and drop us off to school.
"I consider myself fortunate to have been raised by parents who lived their lives in a certain way, following certain values and I got those from them, by osmosis! There was this unwritten understanding that we shouldn't hurt anybody's feelings. My mum has always been a superhero in my eyes. She fought for the women of Pakistan back when it wasn't really a topic being discussed on social media every day. We just always believed in doing the right thing. It helps that now I also live in Canada, which is a very politically correct country."
A fine actor, indisputably, with some very fine value systems — it's a winning combination. It's a combination that means we will surely see more of Ali Kazmi in the coming years. Call it a gut feeling.
Published in Dawn, ICON, August 18th, 2019