From pigeons to Picasso, a journey of truly distinctive art-making ceased with the passing of modernist master Jamil Naqsh. Obituaries, acclamations, tributes and personal recollections began pouring in the moment his demise was officially announced on May 16, 2019. As an artist, Naqsh was among the fortunate few who enjoyed success during their lifetimes. For the last few decades, he was widely acclaimed as a living legend and the finer points of his art practice were closely scrutinised and celebrated by way of selected, well-orchestrated exhibitions, collector-variety volumes and commentaries by eminent personalities. But what happens beyond these existing accomplishments and the eulogies that follow?
His museum-worthy art is a national treasure, but a state-sponsored contemporary art repository is not a priority for a country in turmoil. The rise of the private museum entity, the world over, is the way forward today, and The Jamil Naqsh Museum was launched in December 2017 with this ethos in mind. Unlike government-funded museums, the private ventures can take off faster and exercise better control on the quality of exhibits. According to Dr Sethna, trustee of the Naqsh Foundation, "The Jamil Naqsh Museum will hold a great significance for the city of Karachi in coming years. The idea behind setting up a whole museum dedicated to the artist's work was to provide the younger generation a place which inspires them to do something similar in the field of art."
"Buy art, build a museum, put your name on it… That's as close as you can get to immortality," British artist Damien Hirst once said. Last year, Hirst spent 37.9 million US dollars redeveloping London's Newport Street Gallery. It is a space that he will use to showcase the more than 3,000 pieces in his own art collection, including works by Francis Bacon, Picasso, Warhol and Koons. For Hirst, this dictum seems to apply even if your creative output has already guaranteed you a spot in the art history books, as stated in The Rise of Private Museums by Sophie Kalle.
Jamil Naqsh gave new shape and brilliance to the art of his times. Startlingly modern and intrinsically traditional, his art romanced the female figure, doves, horses and Arabic calligraphy in a stirring fusion of the physical and the spiritual. As we mourn the passage of this modernist master, we must consider how best we can carry on his legacy
Naqsh will go down in the history books as an artist extraordinaire. Today, the sheer volume, content and quality of his work is such that, in hindsight, he towers over his contemporaries who constituted the modernist era of Pakistani art.
His tryst with tradition and modernity has roots in his ancestral home in Kairana in Uttar Pradesh, India, where he was born in 1939. He grew up in a cultural milieu peculiar to pre-Partition Muslim households where ghazal-goi and Urdu literary baithaks were common, as was the passion for rearing pigeons. Kabootar-baazi has a long and rich history in India. It is said that Shahjahan introduced the tradition when he shifted his capital from Agra to Delhi. The sport continues to flourish and still inspires lyricists. Naqsh romanced the dove as a muse and some of his most lyrical paintings emerged from this love affair. The poetic metaphor of idealised, unrequited love associated with Urdu poetry found contemporary translation in Naqsh's countless, most endearing paintings of women and pigeons.
As early as 1959, barely 21 years old, Naqsh entered the exhibition circuit and displayed his work at the newly built Karachi Arts Council. Solo exhibitions followed between '60 and '63. This is also the time when his celebrated pigeons first emerged on canvas, and with them came the flutter of recognition, popularity and success. By the end of the '60s, Naqsh had ceased to paint for exhibitions. His hermetic tendencies led to extreme immersion in his craft. He was, by then, highly regarded by a growing number of collectors eager to buy his work. This hiatus finally ended in '98 when some significant exhibitions were shown in Karachi and Islamabad, namely Mother and Child, Modern Manuscripts and Homage to Marino Marini.
For an artist who had been one of the most sought-after painters of Karachi, Naqsh had a bleak start. After only a year-long apprenticeship under Ustad Haji Shareef in Lahore, he returned to Karachi. Here he joined art classes that were conducted at the American Centre, where free art materials were provided to students. Eventually, he joined an advertising company and made friends with other artists in the making, such as Mansur Aye, Masood Kohari and Shahid Sajjad. During this period, a favourite pastime of his was reading foreign art magazines, bought from pavement vendors. This early self-education was later to blossom into one of his most prominent series.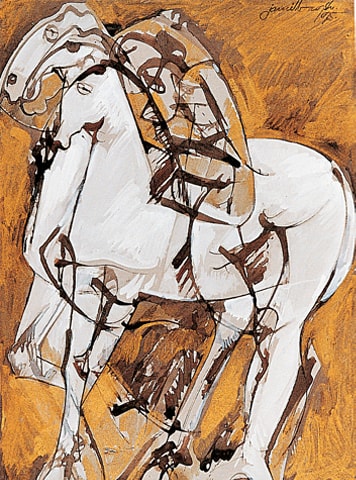 In 2012, he left Karachi to settle in the UK. His show Jamil Naqsh pays Homage to Picasso straight out of the artist's London Studio was a winning hand. While this tribute collection referenced Picasso directly, one can conjecture that Naqsh was probably taking cues from the 20th century's most important, celebrated and productive artist much earlier in life. These works themselves were several years in the making, but the artist's affinity goes far beyond. Tracing the two artist's stylistic moves and aesthetic preoccupations prompts one to ponder over similarities, incidental or otherwise, that place Naqsh under Picasso's influence, since the time he commenced his career.
Naqsh reinvented Picasso by accessing the master's characteristics without losing any of his own. This stirring fusion of polarities, steeped in the Eastern tradition, has all the radicalism of Western modernity. His typical pictorial emblems, the female nude, pigeon, woman and horse are drawn or juxtaposed against each other in the true Picassoan technique of interlocking and overlapping planes.
Edward Lucie-Smith, an English writer, poet, art critic, curator and broadcaster, who has written about Naqsh and this series, says that Picasso was someone with whom Naqsh could have had a conversation on equal terms. He remarks, "In these paintings, Jamil Naqsh is staking a claim to be seen, not as an artist confined to one culture, but as someone who has the right — in fact, the duty — to address, using a universal visual language, an equally universal audience."
A striking feature of art developments in the West in recent times is the acknowledgment given to modernist art, hitherto regarded as coming from the margins (read Asian and African modernists) and scarcely worthy of consideration within the modernist canon. The universality Lucie-Smith speaks of elevates Naqsh's oeuvre from the local to the global. He joins the pantheon of marginalised Asian artists who have now been given their rightful place in the international arena.
Today, when young-generation new-media art is centre stage, Naqsh's painterly practice revives memories of the brilliance and splendour easel painting is capable of creating. He understood that we do not just interact with the world visually, we interact in terms of emotions and memory and he brought those into the language of painting. How effectively the Naqsh legacy is maintained is a moot question. Hopes are pinned on his namesake museum to rise to the challenge.
Jamil Naqsh passed away on May 16, 2019
Published in Dawn, EOS, May 26th, 2019