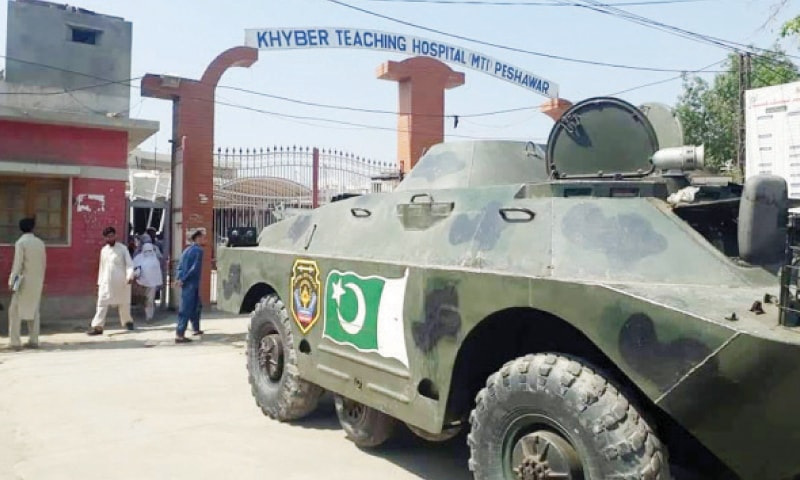 PESHAWAR: Khyber Pakhtunkhwa Doctors Council has decided to hold a meeting with chief minister on Tuesday but continue strike throughout the province.
However, the protesting doctors will not observe strike at Lady Reading Hospital on Monday as goodwill gesture in response to the government's offer for talks.
Health Secretary Dr Syed Farooq Jamil appreciated the doctors for accepting the invitation for talks by Chief Minister Mahmood Khan and said that the problems could be resolved through negotiations, not strikes.
"We appeal to doctors to end their strike and enable the poor patients to get free treatment at the public sector hospitals. Doctors are cream of the society and we hold them in high esteem but protest and closure of hospitals are against the spirit of medical profession, which advocates treatment of patients," he said.
Province-wide strike in hospitals except LRH to continue
Khyber Pakhtunkhwa Young Doctors Association president Dr Rizwan Kundi said that they could continue the strike till removal of Health Minister Dr Hisham Inamullah Khan and his adviser Dr Jawad Wasif besides revoking the plan to pass a draft bill from the assembly to set up regional and district health authorities because those were meant to affect patients' care.
"We are also in touch with the lawmakers of opposition parties to block the passage of law aiming to establish authorities at the district and regional level," said Dr Rizwan.
The health secretary said that problems couldn't be resolved through agitation and strikes because those tactics only harmed the poor patients, who were visiting the hospitals to seek free treatment. He said that the protesting doctors belonged to same community and were required to serve the patients and at the same time continue talks with the government for resolution of their problems.
"We have ordered postings and transfers of about 800 doctors under the plan of rationalisation of services through placement of medics in their own districts but we have formed committee that will take up the cases of those, who have approached us that their cases should be considered," he said.
The health secretary said that about 25 doctors submitted applications with them for reversal of their transfers. "We are considering their requests. There will be nothing illegal against the doctors and no one will be displaced from the present position of duty on political basis," he added.
He said that all the transferred doctors would have to join duty at the new places otherwise they would face action.
He added that those doctors, who did not take charge of their new assignments, would face the law and stoppage of salaries because every government employee was required to abide by the rules and regulations.
He said that they had also prepared lists of doctors for their involvement in strike and would take action against them. "We need the doctors to serve the patients. We will accept every genuine demand of doctors," he added.
Dr Kundi, however, said that they were not opposed to the rationalisation programme of the government under which doctors were transferred to their native districts but they wanted an end to the plan of setting up regional and district health authorities.
He said that they had no option except strike. "We will announce future line of action after holding meeting with chief minister on Tuesday," he said.
Published in Dawn, May 20th, 2019