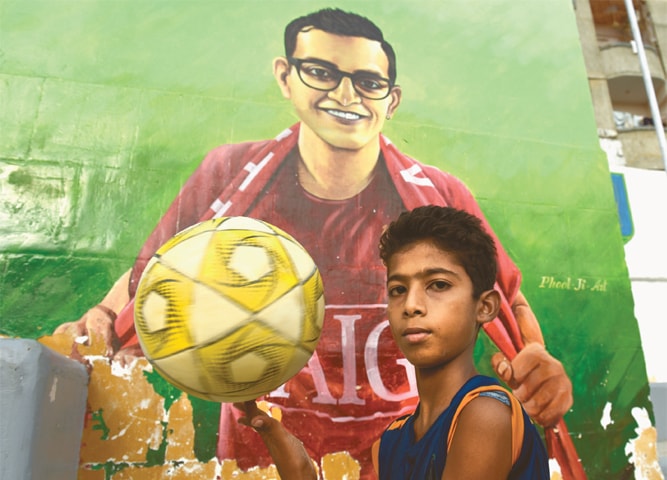 The youngsters in blue and yellow football kits with black cross kit bags happily trotting off to somewhere in Lyari's Singolane cannot be missed easily. Turning a corner they seem to disappear into a place with high walls and a big blue gate. Arching over the gate is a blue board also matching the colour of the children's kits. And on the board, painted in bright yellow, the words: 'Coach Emad Football Academy.'
If you go inside, the gate opens on to a sandy but clean playing field with bright floodlights and more children, including some women in black abayas. If you look closely, however, you can spot the colourful spikes beneath the abayas — these are no 'ladies' but young girls with more blue and yellow kits under those coverups. There are several murals on the walls made or reproduced by the artist Phool Ji. One which cannot be missed faces you from across the entrance. It is of a smiling, bespectacled young man in a bright red Manchester United jersey and scarf. This is, or rather, was Coach Emad.
"The Coach Emad Football Academy was the dream of Coach Emad, which we are helping to turn into reality with the help of his family," says Coach Shiraz Rehmani, the senior coach at CEFA. He tells me how the ground, also known as the Sarbazi Ground, was adopted by Emad's family after the passing away of their eldest, who loved football and had wanted to do something for the underprivileged children of Lyari.
A family channels its grief of losing a son by giving birth to his dream
"It will be one year on May 18," says 'Coach' Emad S. Naqvi's father Azfar Naqvi, about the tragic passing away of his son, a bright undergraduate student at the University of Massachusetts in Boston.
Just two months short of his 25th birthday, Emad was due to graduate on May 25, 2018, and his proud family, including his father, mother Atia Naqvi and younger sister and brother, Shehrbano and Ahmed, were scheduled to leave for Boston to attend his graduation. However, a few hours before their leaving for the airport early on May 19, they received a call from Boston Police, informing them of shocking news. Emad had died. He had taken his own life, leaving behind a short note and a video message on his phone for his immediate family.
But nothing had prepared them for this. "Along with his studies, he was working for Super Soccer Stars as the senior coach and heading its Premier League Programme," explains Azfar Naqvi.
"He was also working to get a professional qualification from FIFA and had acquired two out of the six FIFA licenses required to be a fully qualified FIFA professional coach. He was doing extremely well at his job and was considered the most admired coach among children, their parents and at work there."
"I don't say that my son committed suicide," Emad's mother Atia, a clinical psychologist herself, tells me as she plays at the ground with a little Lyari boy, proudly wearing the same blue and yellow kit that is so big for him that it reaches his ankles. "I say he died of suicide because it has to do with mental illness. We don't know what the trigger was."
Obviously, the family's world had been turned upside down and torn apart. But despite the tragedy of the death, something else was born from it. "The first time I saw his body," recalls Azfar, "it suddenly came to my mind that I wanted do something in his name." He wasn't exactly sure what it was that he should do at the time. But during the family's meetings with parents of children who Emad had been coaching in Boston, his colleagues at work and other friends, he heard lots of personal stories about Emad's kindness. "One of the fathers, Marcus Springer, who was very fond of Emad, told me that some of the parents were thinking of setting up a scholarship fund in Boston in the name of Coach Emad," says Azfar. Emad was commonly known as Coach Emad in Boston. "I also shared my intention to do something in his name and we both agreed to work on a similar initiative together."
Then one day, the CEO of Standard Chartered Bank, Shahzad Dada, and his colleague Majid A. Khan, who are family friends of the Naqvis, visited for condolences. "Shahzad is involved in many NGO-related charity works, and so I shared my intention with him and asked for advice," says Azfar. "He suggested that why don't I start a football academy in Lyari. He said, he could get me connected with someone in Lyari with whom I could work on the project. At first, I was lost as I didn't know anyone in Lyari and, even worse, I had never visited Lyari. However, one thing struck a chord with me — Emad used to tell me, 'Baba when I am a fully qualified FIFA coach, one day, I will establish a football academy in Lyari for the underprivileged children of the area.' He used to say there is an immense talent for football in Lyari.
"Emad himself used to play with [the football club] Karachi United. I remembered Emad telling my other son Ahmed after his visit abroad with the Karachi United boys that the kids of Lyari, if given the opportunity and support, had it in them to beat any foreign team any day.
"I shared my conversation with Shahzad Dada with another friend Sheikh Humayun Saghir, who is the head of Karachi Electric covering the areas that include Lyari. Humayun knew all the right people in Lyari and asked me to visit the place. In the meantime, Shahzad and Majid introduced us to a female social worker from Lyari, Mahira Ahmed Miyanji, who was trying to get a dedicated ground for the girls of Lyari to play football. Mahira told me that there are many girls in Lyari who play football but there is no dedicated space for them. She told me that she had been working on this project for the last two years but had not been able to do it, even though she had identified a ground in her neighborhood for the girls to play football in.
"On June 23, 2018, I went to see Mahira with Humayun and we visited the Sarbazi Football Ground in Singolane. Humayun had also called Habib Hasan, who is the Chairman of the Union Council responsible for the ground. I explained to them why I was interested in acquiring the ground and about my plans to establish a football academy," says Azfar.
From there onwards, the family worked on finalising the plans for the academy with the locals of the area who Hasan had introduced to them. Finally, on August 18, 2018, the Naqvis signed the agreement with the UC-12 chairman and the Chairman, District Municipal Corporation (DMC) South, Malik Mohammad Fayyaz, for a 10-year exclusive use of the Sarbazi Football Ground. "Under the agreement, I was to develop the ground as the Coach Emad Football Academy for the boys and girls of the neighborhood," says the father, who started by first establishing the Coach Emad Foundation (CEF). The ground was officially inaugurated on December 9, 2018.
Azfar explains that there are three programmes being carried out by CEF. The first is the establishment of the football academy in Lyari. The second is an education assistance programme that includes providing financial assistance to underprivileged children for their education, at least till high school, followed by placing them in mainstream schools. The third is working on the mental health issues of society and to establish a support group for parents who have lost young children, especially under the same circumstances in which the Naqvis lost their son.
Atia Naqvi is involved in educating people particularly about functional depression, given that young people are constantly trying to compete against the high bar set by society. "Through our work, we are also trying to promote mental health along with physical health and team spirit, to bring up wholesome human beings who are happy with who they are and what they do, and not worried about what society expects of them," she says. "My son was a great boy but his rejecting the world points towards an epidemic of mental health issues and of people living in a bubble."
Meanwhile, developing the football academy is the Foundation's priority. As CEF is a not-for-profit organisation, it is primarily donation-driven and the success of its programmes depends on the donations received from individuals and corporations. For now, donations from friends and family have helped start the work at the ground. Currently, 200 to 250 young players are receiving coaching at the academy ground, including some 25 girls, completely free of cost. They have been provided football kits, as well as other equipment. As an additional initiative, CEF is also renovating a boxing club adjacent to the ground, which was previously used as a drug den.
"The ground was previously surrounded by heaps of trash and the children there didn't even have shoes," says Coach Rehmani, who is assisted by three other coaches, namely, Dad Mohammad, Zohaib Hasan and Fatima Mohammad Siddiq, at the academy. "But now, not only is it providing a stable platform to the players who frequented it earlier too, it is also bringing in more players as news about the place spreads through word of mouth." There are further plans of laying an Astroturf, too. Recently, the kids here were also treated to a visit from Liverpool legend Ian Rush, something quite unthinkable for Lyari. Rush was completely bowled over by the initiative taken by Coach Emad's family and the love for football in Lyari.
That is how, even on a hot Ramazan day, the children — many of whom are also fasting — are all geared up for some more football practice. Behind the biggest cement stand near the gate, painted in red and gold, are the words 'The Theatre of Dreams', harkening to the famous slogan of Manchester United's home ground Old Trafford. But its accompanying image, of a tattered boot, held together with rags, kicking a slightly deflated ball, brings you right back to Lyari.
Coach Rehmani blows his whistle to signal the kids to gather around him. As I turn around to clear the way for the young players, I cannot but help catch another glimpse of Coach Emad's mural. The smile on his face seems to have broadened.
The writer is a member of staff
She tweets @HasanShazia
Published in Dawn, EOS, May 19th, 2019