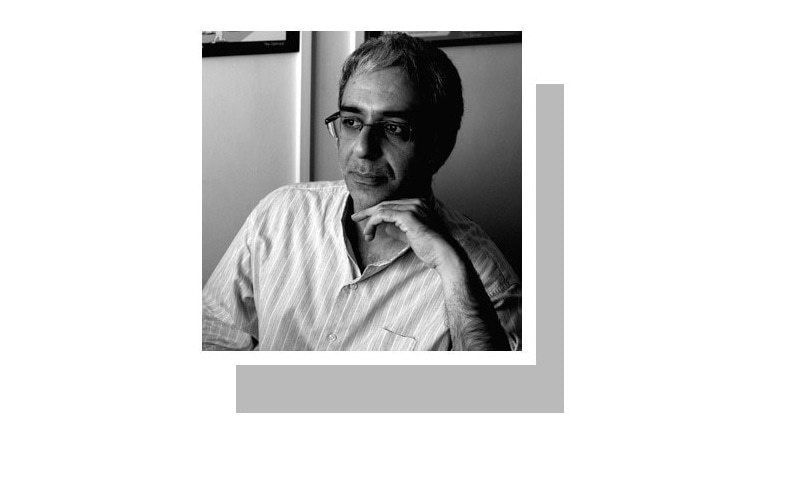 SOMETIMES there are moments of relief, like a cool breeze on a sweltering summer day where it feels like the distance between the fiery sun and your own naked and skinless self is just a few feet at best. It felt something like this on hearing that Aasia Bibi, the Christian woman falsely accused of blasphemy, had finally left Pakistan for what are undoubtedly safer abodes in Canada.
But then, quickly following on the heels of relief, snapping at its worn ankles, comes a rea­l­ity check like the distant stench of raw sew­age carried on that cool breeze, the nauseating odour of garbage left to pile on the streets.
Read more: Junaid Hafeez: condemned forever?
And that reminds us that she spent eight years in jail — not knowing whether she would live or die, not knowing if the death sentence would be carried out by a hangman or by her fellow prisoners or even a jail guard eager to polish the stairway to heaven with her blood.
For over six years, Junaid Hafeez has been in solitary confinement.
Even after the Supreme Court's landmark verdict in her favour, the ordeal did not end as agitation against her release began on the streets of Pakistan. There were false starts but finally the state did come into action and now, at long last, Aasia Bibi has left the country where she was born, but where she could not live.
The relief is further dampened by the fact that those who blatantly misused religion and the justice system of Pakistan for their own malicious ends are scot-free. Even if it were possible to calculate the worth of eight years of life, eight years of trauma and fear the like of which we can scarce imagine, Qari Saleem and all those who falsely accused her will not pay a paisa, nor will they lose even a second of their lives.
Even Chief Justice Asif Khosa, a learned judge who has often rightly railed against the scourge of false testimony, was forced to lam­ent that Aasia Bibi's accusers were undoubtedly guilty of perjury and would have been jailed for life had the case not been so 'sensitive'. It's quite an admission, and one that shows us the difficulty of adjudicating cases where the perjurers wrap themselves in religion to further their own unrighteous ends.
But since sanity sailed from our shores long ago, we are not amiss in celebrating the fact that Aasia Bibi, at least, has found a somewhat safer harbour.
Junaid Hafeez hasn't been so lucky; for over six years this brilliant young man has been incarcerated in solitary confinement in Multan's central jail accused of the crime of blasphemy. Consider the charges: Hafeez was a lecturer in Bahauddin Zakariya University's literature department where, in line with his duties, he arranged a series of guest lectures.
One of the invitees was Qaisra Shahraz, an author who had penned an award-winning PTV serial. At her lecture, some students accused Shahraz of having penned blasphemous passages in her book, and also claimed that Junaid was guilty of blasphemy simply because he invited her to speak. These allegations were repeated during the trial, and when Hafeez's lawyer brought the said books to court, it emerged that the accusers had never even read them because the books were in English, a language they did not understand.
The case registered against Hafeez is even weaker than the witness testimony. The Multan police booked him on the basis of printouts of 'offensive' material shared on his Facebook page without determining whether the printouts were even genuine or even considering that Hafeez himself had not himself posted anything of the sort. Yes, the police did take his computer into custody and forced him to reveal his login information, but that computer was never sent to the forensic department for a proper examination. It is this 'evidence', which is not even enough for the registration of an FIR, that has kept Junaid Hafeez in a cell for six long years.
But surely the courts will do justice? Surely, once brought before the judiciary, this case would fall apart? Well, here's where things get worse: the first lawyer hired to fight his case was quickly mobbed by over 200 of his fellow lawyers and pressured into dropping his client.
The second lawyer, the legendary Rashid Rehman, was shot dead in his office by a 'righteous' killer who has never been apprehended. Nine judges have been transferred through the course of this case, and all the 'star' prosecution witnesses that have been examined have been found wanting, to say the least. Now only one witness remains and, as per reports, the prosecution is using every tactic in the book to delay his appearance for fear that the entire case will be dismissed and they will be left embarrassed.
When the defence lawyer arrived at court last Saturday, he was informed that the witness had applied for leave (which was approved), and so the case could not proceed.
So yes, take a deep breath of relief. And if, at the end of it, a distant stench makes your nose crinkle and your stomach churn, know that that's what reality smells like.
The writer is a journalist.
Twitter: @zarrarkhuhro
Published in Dawn, May 13th, 2019