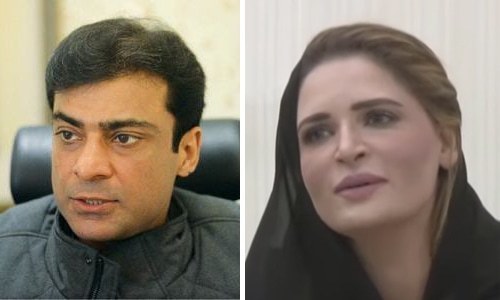 LAHORE: The National Accountability Bureau has summoned opposition leader in Punjab Assembly Hamza Shahbaz and Ayesha Ahad Malik, who claims to be his wife, in investigation against him in the money laundering and assets beyond means case.
Hamza and Ayesha have been summoned for April 30 and May 3, respectively. Hamza is on bail till May 8.
Last year Hamza and Ayesha had decided to withdraw all cases against each other after then chief justice Mian Saqib Nisar arbitrated between the two in a bid to resolve their differences.
According to an official source, the NAB summoned Ayesha after some bank transactions were detected between the couple.
A source close to Ayesha told Dawn that she would appear before the NAB as she had nothing to hide with regards to her marriage or any financial matter.
Earlier, the NAB had arrested five suspects in connection with the money laundering and income beyond means investigation against Shahbaz Sharif and his sons Hamza and Salman.
According to NAB, most of the remittances related to the Shahbaz family members were fictitious and the process of remittances was used for laundering the assets disproportionate to their known sources of income.
Published in Dawn, April 26th, 2019