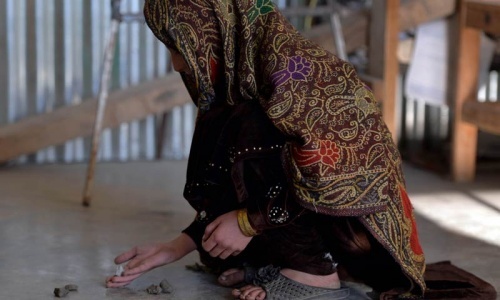 SWABI: The police have arrested two persons for being part of a plan to sell a teenage girl to an aged person from Muzaffargarh district of Punjab.
Parmuli police station inspector Liaqat Shah told Dawn on Tuesday that Mukhtiar Khan, an uncle of the 14-year-old girl named Rumaisa, after coming to know about the plan that his brother, Bakhtair Khan, a heroin addict, had sold his daughter to an elderly man, Ghulam Haider, reached the police station for thwarting the bid.
The police official said Tariq Saeed of Harichand area of Charsadda was the main actor in the plan who wanted to sell the girl to the Muzaffargarh man.
He said Haider's brother, Sadiq, and Saeed were on way to Purmuli to finalise the arrangements for taking the girl to Muzaffargarh, but police arrested the both from Shewa Bridge area two days ago.
He said a case had been registered against four people under different sections of PPC.
Inspector Liaqat said father of the girl and some locals involved in the bargain had gone underground but they would be arrested soon.
He said Muzaffargarh police would be contacted for arresting Haider.
Meanwhile, sources told Dawn that Saeed was alleged to have been involved in the practice for years, but it was not clear as to how he reached Parmuli village and met with Rumaisa's father.
However, the sources said some locals were also involved in the bargain.
They said the girl's father had sold Rumaisa with Rs220,000 and the cash was given to Saeed by Haidar's brother, Sadiq, but it was not clear how much money was offered to him by the elderly person for finalising his marriage with the girl.
The sources said total amount was not yet paid to Bakhtiar as Saeed was demanding further Rs100,000 from Haider.
They said the girl was lured and offered luxurious life and precious ornaments in return for marrying the old man. However, the girl was not happy.
Published in Dawn, April 17th, 2019