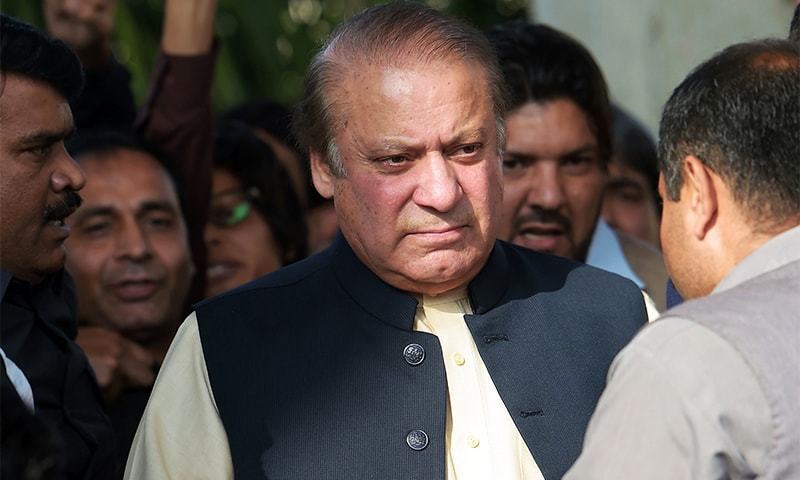 A press statement released by the top court on Monday announced security measures that have been taken ahead of the hearing — to be held tomorrow — of a bail petition filed by former premier Nawaz Sharif.
Headed by Chief Justice Asif Saeed Khosa, a three-judge Supreme Court bench — also consisting of Justice Sajjad Ali Shah and Justice Yahya Afridi — will take up the appeal of Nawaz Sharif against a Feb 25 Islamabad High Court (IHC) decision to turn down bail on medical grounds.
Due to the limited capacity of Court Room No 1, where the hearing will be held, the Superintendent of Police (Security) of the Supreme Court will issue security passes in order to regulate the entry of the people.
According to the press statement, only petitioners and respondents whose cases have been fixed in the top court will be allowed to enter the premises of the Supreme Court building. Journalists and advocates who come to the court regularly will be exempted from passes.
The general public who wish to observe proceedings will be required to contact the SP (Security) for security passes.
Bags and purses of visitors will be searched before entry and mobile phones will be prohibited in Court Room No 1.
Nawaz Sharif is undergoing seven-year imprisonment in the Al-Azizia Mills corruption case. The government claims that he is not ready to be treated in any hospital in the country as he wants to go to London for treatment. The PML-N has accused the Pakistan Tehreek-i-Insaf government of indulging in politics over Sharif's health.
The former premier spent around 10 days in Jinnah Hospital, Lahore, last month. He refused to get further treatment at the hospital after the IHC rejected his petition seeking suspension of his sentence on medical grounds.
NAB submits reply
Separately, NAB on Monday submitted a petition opposing Sharif's bail petition and asked that it be rejected.
The SC had issued a notice to NAB during the last hearing of the case asking it to make its stance known.
As per the accountability bureau's reply submitted today, Sharif's bail petition contains no indication of him suffering from a fatal illness. NAB has stated that Sharif does not suffer from a life-threatening illness and no medical board has recommended that he undergo surgery.
It also argued that Sharif's case does not fall in the category of a 'hardship' case.
NAB has argued that Sharif wants to make the case that there is a threat to his life and he should be allowed to proceed abroad. It added that the former premier is being given all facilities for treatment.
The accountability watchdog said that if Nawaz is given bail, the former premier will remove himself from the jurisdiction of the court. It said that the IHC had reviewed all these aspects earlier and subsequently rejected Sharif's bail request.
Additionally, NAB has contended that Sharif's doctor, Dr Lawrence's report looks like it is "unverified and fictitious".
Dr Lawrence's letter, written to Sharif's personal physical Dr Adnan, had been submitted in court today. The letter, submitted by Sharif's lawyer Khawaja Haris, included Nawaz's medical history from 2003-2019.