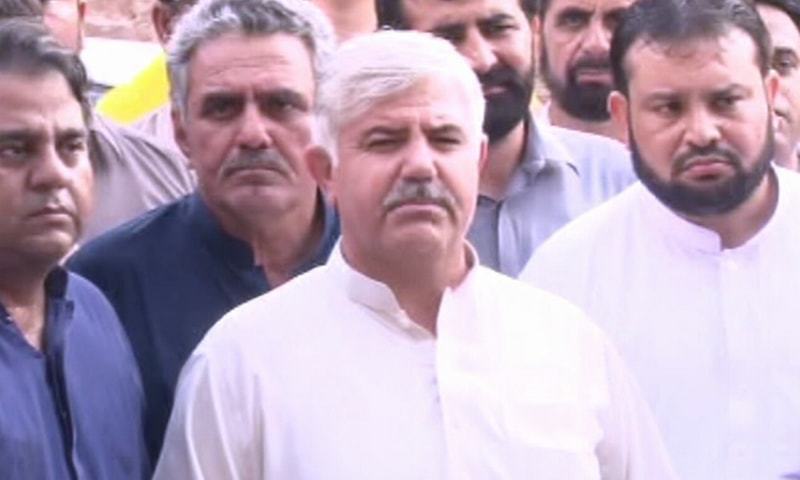 MIRAMSHAH: Khyber Pakhtunkhwa Chief Minister Mahmood Khan on Saturday promised the establishment of a university and medical college in tribal districts.
Addressing a public meeting in Younas Khan Park here, the chief minister said the victims of militancy and military operations would be brought back to their houses in the province from across the border.
He said it was unfortunate that certain leaders were playing negative politics over Pakhtun issues to serve own ends.
The chief minister said his government would focus its attention on the development of educational and health facilities and infrastructure.
He said the security of the people of the erstwhile Fata would also be ensured.
Says certain leaders playing politics over Pakhtun issues
Mr Mahmood announced a package of billions of rupees for infrastructure development, rehabilitation and reconstruction, educational and health facilities and said the package would address the grievances of the residents of tribal districts.
He also announced the inauguration of 3G and 4G mobile phone service and provision of free healthcare through the launch of Sehat Insaf Card across tribal districts.
The chief minister said every family would get free healthcare up to Rs0.72 million annually.
He said he would inaugurate a cadet college, medical college and a university along with some other developmental activities in the next visit.
Mr Mahmood announced the construction of 54km Spin-Shawa Road and promised the execution of projects to promote tourism in the region.
He announced Rs0.5 million for the uniform of children enrolled in primary school of Bakakhel IDP Camp.
The chief minister said he would work for the political, economic and development integration of the erstwhile Fata with other parts of the province.
He said he knew the real issues of the residents as he himself belonged to Pata, which was also affected by militancy.
"Unfortunately, the resources meant for the rehabilitation and reconstruction of militancy-hit Malakand division were plundered by the so-called political leadership of that time," he said.
Mr Mahmood said the government would ensure the use of the funds and development packages promised by the prime minister in tribal districts.
He said he would monitor the use of every penny of funds allocated for the region's development.
"I will remove the reservations of the residents related to infrastructure development, education and health sectors, rehabilitation and reconstruction, and the return of internally displaced persons," he said.
The chief minister said his government would eliminate corruption in its departments and would take stern action against culprits.
He said he had been directed by the prime minister to work for the development of tribal districts and he would accomplish that 'mission under all circumstances'.
Federal communication minister Murad Saeed, provincial finance minister Taimur Saleem Jhagra, adviser to the chief minister on merged districts and provincial government's spokesperson Ajmal Wazir and MPA Malik Shah Mohammad Wazir also addressed the gathering. Adviser to the prime minister Iftikhar Durrani was also present on the occasion.
Published in Dawn, March 10th, 2019