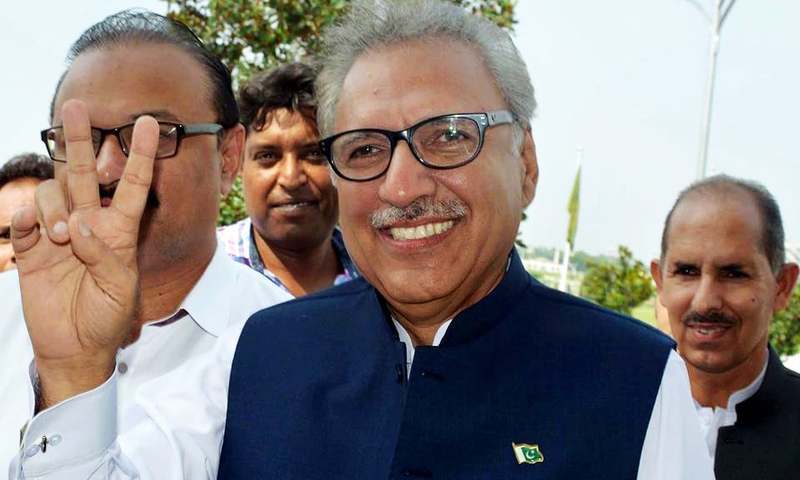 President Arif Alvi on Sunday urged the nation to buy local products in an effort to ease the 'pressure on the Pakistani rupee'.
"Considering pressure on [the] Pakistani rupee, I urge Pakistanis to buy 'Made in Pakistan' [products]," he shared via Twitter. "In this time of crisis, we must try to avoid luxury goods and avoidable imported purchases. If you put your mind to it, there is a long list of daily use imported products."
"This is what we must do together," added the president.
His tweet comes a few days after devaluation of local currency against the US dollar was witnessed in interbank trading.
The US dollar opened at Rs142 on Friday while the local currency further devalued by Rs2 to Rs144. At the close of trade, the exchange rate sat at Rs140 to a dollar for interbank trading as per the State Bank of Pakistan (SBP), and the weighted average rate at which different banks were transacting dollars for their customers was at Rs140, after closing at Rs134 the day before.
Later in the evening, the SBP released its bimonthly monetary policy statement in which the bank announces any changes to the policy discount rate, the key rate that determines all other interest rates in the country, as well as providing a snapshot of the state of the economy. The bank surprised markets by announcing a 1.5pc increase in the discount rate bringing it to 10pc, larger than anyone had expected, and the largest increase since the cycle of monetary tightening began earlier this year. The discount rate was 5.75pc at the start of the year when monetary tightening began.
"The near term challenges to Pakistan's economy continue to persist," the SBP said, citing the fiscal deficit (difference between state's revenues and expenditures), rising inflation and low foreign exchange reserves as the key challenges.
The SBP said the trade deficit, which was at the heart of Pakistan's external sector problems that are driving the country towards another IMF programme, would only be addressed if competitiveness of the export sector was addressed.
Now you can follow Dawn Business on Twitter, LinkedIn, Instagram and Facebook for insights on business, finance and tech from Pakistan and across the world.