Pakistan crashed out of the Asia Cup 2018 with a chastening 37-run defeat at the hands of Bangladesh on Wednesday. Here are our five takeaways from that disappointing campaign:
1- Let's keep knee-jerk reactions at a minimum
There is no doubting that the Asia Cup was probably the single most agonising event ever for Pakistan cricket. Within the span of a week, this team has gone from potential world cup winners to losing to Bangladesh. While whatever is broken in this team should be fixed, whatever isn't should be left alone.
Catastrophic failures in Pakistan cricket have often resulted in meaningless wholesale changes which sometimes weeds out the dead weight but also shelves assets. It is important that the PCB and the selection committee don't make changes just to serve the public sentiment.
2- Team's mental frailties come to the fore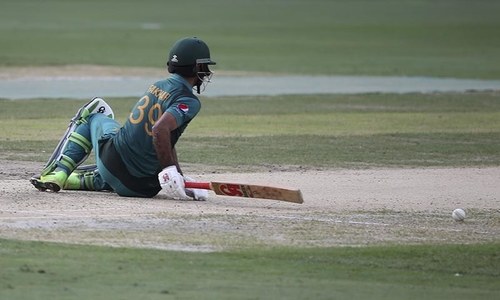 They may have been a flaw or two with the squad composition, Sarfraz Ahmed may have made a few wrong calls, technique and temperament of some might have been questionable but all of this is dwarfed by the biggest, most glaring chink in the Pakistani armour: their mental frailties.
Barring one or two, the entire unit seemed to melt when the going got tough and the number of eyeballs on them increased. As explained here, Pakistani players' inability to handle this sort of pressure is aggravated by them not playing top sides or in empty UAE stadia. If the board is planning to work on something, this should be it.
3- Sarfraz's captaincy
The biggest question facing the PCB will be whether or not to stick with Sarfraz's captaincy. The Champions Trophy-winning skipper has been woefully out of form with the bat and made some highly questionable batting-first decisions to go with poor team selections.
Furthermore, his ability to keep the teammates focused with his commentary from behind the wicket also backfired big time in Asia Cup as he came off with a ultra-critical leader who fails to lead by example but doesn't hesitate in delivering a tongue lashing in front of millions.
Having said that, this is probably the first time his captaincy and spot in the team have been questioned. With the World Cup next year, the PCB does not need to take any drastic decisions but they do need to sit Sarfraz down and have him understand the gravity of the situation.
4- The bunch that didn't make it
Azhar Ali, Mohammad Hafeez, Wahab Riaz, Yasir Shah, Imad Wasim, Hussain Talat and Fawad Alam ... that's the best of the bunch that was left home in favour of those who humiliated themselves in the UAE.
Of the unpicked septet, Azhar and Hafeez were discarded this year for reasons unknown even though there seemed to be life left in them; Wasim had failed a Yo-Yo test although the jury is out on how effective such testing tools are for a not-so-athletic sport that cricket is; Shah isn't considered an ODI player even on spin-friendly UAE pitches; Talat was probably deemed too young and Fawad's case is no secret. Apart from Riaz, the remaining six can make a case for themselves, especially when the Asia Cup 2018 squad also had an untried, untested and frankly very ordinary looking Shan Masood.
Masood wasn't given a chance despite the top order failing throughout the event, which raises the question why he was even on the plane to the UAE. Have the media and fans been focusing on the wrong parchi? The Inzamamul Haq-led selection committee has some explaining to do.
5- Soul-searching needed but quick
Pakistan cricket team will have barely a few days of breather to recover from their mental, physical and emotional toll as the home series against Australia starts in 10 days. That series will be immediately followed by a similar one against New Zealand before the team leaves for South Africa later this year.
Asia Cup was the worst possible way to kick off a jam-packed schedule of almost five months of nonstop cricket against three of the world's most fearsome sides. Post-Asia Cup soul-searching will have to be done but quick.
---
Kumail Zaidi is a cricket aficionado based in Karachi.