KARACHI: Cotton prices rose on sustained buying from mills and exporters on Thursday amid improved availability of quality lint owing to smooth phutti (seed-cotton) arrivals.
Increased supplies from two more Sindh stations — Khairpur and Nawabshah — helped buyers, mostly Punjab-based textile mills, to take advantage of grabbing quality lots.
Punjab cotton has yet to attain maturity, thus faces some quality issues.
There has been no major negative development exc­ept the initial setback in Sindh where cotton sowing was affected by shortage of irrigation water. The private sector is estimating the crop size at 12 million bales.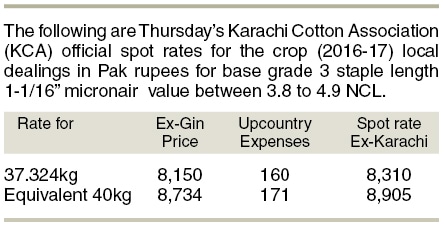 The phutti prices also rem­a­ined stable, with the Sindh variety being quoted at Rs3,700-3,800 and Punjab at Rs3,500-3,700 per 40 kg. Balochistan phutti was traded between Rs3,800-3,900 per 40kg.
New York cotton closed lowered and Chinese market registered a slight increase in prices.
The Karachi Cotton Association (KCA) revised its spot rates upward by Rs100 to Rs8,150 per maund.
Trading on the ready counter was brisk as leading spinners remained in the forefront. The following major deals were reported to have changed hands on the ready counter: 2,200 bales, Shahda­dpur, at Rs8,100 to Rs8,150; 2,400 bales, Tando Adam, Rs8,125; 2,000 bales, Sang­har, Rs8,100 to Rs8,150; 1,200 bales, Mirpurkhas, Rs8,100 to Rs8,150; 1,000 bales, Shahpur Chakar, Rs8,125 to Rs8,150; 1,000 bales, Khairpur, Rs8,150; 400 bales, Mian Cha­n­nu, Rs8,175 to Rs8,325;1,600 bales, Haro­o­nabad, Rs8,225 to Rs8,300; 1,000 bales, Vehari, Rs8,225 to Rs8,275 and 1,000 bales, from Burewala, done at Rs8,250.
Published in Dawn, September 7th, 2018