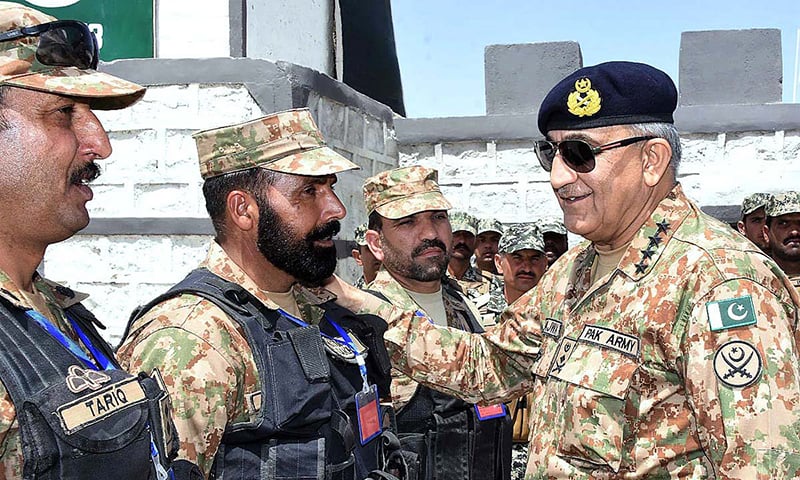 Chief of Army Staff (COAS) General Qamar Javed Bajwa on Wednesday visited South Waziristan where he was briefed on stabilisation operations and progress of fencing along the Pak-Afghan Border in Waziristan at Angoor Adda.
The army chief appreciated the quality and pace of work, said a press release issued by Inter-Services Public Relations (ISPR) — the media affairs wing of the military.
Later in the day, General Bajwa addressed a combined jirga of elders from North and South Waziristan in Wana.
Tribal elders thanked the army chief for the restoration of peace in the area as well as the merger of the region formerly known as Federally Administered Tribal Areas (Fata) into Khyber Pakhtunkhwa (KP). They also acknowledged the ongoing efforts for the area's socio-economic development.
The tribal leaders assured the COAS their unflinching support for security forces and the state.
Read next: The cold emptiness of South Waziristan
Furthermore, the elders highlighted the need for additional communication infrastructure, electricity, water, educational institutions and upgraded cellular network facilities.
The COAS thanked the local tribal elders for extending their support and cooperation to the security forces.
He said that peace had largely returned in the region. However, he also said that he was aware of a few improvised explosive device (IED) blasts having taken place recently in North Waziristan.
"No conflict ends through kinetic operations alone," he said. "There is always a post-operations rehabilitation and development effort."
General Bajwa said that while stability operations continued alongside border fencing, progress on socio-economic prong was also gaining momentum and expressed confidence that the same shall get more attention through the implementation of merger measures.
"Terrorism and development cannot go together, therefore, collectively we have to make sure that unrest doesn't return," he added.
The COAS asked all the concerned, especially the local population — the main stakeholders to retain the attained peace and stability in the area — to "remain vigilant and safeguard the environment from inimical forces, who were eyeing to reverse the gains".
He said that the suggestions offered by tribal elders were valid and most of these were already included in the mid to long-term development plan of the government.