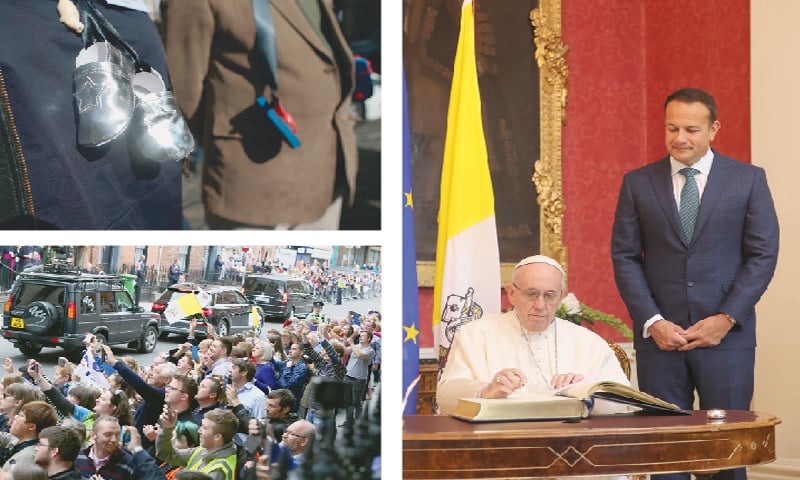 DUBLIN: Irish Prime Minister Leo Varadkar on Saturday urged Pope Francis to take action to ensure justice for abuse victims worldwide as the pontiff admitted a "failure" by Church authorities in dealing with the scandals during a historic visit to Ireland.
In a strongly-worded speech, Varadkar, an openly gay leader and a symbol of Ireland's liberalising culture, demanded from Pope Francis "that from words flow actions" for abuse victims.
Speaking to an audience in Dublin Castle alongside the pope, Varadkar said Ireland's multiple historic scandals were "stains on our state, our society and also the Church". "Far too often there was judgement, severity and cruelty... people kept in dark corners, behind closed doors, cries for help that went unheard," he added.
"There is much to be done to bring about justice and truth and healing for victims and survivors. Holy Father, I ask that you use your office and influence to ensure that this is done here in Ireland and across the world." Francis responded, saying that the "failure of ecclesiastical authorities... adequately to address these repellent crimes has rightly given rise to outrage, and remains a source of pain and shame for the Catholic community.
"I myself share those sentiments," he added.
But Marie Collins, who resigned from a Vatican commission on child protection last year over its inaction, was dismissive of the speech, telling reporters it was "disappointing, nothing new". Collins, now 71, was abused by a priest as a 13-year-old girl while she was being treated in a hospital in Dublin.
First papal visit since 1979
It was the first time a pope had set foot in the former bastion of Catholicism since pope John Paul II spoke to a crowd of 1.5 million people during a visit in 1979.
As he left the airport, supporters rang bells and waved banners reading "We Heart The Pope" and "Pope Fran­­­cis, Together We Love You Forever".
In Dublin, tens of thousands of people lined the streets to cheer him on as the Popemobile made its way from St Mary's Pro-Cathedral, where he gave marriage advice to couples, to a hostel for homeless families.
In the church, the pope had spent two minutes praying in silence in front of a candle commemorating abuse victims.
A new generation has shed Ireland's traditional mores, electing Ireland's first gay prime minister and voting to legalise same-sex marriage and abortion — both once unthinkable.
During his speech, the pope touched on May's referendum in which Ireland voted by a landslide to ditch its strict abortion laws.
"Could it be that the growth of a materialistic 'throwaway culture' has, in fact, made us increasingly indifferent to the poor and to the most defenceless members of our human family, including the unborn?" he asked.
The Argentine pontiff is in Ireland to close the 2018 World Meeting of Families (WMOF) — a global Catholic gathering that takes place every three years.
The highlight of the trip will be an outdoor mass in the city's Phoenix Park on Sunday, which is expected to draw 500,000 people.
Victims of clergy abuse and their supporters will hold a "Stand for Truth" demonstration in Dublin during the Sunday mass.
Published in Dawn, August 26th, 2018