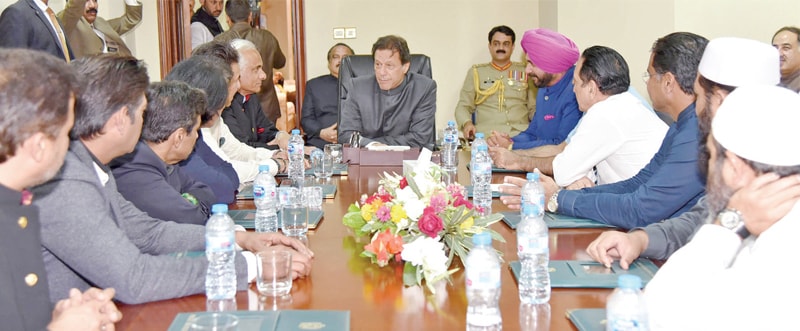 ISLAMABAD: Former Indian cricketer-turned politician Navjot Singh Sidhu on Saturday told mediapersons at Prime Minister House that he was quite happy that his close friend had become the prime minister of Pakistan.
A number of times he used poetic language and verses to give his message and claimed that he had come to Pakistan with the message of love. He also said he was taking back 100 times more love compared to what he had brought to Pakistan.
He said Punjab was constituted of five rivers but two of them were on one side and two on the other side of the border. River Ravi flows on both sides of the border (in India and Pakistan), he said.
He said Chief of Army Staff (COAS) Gen Qamar Javed Bajwa told him that he wanted friendship and peace.
In reply to questions from the mediapersons, Mr Sidhu said he had not come here for politics, adding he got a message of friendship from Imran Khan whom he knew for the last 35 years. He said he also did cricket commentary along with Mr Khan. He said the message of love was for all and he would convey the same to India as well.
He said he would also go to the Indian High Commission as he had got an invitation from there. He said all issues were settled on the table.
"I don't want to swim in the red sea, let us create a blue ocean and create a place where everybody could swim," he said.
He said he was quite confident that if India takes one step towards Pakistan Imran Khan would take two steps towards India.
Earlier, Mr Sidhu met Imran Khan in the Prime Minister House. The members of the Pakistan cricket team that won the 1992 world cup were also present there.
Pakistani star cricketer and commentator Rameez Raja said he was thankful to Mr Sidhu for extending the hand of friendship towards us.
He said relations between the two countries could be improved through the efforts of both the nations.
He said it was good that Imran Khan was not a traditional politician so he could play a better role in improving relations between the two countries.
Published in Dawn, August 19th, 2018