This is part one of a two-part series about the South Asian diaspora that eventually came to be Singaporean-Pakistanis. Read part two here.
***
Not many people may know or remember that the former head of the Special Branch in Singapore was a Pakistani by the name of Ahmad Khan.
In charge of matters related to Singapore's security and intelligence during the tumultuous years before its independence in 1965, Ahmad Khan's political judgement was instrumental in influencing Singapore's history.
He came to Singapore from the Punjab in 1934 at the age of 22 and joined the Singapore Police Force. He served in the colony for over 30 years, rising through the ranks and retired as a Superintendent of Police and returned to Pakistan in 1964.
In 1988 he met Singapore's prime minister in Rawalpindi when the latter was on a state visit to Pakistan. In what must have been an emotional reunion, the 76-year-old Ahmad Khan recounted the decades he spent in Singapore in an exclusive interview to the Straits Times.
Unsurprisingly, he called Singapore his second home, having spent close to 30 years there — even his children were born and raised there. "Believe me," he said, "I always pray for the prosperity of Singapore."
Related: How the Pakistani diaspora in Barcelona established itself in the heart of the city
This anecdote reveals the somewhat forgotten link between Singapore and Pakistan, stretching back to the time where both countries were part of the British Empire.
Even before the creation of Pakistan in 1947, thousands of individuals had migrated from the provinces of Punjab and North-West Frontier Province (NWFP) — since renamed Khyber Pakhtunkhwa — of British India to Malaya and Singapore in search of employment — with many eventually settling permanently in those places.
Studies on the colonial diaspora from parts of British India to Malaya and Singapore have traditionally gravitated towards the Sikh and Tamil communities from the Punjab and South India respectively.
At the same time, contemporary works on Pakistani diasporas have almost always examined Pakistani communities in Europe and the United States, focusing largely on migrant communities who arrived after the creation of Pakistan.
It was a desire to fill this gap in knowledge that prompted me to take up a Master's degree with the Department of Malay Studies at National University of Singapore. I recently completed my thesis, Being Singaporean Pakistani: History, Ethnicity and Identity.
In order to write my thesis, I interviewed more than 50 second and third-generation Singaporean-Pakistanis whose forefathers had migrated to Singapore during the British colonial era.
There was also a personal reason for me to do this research. On both my paternal and maternal sides, I have my roots in Pakistan.
On my paternal side, my great-grandfather migrated to Singapore from Campbellpur District (since renamed Attock District) in the early 1900s. It is believed that he came to Singapore with the British military.
Read next: Being Chinese in Pakistan: between heritage and home
Upon deciding to settle in Singapore, he worked initially as a personal driver and thereafter started a small transportation enterprise — leasing his cars to new migrants after instructing them how to drive. My grandfather, Mohammad Yusoff Khan, was born in Singapore in 1920.
On my maternal side, my grandfather, Hayat Shah, left his village in Hazara District in the early 1930s to join his father and uncles who had gone to Singapore in search of employment.
He was recruited as a policeman and served in the Naval Police Force. In time, he married the daughter of an earlier migrant (also from Hazara District) and eventually settled down in Singapore.
Colonial links and migration of Pakistanis to Singapore
Most Singaporean-Pakistanis today, whose forefathers settled in the country during the colonial period, have their roots in the Punjab and NWFP.
For the former, a significant majority came from the districts of Attock and Lahore. Numerous migrants also came from districts such as Delhi and Jalandhar — areas that eventually became part of India.
For migrants from the NWFP, an overwhelming majority came from the Hazara District (since reorganised as the districts of Abbottabad, Haripur and Mansehra) while a minority came from the Peshawar District.
Their migration to Singapore can be divided into three waves — roughly corresponding to the periods before WWI, the interwar period and the period after WWII.
Also read: 'Roughly equal parts of my life have been spent in East and West. Do midpoints make one more reflective?'
The migration of individuals from the Punjab and NWFP to Malaya and Singapore has its roots in the British policy of military recruitment from this region of British India.
The military became an important source of employment for individuals in this region, who the British thought of as being 'martial races'.
Recruited into the military, they were sent overseas to police other British territories and these included Malaya and Singapore.
The foundations of an organised police force in Malaya and its policy of recruitment from the Punjab and NWFP were arguably laid by Captain Tristam Speedy in 1873 when he recruited 110 Pathans and Punjabis to enforce law and order in the Malay state of Perak during a civil strife.
Sultan Abu Bakar of Johor, who was known to have a good relationship with the British, similarly employed this strategy a decade later.
When he established the Johor Military Force in 1885, the Sultan recruited Pathans from the NWFP for his military.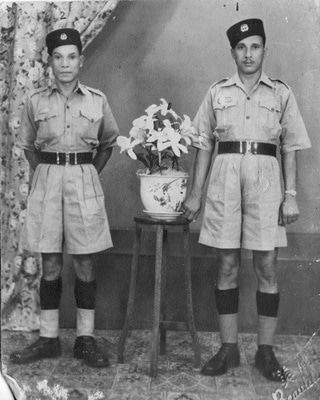 By the time the Federated Malay States Police was officially inaugurated in 1896, Pathans and Sikhs already made up a slightly more than a quarter of its total strength of nearly 2,000.
The British evidently trusted these individuals in the enforcement of law and order in Malaya and Singapore. They in turn undoubtedly proved their worth to the British.
The recruitment of individuals from the Punjab and NWFP to enforce law and order in Malaya created a precedent for others in this region to venture across the Indian Ocean.
Now read: My life as a little brown girl growing up in Scarborough, UK
The promise of a better life in Malaya was even captured in a Hindko expression widely known amongst the older generation in the Hazara District: "Malaya naa Chacha, tay naa Taya." (When a man goes to Malaya, he forgets his Chacha, he forgets his Taya.)
This expression alluded to the fact that many who left their homes to seek a better life in Malaya often spent decades there — if they ever returned at all.
The expression also reveals a tinge of envy and discontent suggesting that the personal loss felt by family members and society likely outweighed the gains of these migrations.
The ebbs and flows of migration
By WWI, there already was a significant population of migrants from the Punjab and NWFP in Singapore.
It was reported that a general meeting of Muslims from the Punjab and Hazara took place at the residence of one of its members in September 1917.
The meeting was held in connection with Our Day, a movement which encouraged various communities in Malaya to get together and pledge monetary support for the British during the period of WWI.
Among those who attended this meeting was Syed Gulab Shah, a migrant from Haripur who had come to Malaya at the age of 18 to join the Johor Military Force.
After serving the Sultan of Johor for 10 years, he journeyed south to Singapore and established his own business.
He was held in very high regard not only by members of his own community, but also by the larger Muslim community in Singapore that included Malays, Indians and Arabs.
Explore: How South Asian music helped my identity formation as a British-Pakistani
The period after WWI marked the beginning of a second wave of migration from the Punjab and NWFP to Singapore.
The expansion of the Singapore Police Force in the 1920s and 1930s and the subsequent demand for 'North Indians' to serve as policemen accounts for the increased arrival of early migrants from the Punjab and NWFP to Singapore during the second wave of migration.
Similarly, the increased presence of various British forces and the building of the British aerodrome, military and naval bases across the island created a demand for these migrants — collectively labelled as Punjabis and Pathans by the British — to police these bases.
These migrants also served in these bases as watchmen, firemen, warders and contracted tailors.
This trend of employment continued in the third wave of migration after the Japanese surrendered Singapore back to the British in 1945 at the end of WWII.
Those who served in the British Indian Army during the war and fought in Burma and Malaya came to Singapore to seek a better life.
During this period, they were employed in auxiliary police units such as the Army Depot Police and the Police Reserve Unit.
The migration of Pakistanis to Singapore slowed down by the 1950s and by the time the British withdrew their forces from Singapore in December 1971, Pakistani migrants and their families had started to return to Pakistan.
One defining characteristic of migration beginning with the second wave is that these migrants from the Punjab and NWFP were actively becoming part of a trade diaspora.
Discover: 'I'd rather die than be sent to Turkey' — Why Pakistani migrants prefer Greece's hellish camps
Those who had been in Singapore long enough were able to secure contracts with the British to provide goods and services to military camps and bases, while others operated as independent merchants or peddlers.
The second and third waves of migration were also marked by the process of chain migration, which saw the continuous and sustained movement of migrants from the Punjab and NWFP to Singapore.
Male migrants who came to Singapore during the second and third waves of migration were known to be preceded or joined by another male member of their family.
Often, these migrants travelled to Singapore with kin and friends from the same or nearby villages.
Lives of the early migrants
Similar to the early waves of migration from Pakistan to the United Kingdom and other parts of Europe from the 1950s to the 1970s, this migration to Malaya and Singapore was largely a male experience.
The recruitment of military personnel in the Punjab and NWFP had set the precedent for men in these region to leave their families to fulfill the requirement of a labour economy which the British required to run the colonies.
Women did participate in this migration, although in small numbers and only as dependents of migrant males.
A 75-year-old woman I spoke to informed me that she came to Singapore at the age of 11 with her mother in the early 1950s to join her father who had been working in Singapore for 15 years.
As her father was already in Singapore, an elderly man from their village was entrusted with the task of bringing them safely to Singapore.
The gendered nature of this migration meant that there had always been a gross imbalance between the population of Pakistani men and women in Singapore.
Thus, many Pakistani migrants married local women and settled permanently in Singapore.
Related: Demons of a British ghetto
The fact that they too were Muslims provided these migrants with the convenient option of starting a family while carrying on their lives away from home.
Typically, domains of interaction for Pakistani men included their barracks or quarters, coffee shops, restaurants, shops owned by Pakistanis and mosques.
One second generation Singaporean-Pakistani recounts that one of the places Pakistani migrants — including his father — congregated at was a bookshop along Bras Basah Road owned by an elderly Pakistani. He recalls:
"Sometimes there [would] be seven or eight of them, all regulars. I [would] just stand around there, I was a small boy. My father would write for everybody their letters, at no charge. They switched on a kind of radio and they [would] listen to the developments in Pakistan…"
These social spaces in which Pakistani migrants congregated, tapped on one another to read and write letters to their families back home and keep abreast of social and political developments in Pakistan and among the community in Singapore allowed for the preservation of a diasporic Pakistani identity while maintaining both transnational and communal ties.
In the early years after the independence of Pakistan, there was considerable excitement among Pakistanis in Singapore with displays of patriotism and shouts of Pakistan Zindabad frequently heard.
Migrants from the areas that formed this new country were quick to change their nationality to Pakistani and country of origin to Pakistan in their identity cards.
A migrant from the Hazara District named his restaurant after the economic and political capital of the country at the time, calling it Karachi Restaurant.
The restaurant, which was located at the heart of the Malay enclave Geylang Serai, established itself as a communal meeting place for Pakistanis in Singapore for the next couple of decades.
Organisations such as the Indo-Pakistani Muslim Welfare Association and the Overseas Pakistan League were founded by Pakistanis in Singapore.
The latter became the primary organisation that brought together Pakistanis in Singapore and remained so for several decades.
In 1948, the League's secretary was quoted as saying he estimated there were between 8,000 to 10,000 people from Pakistan living in Singapore.
The Pakistan League was established with the primary objective of "uniting the people of Pakistan in Singapore and to work for their political, economic, educational and social welfare."
It also aimed to "promote brotherhood with other Muslims and to maintain cordial relations with all other communities in Malaya."
As a reflection of their status as overseas Pakistanis, the Pakistan League played an active role in uniting Pakistanis in Singapore and linking them to their homeland during its early years.
The League coordinated the contributions of Pakistanis in Singapore for relief efforts in Pakistan, organised festivities celebrating Pakistan Day and the birthday of Mohammad Ali Jinnah as well as hosting delegates from Pakistan.
It also sent a representative to Pakistan in 1948 to discuss the appointment of an 'official representative' in Malaya.
Next: Have Bangladeshis overtaken Pakistanis in Britain?
By the late 1950s, the League had acquired a building along Serangoon Road which was used as its clubhouse.
The clubhouse played a very important role for Pakistanis in Singapore as a social space for all Pakistanis to interact.
Social activities including dinner parties and Eid gatherings were held regularly. It gave Pakistanis in Singapore a sense of belonging, bringing together individuals of similar origins and providing them opportunities to socialise.
This allowed them to form bonds across families, at times leading to marriages.
For two decades, under the leadership of businessman Haji Mohammad Khan, the clubhouse was also a place for the organisation to host sporting and cultural luminaries from Pakistan.
These included the Pahalwan brothers — wrestlers Bholu, Akram and Aslam; the Pakistan national hockey team that won gold at the 1960 Rome Olympics; cricketers such as the hugely popular Majid Khan and legendary squash players such as Jahangir Khan and Qamar Zaman.
Unfortunately, the Pakistan League became a club without a home in October 1974 when the land on which the clubhouse was situated was acquired by the government for the construction of a car park.
Losing the clubhouse was arguably the decisive punch from which the organisation never fully recovered.
Future management committees attempted but failed to re-establish a clubhouse for the organisation as the cost of real estate in Singapore skyrocketed from the 1980s.
With the loss of the clubhouse, the Pakistani community in Singapore no longer had a focal point to congregate.
Urban development in areas where Pakistani migrants would meet and the relocation of families from kampong houses (rural houses) to urban public housing caused further fragmentation within the community.
The sense of community among Pakistanis in Singapore diminished as interactions between Pakistani families were reduced to those of the biraderi — families with kinship ties or with similar ethno-regional origins.
The context of migration to Singapore had also transformed the idea of the biraderi from families with purely kinship ties to include fictive kin.
In Singapore, this included families of migrants who were from the same occupational group or lived in proximity to one another.
The concept of fictive kin became important for many second generation Singaporean-Pakistanis in filling the void caused by not having actual family relations.
Often, they recall their interaction with other Pakistani families intimately and with a sense of nostalgia.
---
Are you researching Pakistani diasporas? Share your insights with us at blog@dawn.com