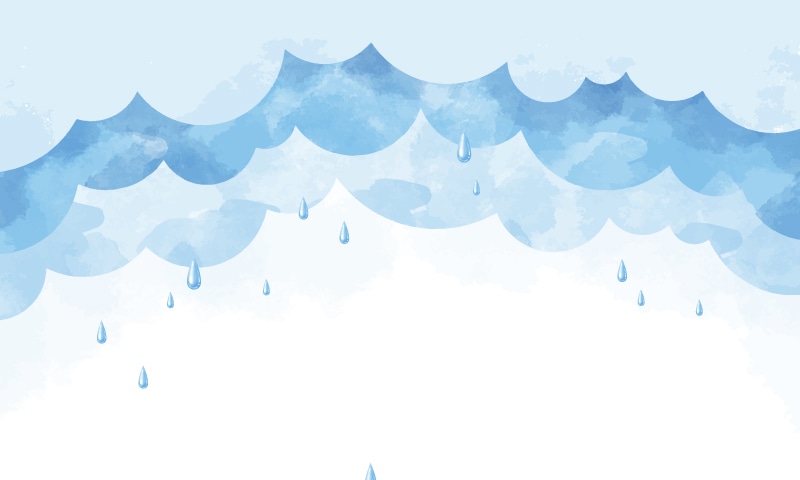 The summer rainy season, the monsoons, the months of Saavan and Bhaadon — corresponding roughly to July and August — hold a special fascination in the hearts of the people of the subcontinent. Quite unlike in the West, where rain is often treated as a cold nuisance, the natural power of rain to quench the parched earth and bring relief from the rising temperatures has metamorphosed in poetic terms into analogies for the slaking of desire and become associated with an unabashed romantic sensuality.
Naturally, film songs have always exploited this cultural association — and have developed their own visual vocabulary involving the tension of gathering storm clouds, the joy of young women allowed to enjoy freedom on swings, the theatre of thunder and lightning, the first drops of rain, lovers forced together by nature and, of course, water-drenched bodies.
One of the early saavan songs to gain immense popularity was singer-actress Khurshid's 'Ghata ghan ghor ghor, mor machae shor, mere sajan aaja' from Tansen (1943), written by D.N. Madhok and put to music by Khemchand Prakash. As in songs of the past, the rain clouds make the singer pine for his (in this case her) beloved or are even asked to convey the feelings to him or her. Another case of a memorable rain number from the mid-forties is 'Saavan ke badalon un se ye ja kaho' from Ratan (1944), written by the most popular lyricist of the period Madhok and orchestrated by, then a novice, Naushad.
Eminent poet Arzoo Lukhnavi laments 'Ghir ghir ke jo badal aate hain woh bey-barsay chalay jaatey hain' and goes on to mourn 'Ashaon ki jhooti dunya mein sookhi barsaatein hoti hain'. These lines are from the haunting ghazal 'Jin raaton mein neend urr jaati hai'. The music of this 1949 movie, Raat Ki Rani, was composed by Hansraj Behl.
In the fifth part of his series on film songs, Asif Noorani recalls the memorable music from the 1940s to the 1970s that celebrate rain, as only the culture of the subcontinent can
A year later saw the release of a movie called Barsaat. Its title song was 'Barsaat mein hum se mile tum sajan, tum se mile hum'. The second film to be produced by Raj Kapoor, the movie marked the debut of composer duo Shanker-Jaikeshan, lyricists Shailendra and Hasrat Jaipuri, not to mention a petite Nimmi.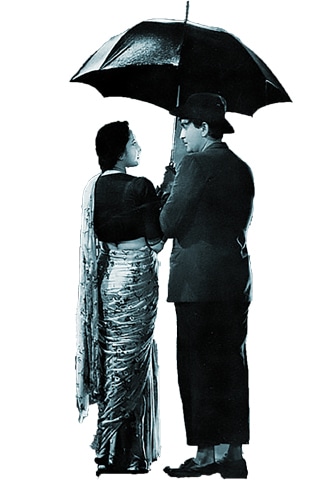 A memorable chorus led by Noor Jehan — 'Ho saavan ki ghan ghor ghataein' from Pakistani film Intezar (1956), written by Qateel Shifai and tuned by the one and only Khurshid Anwar, was enjoyed by film music enthusiasts on this side of the Wagah border. Their Indian counterparts couldn't get to listen to it except for those whose radio sets were powerful enough to catch the farmaishi [request] programmes of Radio Pakistan. Radio Ceylon gave only 15 minutes a week to play our film songs.
Many film songs featured references to the saavan. The one that comes readily to this writer's mind is the lilting Lata Mangeshkar-Talat Mehmood duet 'Saavan ki raaton mein aisa bhi hota hai' from Prem Patra (1962, meaning love letter). It was the first time that Gulzar, an assistant of filmmaker Bimal Roy-turned-lyricist, wrote a song that was rendered by the silky-voiced Talat. Set to music by Salil Chowdhry, the duet was picturised on Sadhana and a visually-impaired (only in the movie) Shashi Kapoor.
While on saavan, one can't help recalling the Mukesh-Lata number 'Saavan ka maheena pavan karay sor' from Milan, filmed on the love birds Sunil Dutt and Nutan and which was all the rage in1971. He is teaching her to sing as sparks fly between the two. There are no literal showers here but there is the reference to the month of rain, which is alright by the listeners.
Incidentally, there have been quite a few saavan songs where the heroine, sitting on a swing, misses her beloved. You just have to type saavan and jhoole in the search column of YouTube and you will be spoilt for choice. For instance, a highly haunting number is Lata and Talat's duet 'Saavan ke jhoole parray, saiyan ji humein tum kahaan bhoole parray' from Pyar Ki Pyas (1961), written by Bharat Vyas and set to music by Vasant Desai.
Another song with the same opening words is the Lata solo Saavan ke jhoolay parray, composed by R.D. Burman in Jurmana (1979). This number, written by the most prolific lyricist Anand Bakhshi, doesn't show a swing in both its versions.
Another popular term in film songs is rim jhim, which denotes the delicate sound of raindrops. Khurshid Anwar's tandem duets 'Rim jhim, rim jhim parray phuwaar' recorded in the voices of the Niazi sisters — Nahid and Najma — and Noor Jehan and Munir Husain for Koel (1959), and written by Tanveer Naqvi, were chartbusters too.
Another rim jhim song, a melodious Rafi-Lata duet written by Anand Bakhshi and tuned by Lakshmikant-Pyarelal was 'Ye rim jhim ke geet saavan gaye'. It was beautifully picturised on Rajendra Kumar and Babita for Anjana (1969). Yet another unforgettable rim jhim duet which was imaginatively picturised on Waheeda Rahman and Dev Anand was Geeta Dutt-Rafi's 'Rim jhim ke tarane le ke aayi barsaat'. It was played in the background and for some reason not lip-synced to by the lead players. The melodious number was composed by veteran S.D. Burman and penned by Shailendra for Kala Bazaar (1960). So fascinated was Shailendra by the compound word rim jhim that he named his newly built house in Mumbai after it too.
Another Shailendra rim jhim duet to make it big was the Talat-Lata duet 'Aha, rim jhim ke ye pyare pyare geet liye'. The movie featuring the number was Usne Kaha Tha (1960), one of the early assignments of the Bengali composer Salil Chowdhry in Bollywood.
The Lata-Kishore tandem 'Rim jhim, rim jhim gire saavan' from Manzil (1979) is steeped in melody. The Lata version is picturised on Amitabh Bachchan and Moushimi Chatterjee who are romancing in the heavy rain on Bombay's Marine Drive while the Kishore number is dry to look at (pun intended) because the leading man is 'singing' in an indoor mehfil.
Bheega hua mausam is another expression that occurs frequently in rain songs. 'Kyoon hum se khafa hogaye ae jaan-e-tamanna, bheegay huay mausam ka maza kyun nahi laitay?' rendered by Mehdi Hasan for Salam-e-Muhabbat (1971) is an example. It was the only number that was composed by leading music director Rasheed Attre for the movie, the rest were all composed by his peer Khurshid Anwar. It showed Mohammed Ali imploring his lady love Zeba to soak herself in the rain but, out of sheer modesty it seems, she doesn't step out.
Arguably the most scintillating song in this genre is the Nigar Award-winning Mehdi Hasan number 'Tere bheegay badan ki khushboo se', where he is joined by Rubina Badar, who hums along with him mellifluously. Her contribution is like the icing on a cake. Strangely enough, she doesn't get credit for her crooning. The song is from Sharafat (1974) and was written by Kaleem Usmani and composed by Robin Ghosh. It was picturised on Shabnam and Nadeem but it wasn't truly a rain song, the lead players had soaked themselves in the sea. It wasn't vulgar, something one cannot say about a similar number from the Indian film Pukar, where Amitabh Bachchan and Zeenat Aman frolic around in the sea. The song 'Samandar mein naha ke tum aur bhi namkeen ho gayi ho', composed and rendered by R.D. Burman, is quick-on-the-lip. Gulshan Bawra wrote the lyrics of what was once a popular number.
Just as an aside one may like to recall the non-romantic number, associated with rain from Chhalia (1960). Written by Qamar Jalalabadi and composed by Kalyanji-Anandji, the once popular Mukesh number 'Dum dum deega deega, mausam bheega bheega' shows Raj Kapoor frolicking around in a slum with an umbrella to shield him.
Back to our side of the Wagah border, one can't forget Ahmed Rushdi's soulfully rendered solo, 'Ae abr-e-karam aaj itna baras, itna baras ke wo ja na sakein' for Naseeb Apna Apna (1970). While all singers pray for rain, here is a person who prays that the showers don't stop, so that his beloved is compelled to stay with him. The song was composed by Lal Mohammed-Iqbal and written by Masroor Anwar. The movie, shot in Karachi's Eastern Film Studios, featured Waheed Murad and Shabnam.
In another situation Masroor Anwar wrote 'Baahar hai barsaat, bala ki sardi hai' for Sachai (1976). The song, recorded in the voice of Nahid Akhtar by Nisar Bazmi, shows Shabnam trying to stop Nadeem from going to his office. It makes interesting viewing. What is more, it brings in the unromantic element of catching a cold by getting soaked in the rain.
Finally, how can one do justice to rain songs by ignoring the musical Barsaat Ki Raat (1960). The title song 'Zindagi bhar nahin bhoolegi woh barsaat ki raat' was rendered by Mohammad Rafi for Bharat Bhushan and Lata Mangeshkar for Madhubala and it reigned supreme on the hit parade of Radio Ceylon for several weeks. The first song in the movie 'Garjat bursat saavan ayo re', based on Raga Gaur Malhar, was musically an out-and-out saavan number. Written by Sahir Ludhianvi, the score was by Roshan, a composer who didn't get the level of recognition he deserved. By the way, nine years earlier, that is in 1951, Roshan had scored a song with similar words 'Garjat bursat bheegat ayo re' and based it on the same raga for a movie called Malhar.
The example proves that there is much truth in the saying 'history repeats itself'. For the lovers of the romance of rain, that's a good thing.
AND IN MORE RECENT RAINY SEASONS...
he '80s, '90s, 2000s and 2010s continued the romance with the rain, though some insist the quality of love has gone down. Nevertheless there have been enough stellar numbers since then to rekindle memories. Take, for example, Namak Halal's 'Aaj rapat jayein' (1982) filmed on the dusky Smita Patel and Amitabh Bachchan which has gone down in cine history as one of the greatest rain songs ever to be filmed.
In the song 'Tip tip barsa pani' from Mohra (1994), Akshay Kumar romances Raveena Tandon in a heavy downpour but it does nothing to cool down her passion for him. From the greatest love story ever told in Bollywood there's 'Mere khwabon mein jo aaye' (Dilwale Dulhaniya Le Jayeinge, 1995) filmed on Kajol's character singing about her dream man in a full-on cloudburst. Then there's Shah Rukh Khan romancing Madhuri Dixit with a bunch of kids while dancing in the rain in 'Koi larrki hai' in 1997's Dil Tau Pagal Hai. Though far more introspective, 'Geela geela pani' from Satya the same year was destined for greatness from the get-go. With lyrics by Gulzar, music by Vishal Bhardwaj, and sung by Lata Mangeshkar the song was picturised on Urmila Matondkar.
Although 'Aaj mausam barra beyimaan hai' was originally from 1973's Dharmendra-starrer Loafer, it created new fans when it was reused by Mira Nair in 2001's Monsoon Wedding. That same year Lagaan had a lot going for it besides Aamir Khan and a rock-solid plot. 'Ghanan Ghanan' which depicts the on-set of the monsoon in a parched village set the pace for everything else that unfolds in the film. 'Bhaage re mann' from Sudhir Mishra's 2004 film Chameli sees Kareena Kapoor singing in the rain about the more pleasant things in life. And never has Ashwariya Rai looked more ravishing than she did in 'Barso re megha megha' in the 2007 film Guru.The heavy South-Indian influence in A.R. Rehman's music is quite apparent.
Some of the best numbers by Pakistani singers about rain during this time came from pop rather than film, understandable given the state of the local film industry here. 'Garaj baras' by Ali Azmat was filmed on John Abraham's visually distraught character in 2003's Paap directed by Pooja Bhatt. Meanwhile, Atif Aslam's 'Woh lamhe woh baatein woh bheegi bheegi raatein' got plucked for Mahesh Bhatt's 2005's Zeher starring none other than serial-smoocher Emraan Hashmi. And finally there's 'Bheegi bheegi raaton mein' by Adnan Sami Khan. Although it was never a part of any film's soundtrack, it may as well have been. — Icon Staff
Published in Dawn, ICON, August 5th, 2018