Teaser pleaser
The teaser for director Nabeel Qureshi's next film Load Wedding is out. Yes, the same Nabeel Q who has given us immensely successful films such as Na Maloom Afraad and Actor-in-Law.
While it is clear that the movie will have the same rib-tickling touch that has now become the trademark of the filmmaker's work, one is also a trifle apprehensive whether he's got stuck in a creative loop. It is not necessary for everyone to prove their versatility, but it is also important to realise that sometimes the audience gets used to seeing the same material presented in a different package. Let's hope this fear is unfounded and Load Wedding shatters all ideas and box office records. Loads of luck!
The wobbly Jahaz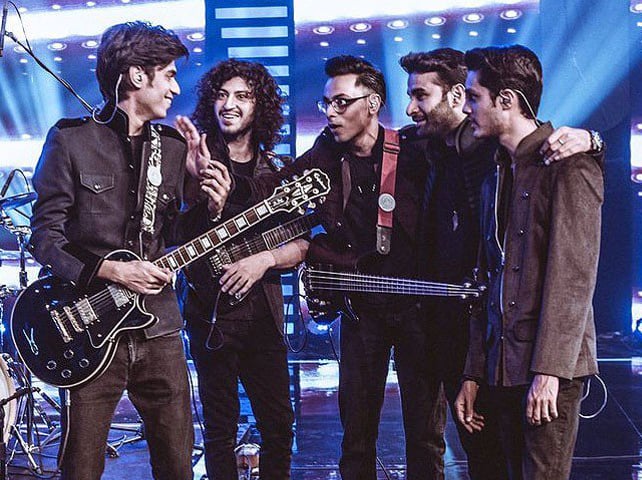 It is utterly disappointing to see the video of pop band Kashmir's groovy song Kaghaz Ka Jahaz, which clinched last year's Pepsi Battle of the Bands for them.
The visuals do not do justice to the lyrics or the composition of the track. It indicates a lack of understanding on the part of the song's producers of the finer points of its lyrics. It seems either they didn't have the budget for it or they decided to go with a simple video. Add to it the somewhat 'new' sound to Kaghaz Ka Jahaz, which has a bit of a pop-ish rather than funky feel to it, and the result is not so good. Did the band have no or limited say in the entire process?
More than friends
Oh, this looks serious, in a romantic way. We all know that the dusky damsel Priyanka Chopra and Hollywood star Nick Jonas have been seeing each other for a little over a month, but we didn't realise the situation had reached a point where he has now even met one of her parents. Yes, folks, Nick J was recently in India with the Quantico star where he went to a couple of high-profile parties hand-in-hand with Priyanka C and, before that — check this out— he met with her mother, brother and cousin Parineeti. He even spent some time in Goa where the Chopra family was vacationing. Boy oh boy, this guy seems to be in a hurry. Then again, maybe the one in a hurry is Priyanka C …
Off the pill
Well done Nushrat Bharucha, the star of Sonu Ke Titu Ki Sweety, for taking a stand on an issue that many modern-day actresses might not have even given a second thought to.
She was asked to do an advert for a weight-maintaining pill, and was offered pretty hefty moolah for it too. The girl, who is a rare combo of sassiness and conscientiousness, turned down the offer arguing she found the whole idea 'unethical'.
How cool is that!
Nushrat B, you are a sweety to the core.
Deleted from Instagram
It has been rumoured that model Hailey Baldwin and pop icon Justin Bieber are back together, again. But like all reunions, this has come at a price. Apparently last year Hailey B was pretty close to the current pop sensation Shawn Mendes, though the relationship remained under the radar for most of the time. And she has now deleted all of Shawn M's pictures from her Instagram account, which insiders believe is because of her rekindled feelings for her ex.
Hmmm … let's see how long it will take her to remove Justin B's pictures. I'm guessing six months.
Say 'no' to piracy
The Indian film that earned the biggest opening box office collections of 2018, Sanju, is one of those rare projects that are liked by critics and achieve commercial success in equal measure.
However, the Ranbir Kapoor-starrer received a bit of a setback on the second day of its release — that is, while the movie was being praised to the skies — when it was reported that an HD print of the film was leaked and Sanju could also be downloaded online. In fact, a young boy was caught by the police for selling pirated copies of the film for as cheap as 20 rupees. This led fans of Ranbir K to take to social media and urge people not to download or buy pirated copies of Sanju. And it worked, to a great extent.
So, the next time anyone badmouths social media for being an unfiltered, unbridled platform, tell them it can be used for positive purposes as well.
Published in Dawn, ICON, July 8th, 2018