ISLAMABAD: The returning officer will hear arguments from the counsel for Pakistan Tehreek-i-Insaf chairman Imran Khan on Tuesday (today) on a petition against his eligibility to contest the general election.
Abdul Wahab Baluch, a candidate of the Justice and Democratic Party (JDP) headed by former chief justice Iftikhar Mohammad Chaudhry, has pleaded in his petition that Imran Khan's nomination papers should be rejected because he did not disclose he had a daughter as a result of his "relations with Ana-Luisa (Sita) White, a wealthy lady who was the daughter of the late Lord Gordon White, head of the American arm of the giant industrial conglomerate Hanson PLC, which he co-founded".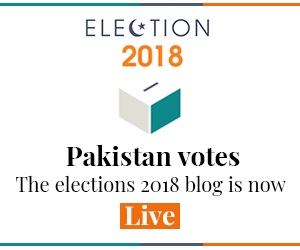 According to the petition, the PTI chief did not marry Sita White because her "racist father categorically told the respondent (Imran Khan) that if he married Sita, they would not get a penny of his money. That's the reason why the respondent did not marry Sita — he knew that he will not get any financial benefit.
"Only thereafter, he found, met and in a very short time married Jemima Goldsmith, another rich lady".
As the objector is neither a relative of Sita White nor that of her daughter's, his objections are based on frivolous grounds, argues PTI chief in his written reply
Mr Baluch's legal team comprises senior advocate Ahsanuddin Sheikh, who is a close friend of Justice Chaudhry, and his associates.
The petition, titled "Imran versus Imran — the untold story", also mentioned the circumstances in which the custody of Tyrian (Sita White's daughter) was handed over to Jemima. It stated that Ana-Lusia White, in her will dated Feb 27, 2004, nominated Jemima Khan as guardian of her minor daughter Tyrian Jade Brittanta Khan-White. Sita White died that year on May 13.
The petition went on to state: "Jemima Goldsmith had been the spouse of Imran Khan (1995-2004). The concealed facts stood confirmed by a judgement of paternity rendered by a superior court of the state of California for the county of Los Angeles in favour of the said Sita White where it was held that the respondent was the father of Tyrian Jade." Mr Khan initially joined the proceedings through his attorney, but defaulted after he was asked to undergo blood test, it added.
However, Mr Khan later submitted a declaration to a court of guardianship when Carolina White, a sister of Sita White, asked the court that she be appointed Tyrian's guardian.
Mr Khan promised that if the court called him to testify, he would do so.
"This declaration was executed on Nov 18, 2004, at Lahore. If he was not (Tyrian's) father, in what capacity he submitted the affidavit of no objection in the matter of guardianship."
The petition further said: "This document was executed in Pakistan for submission in the US. Therefore any legal objection cannot be raised regarding its admissibility on the basis of it being a foreign document."
Although Imran Khan and his counsel Dr Babar Awan did not appear before Additional District and Sessions Judge Mohammad Adnan Khan (the returning officer), they were asked to file reply to the objection on Tuesday.
The written reply filed by Mr Khan dismissed the allegations. "All the objections are false, fabricated and based on unverified documents."
The written reply stated that the objectors had no standing in the eye of the law since Tyrian did not relate to him in any manner. As the objector was neither a relative of Sita White nor that of her daughter's, his objections were based on frivolous grounds.
Fawad Chaudhry, the PTI's information secretary, in a statement criticised retired Justice Iftikhar Chaudhry and alleged that he was acting as a "stooge for Raiwind".
Published in Dawn, June 19th, 2018