NAWABSHAH: Voters raised objections against the nomination papers of former president of Pakistan and Pakistan Peoples Party-Parliamentarians chairman Asif Zardari and two other candidates here on Wednesday.
Mohammed Saleem Bhangwar and Ghulam Raza Dharejo filed objections in the office of returning officer stating that Asif Ali Zardari and his family had 1,500 acres of agricultural land in Sinjhoro taluka district Sanghar for which they had never paid agricultural tax and abiyana and had forcibly obtained no-dues certificates by putting pressure on the revenue department.
They stated that if taxes were paid, receipts must be presented and the records may also be checked.
Former chairman of Senate and senior advocate Farooq H. Naek and former law minister of Sindh Ziaul Hasan Lanjar appeared on behalf of Asif Zardari.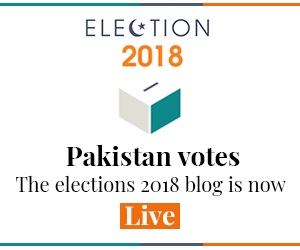 The returning officer, Mehboob Ali Awan, had fixed June 18 for scrutiny.
Meanwhile, Advocate Ghulam Sarwar Dahiri also filed objection to nomination of former MNA and candidate of PPP for NA-214 Syed Ghulam Mustafa Shah stating that he hold an iqama, had a fake degree and had foreign accounts. It was further objected that he had remained MNA in past however he never carried out any development works in the constituency.
The returning officer, Sohrab Khan Brohi, had fixed June 14 for scrutiny of papers.
Advocate Altaf Dahiri also filed objection to nomination of former minister and candidate of PPP for PS-40 Sardar Khan Mohammed Dahiri; June 18 was fixed for scrutiny.
Advocates Naek and Lanjar told journalists that all taxes had been paid and the relevant documents would be submitted after which the nomination form of Asif Zardari would be cleared.
Nafisa Shah's papers accepted
KHAIRPUR: After necessary scrutiny, the nomination papers of PPP candidates Nafisa Shah for NA-208 and Syed Qaim Ali Shah for PS-26 were accepted on Wednesday by the returning officers concerned.
Moreover, the nomination papers of Grand Democratic Alliance (GDA) candidate Syed Ghous Ali Shah on both seats (NA-208 and PS-26) have also been accepted.
After this, the activists and general public gathered at the residences of their leaders and expressed their joy.
Most nomination papers accepted
HYDERABAD: Most of the nomination forms field by various political parties and independent candidates were accepted after scrutiny by returning officers on Wednesday.
Nomination forms of Khawand Bux Jahejo of Pakistan Tehreek-i-Insaf for NA-225, Mir Sher Mohammad Talpur and Pir Amjad Shah Jilani of PPP and Gulzar Ali of Grand Democratic Alliance were accepted.
Nomination forms of MMA's Azam Jehangiri and independent candidate Shahid Solangi for PS-62, and forms of Khawand Bux Jahejo, PPP's Pir Amjad Shah Jilani, Sharjeel Inam Memon and Mir Sher Mohammad Talpur, MMA's Asif Raza and independent candidate Ghulam Mustafa Lashari for PS-63 were also accepted.
Candidatures of Pak Sarzameen Party's Farooq Mushtaq and Nawab Rashid Ali Khan, MMA's Dr Saifur Reh­man, Tehreek-i-Allah-o-Ak­bar's Faisal Nadeem, Mohammad Tahir of Tehreek-i-Labbaik Ya Rasool Allah and Mohammad Azhar for NA-226 were approved.
Similarly, nomination forms of MMA's Dr Saifur Rehman, MQM's Shafique Ahmed and Sabir Qaimkhani, Sindh United Party's Gul Hassan, independent candidate Imdad Hussain, PSP's Nawab Rashid, Farooq Mushtaq, Shahbaz Abidi, MQM's Kanwar Naveed, MMA's Karamat Rajput, PSP's Dr Jamil Rathore and Abdul Aleem Khanzada, MQM's Kanwar Naveed Jamil, Salahuddin and Rashid Khan were also accepted.
Six forms were accepted for PS-66 for which PSP's Fayazuddin and Abdul Aleem Khanzada, JUP-Noorani's Mohammad Rizwan, PPP's Pasha Qazi, Sindh Hari Committee's Samar Jatoi and independent candidate Rafay were in the fray.
Forms of JUP-N's Nazim Arain, Shakeel Ahmed Shaikh of PML-N, Yousuf Khan of PSP, Mairajuddin, Shoaib Shoukat, Abdul Latif, Touqeer Arain, Fahad Abbasi and Syed Farhad Ali of MMA were accepted.
Nomination form of PSP's Babar Chandio for PS-67 and PS-64 was rejected on dual nationality ground and Naseer Ahmed for PS-64 and MQM's Imran Ahmed for PS-65 were rejected while a voter Tanveer Siddiqui filed objections to nomination forms of PTI's Q. Mohammad Hakim for NA-227 for misdeclaration and undervaluing of his assets.
The returning officer adjourned hearing on objections.
MITHI: Nomination forms of PPP candidate for NA-221 Pir Noor Mohammad Shah Jilani and Dost Ali Rahimoon for PS-54 were accepted in Chhachhro and forms of Abdul Razzak Rahimoon of GDA for PS-54 were also accepted.
Published in Dawn, June 14th, 2018